Scott R. Garrigus' DigiFreq(TM) - New Year, New Gear



ISSN: 1531-6505; Issue 39
Music technology downloads, news, articles, reviews, tips and tutorials for home recording and professional musicians. Over 21,000 readers can't be wrong!

SPONSORED BY: macProVideo Tutorial Videos - 20% discount off all products!


macProVideo is an online education community featuring Tutorial-Videos & Training for popular Audio & Video Applications including Adobe CS, Logic Studio, Final Cut Studio, and more.

Featuring in depth, real-time video training created by the multimedia industry's top educators, macProVideo brings high quality video training to your computer desktop.
* A software education community where creative people learn quickly.
* Watch Online Tutorials in your browser, or download HD Tutorials.
* Pro Educators teach software users important workflow tips & tricks.
* The Nonlinear Educating(R) System - See & Hear how software works.

This DigiFreq Deal allows you to get a 20% discount off all macProVideo products! Go to: http://digifreq.com/?MusicDeals#macProVideo

* * * * *

SCOTT'S NOTES - New Year, New Gear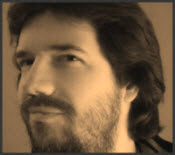 With every new year comes a host of new gear, although I'm not talking about new gear that just came out in 2010. The year is still too new. No, I'm talking about some of the upgrades I've done to my home studio over the past year... things that you might find interesting. Before I get into that though, here's some of the other great info that you'll find in this issue...

* Articles: audio compression, music composing skills, vocal recording techniques, guitar recording techniques, music sequencer techniques
* Free downloads: Native Instruments Kontakt Factory Selection, Image Line Autogun VSTi, Ohm Force Frohmage Filter FX Plug-in, Flux Bitter Sweet II Audio Transient Processor
* News: DOD Odd-Time Odyssey Drum Loops, Native Instruments Abbey Road 60s Drums, New Cakewalk A-Pro Keyboards, Celemony Melodyne Editor, FL Studio Power! The Comprehensive Guide
* and more great content... just keep reading.

The rackXT i7 Quad-Core DAW PC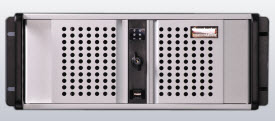 I think it was sometime last Summer when I decided I needed a new PC for the studio. My old PC was working great (and it's still working great), but it was starting to show its age by not letting me run as many plug-ins as I wanted. So I began my search and decided to go with a rackXT from Sweetwater. My last machine was also a Sweetwater PC and it has been rock-solid every since I got it, so this was an easy decision to make. And the decision was a good one because the rackXT has exceeded my expectations. The machine is blindingly fast, even when running Windows Vista. It only takes seconds to fully boot and I can load up my projects with a huge number of plug-ins.

A few things that I'll be changing about the machine are the OS, hard drives, and RAM, later this year. The PC is running great now, but I want to eventually max it out by switching it over to Windows 7 64-bit, adding one or two more hard drives, and bumping up the memory to 12GB (or 16GB). I'm not sure when I'll be doing all that, but I'll let you know how the transition goes when the time comes. I've also set up a special section over on the DigiFreq website for the rackXT, where I'll be posting new info and videos showing the PC in action. Plus, you can post your questions there and join in on the current discussions.
Go to: http://digifreq.com/?rackXT

The Cakewalk V-Studio 700 System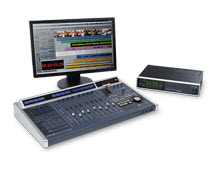 Cakewalk's SONAR has been the central part of my studio for quite some time. I've used it with a variety of gear to create a studio environment to fit my workflow. Mostly, I've been happy and have used my studio to complete a wide array of projects. But even though SONAR can be configured to work with a variety of gear, I've never found the perfect combination that allowed me to do everything "in-the-box" and not have to worry about external hardware configurations, routings, and settings. Then along came the V-Studio 700 and I just had to check it out. I'm glad I did!

This system provides a very high level of integration between SONAR and the hardware. The VS-700R audio interface is one of the best available with very clean preamps and plenty of professional connections. The VS-700C control surface is very solidly built and integrates with SONAR like nothing else on the market. And while I didnít absolutely need the Fantom VS synth, I found it to be a very welcome addition to the package. The sounds are excellent and the fact that itís a hardware synth (which can be run like a plug-in) makes it all that more powerful. I now use it on a regular basis in many of my projects. My entire workflow in the studio has been significantly improved and I can safely say that the V-Studio 700 provides the ultimate studio experience for SONAR users. While the system is easy to use, it also provides many advanced features and I still have more to learn. I'll be sure to keep you informed about my experiences with the system and you can find new info, videos, and discussions on the DigiFreq website. I've also put together an eBook entitled "Cakewalk V-Studio 700: A Closer Look." You can download the eBook in PDF format for free.
Go to: http://digifreq.com/?VStudio700

Sonar 8 Power!


I also wanted to let you know that the ultimate book covering Cakewalk SONAR 8 is here! The book covers all the new features of SONAR 8 including TS-64 Transient Shaper plug-in, TL-64 Tube Leveler plug-in, Beatscape, Dimension Pro, Channel Tools plug-in, Native Instruments Guitar Rig 3 LE, TruePianos Amber Module VSTi plug-in, Instrument track, Loop Explorer enhancements, Arm tracks during playback/recording, Insert Send Assistant, Exclusive Solo mode, Solo Override, Live input bounce, Clip selection groups, Aim Assist line, Free Edit Tool, Quick Group enhancement, Edit tools enhancements, and much more.
For more information, go to: http://digifreq.com/?Sonar8Power

Thanks for reading DigiFreq and enjoy the rest of this issue...

Scott
http://www.digifreq.com/digifreq/

* * * * *



DFreqDEALS - V-Plugs, Xylote, OhmForce, IntelliScore, Musicrow

In addition to great info, we here at DigiFreq also try to find great deals for our readers. We've recently added a number of new ones that you might like to check out:

* V-Plugs - 10% discount off all products!
V-Plugs brings the most colorful and full of charm sound processors to your professional studio, at value prices. Our plugins offer the advantages and flexibilities of the digital world, while not neglecting the analog liveliness that we all love.
Go to: http://www.digifreq.com/digifreq/deals.asp#VPlugs

* Xylote.com - 10% discount off all products!
Xylote.com offers exclusive soundware for instant download, from Sample Packs, Single Sounds, Loops, Web Loops and Button Sounds to Sound for Picture, Sound Effects, Royalty Free Music and more.
Go to: http://www.digifreq.com/digifreq/deals.asp#Xylote

* OhmForce - 10% discount off all products!
Since 2001, French software house Ohm Force has delivered top-notch, creativity stimulating and surprisingly original audio effects, such as their three best-sellers Ohmicide:Melohman, OhmBoyz and QuadFrohmage. Ohm Force is highly used by hundreds of professional studio facilities around the world and by big names such as Peter Gabriel, Chemical Brothers, Depeche Mode and The Prodigy, among many others.
Go to: http://www.digifreq.com/digifreq/deals.asp#OhmForce

* Innovative Music Systems - 10% discount off all products!
Innovative Music Systems are the makers of IntelliScore Ensemble. IntelliScore Ensemble helps you transcribe music by converting multiple-instrument CD audio, WAV, MP3, and WMA files to multi-track MIDI (.mid) files containing the notes played broken down by instrument, chord names, and key.
Go to: http://www.digifreq.com/digifreq/deals.asp#IntelliScore

* Musicrow Audio Software - 10% discount off all products!
Musicrow develops high quality audio software for the professional musician. Our products include VST instruments, pro ensembles for NI Reaktor, and soundsets for leading soft-synths.
Go to: http://www.digifreq.com/digifreq/deals.asp#Musicrow

Find these (and more) great deals at:
http://www.digifreq.com/digifreq/deals.asp

* * * * *



DFreqMUSIC - Wishful Heart by Justin B. Fawsitt

Songs inspired by the dreams, passions and reflections of a lifetime of experience, foolish and wise, banal and wonderful. Recommended if you like Bob Dylan, Van Morrison.

This CD features 10 songs composed and performed by Justin B Fawsitt. From the straight-ahead blues of Man In the Mirror, the funk of Groovy Tonight, the romantic vibe of No Exaggeration or the meditative Celtic-rock of On Ocean Beach, Justin's songs cover a wide range of styles and influences.

Check out this new music at: http://www.digifreq.com/digifreq/musicinfo.asp?ID=423

For more of the latest music listings, go to:
http://www.digifreq.com/digifreq/music.asp

And if you're serious about your music, promote it by submitting it to DigiFreq today:
http://www.digifreq.com/digifreq/musicsubmit.asp

* * * * *



DFreqNEWS - AmpliTube 3, Odd-Time Drums, Solo Strings, FL Studio Power! Book

Some of the latest music technology news:

IK Multimedia AmpliTube 3 Now Shipping - More Gear, More Feel, More Power, More Tone
http://www.digifreq.com/digifreq/newsinfo.asp?NewsID=3763

Drums On Demand Ships Volume 14: Odd-Time Odyssey Drum Loop Collection - Get 10% off!
http://www.digifreq.com/digifreq/newsinfo.asp?NewsID=3760

Dan Dean Productions' Dan Dean Solo Strings Advanced in Native Instruments Kontakt Format
http://www.digifreq.com/digifreq/newsinfo.asp?NewsID=3756

Blue Microphones Adds Instrument Mic To enCORE Series - enCORE 100i Live Instrument Microphone
http://www.digifreq.com/digifreq/newsinfo.asp?NewsID=3752

Native Instruments Introduces ABBEY ROAD 60s DRUMS - a New KONTAKT Sample Library
http://www.digifreq.com/digifreq/newsinfo.asp?NewsID=3751

Cakewalk Announces New Line of Keyboard Controllers at NAMM Show 2010
http://www.digifreq.com/digifreq/newsinfo.asp?NewsID=3748

FL Studio Power!: The Comprehensive Guide - Master the Power of FL Studio
http://www.digifreq.com/digifreq/newsinfo.asp?NewsID=3741

Celemony Releases Melodyne Editor with DNA Direct Note Access
http://www.digifreq.com/digifreq/newsinfo.asp?NewsID=3736

Sony Introduces Sound Forge Pro 10 Software for Professional Digital Audio Production
http://www.digifreq.com/digifreq/newsinfo.asp?NewsID=3731

Groove 3 Releases Producing House Music with Ableton Live: Drums Video Tutorial - Get 10% off!
http://www.digifreq.com/digifreq/newsinfo.asp?NewsID=3723

For more of the latest music technology news, go to:
http://www.digifreq.com/digifreq/news.asp

Also, be sure to check out the latest consumer technology news at:
http://www.newtechreview.com/newtechreview/

* * * * *



DFreqREVIEWS - SampleMoog, SampleTank, Audition 3, Piano & Keyboard Method

Some of the latest music technology reviews:

IK Multimedia SampleMoog - the Moog Synth Anthology
http://www.digifreq.com/digifreq/reviewdetails.asp?ProdReviewID=33

IK Multimedia SampleTank 2.5 XL Sample Workstation
http://www.digifreq.com/digifreq/reviewdetails.asp?ProdReviewID=32

Adobe Audition 3
http://www.digifreq.com/digifreq/reviewdetails.asp?ProdReviewID=31

eMedia Piano & Keyboard Method
http://www.digifreq.com/digifreq/reviewdetails.asp?ProdReviewID=25

For more of the latest music technology reviews, go to:
http://www.digifreq.com/digifreq/reviews.asp

Also, for some of the latest consumer technology reviews, go to:
http://www.newtechreview.com/newtechreview/reviews.asp

* * * * *



DFreqDISCUSS - Cakewalk SONAR 8, Audio Distortion, AudioSnap, Tom T-Bone Wolk

Some of the latest technology discussions:

Cakewalk Software .wtr & .wov files
http://www.digifreq.com/digifreq/discuss/topic.asp?TOPIC_ID=4509

Cakewalk SONAR 8
http://www.digifreq.com/digifreq/discuss/topic.asp?TOPIC_ID=4510

Music Tempo - SONAR 8
http://www.digifreq.com/digifreq/discuss/topic.asp?TOPIC_ID=4511

audio distortion in sonar 6 PE
http://www.digifreq.com/digifreq/discuss/topic.asp?TOPIC_ID=4514

Sonar 8.5
http://www.digifreq.com/digifreq/discuss/topic.asp?TOPIC_ID=4515

Sonar LE with roland fp-7 recording glitch?
http://www.digifreq.com/digifreq/discuss/topic.asp?TOPIC_ID=4518

Lyrics
http://www.digifreq.com/digifreq/discuss/topic.asp?TOPIC_ID=4521

Cakewalk Audio Snapper's?
http://www.digifreq.com/digifreq/discuss/topic.asp?TOPIC_ID=4522

Bass Guitar Player Tom T-Bone Wolk dies
http://www.digifreq.com/digifreq/discuss/topic.asp?TOPIC_ID=4523

Sonar 8 recording question
http://www.digifreq.com/digifreq/discuss/topic.asp?TOPIC_ID=4527

To read up on other interesting topics, or to post and get answers to your own questions, go to:
http://www.digifreq.com/digifreq/discuss/

* * * * *



DFreqARTICLES - Audio Compression, Recording Vocals, Recording Guitar, Sequencer Techniques

Some of the latest music technology articles:

Setup Suggestions for Audio Compression and Limiting
http://www.digifreq.com/digifreq/article.asp?ID=76

Eight Steps Toward Improving Your Music Composing Skills
http://www.digifreq.com/digifreq/article.asp?ID=67

Vocal Recording Microphone Techniques
http://www.digifreq.com/digifreq/article.asp?ID=62

Direct Electric Guitar Recording Techniques
http://www.digifreq.com/digifreq/article.asp?ID=57

Automatically Adjusting Vocal Pitch with the Sonar V-Vocal Voice Processor
http://www.digifreq.com/digifreq/article.asp?ID=50

Preparing Audio for the Internet with Sound Forge
http://www.digifreq.com/digifreq/article.asp?ID=40

MIDI & Digital Audio Music Sequencer Techniques (Part 2)
http://www.digifreq.com/digifreq/article.asp?ID=13

MIDI & Digital Audio Music Sequencer Techniques (Part 1)
http://www.digifreq.com/digifreq/article.asp?ID=12

For more of the latest music technology articles, go to:
http://www.digifreq.com/digifreq/articles.asp

* * * * *



DFreqTIPS - Vocal Effects, Vocal Removal, Vocal Extraction, Compressing MIDI

Some of the latest music technology tips:

Vary Your Vocals with Special Effects
http://www.digifreq.com/digifreq/tip.asp?ID=6

Extracting the Lead Vocal
http://www.digifreq.com/digifreq/tip.asp?ID=5

Eliminating the Lead Vocal
http://www.digifreq.com/digifreq/tip.asp?ID=4

Compressing MIDI Velocities in Cakewalk
http://www.digifreq.com/digifreq/tip.asp?ID=1

For more of the latest music technology tips, go to:
http://www.digifreq.com/digifreq/tips.asp

* * * * *



DFreqDOWNLOADS - Autogun VSTi, Frohmage Filter FX, Bitter Sweet II Processor

Some of the latest music technology downloads:

Cakewalk SONAR 8.5.3 Update (Windows - Free)
http://www.digifreq.com/digifreq/download.asp?ID=129

Native Instruments Holiday Selection 2009 VSTi (Mac/Windows - Free)
http://www.digifreq.com/digifreq/download.asp?ID=128

Native Instruments KONTAKT FACTORY SELECTION Sound Library (Mac/Windows - Free)
http://www.digifreq.com/digifreq/download.asp?ID=126

IntelliScore Ensemble Audio-to-MIDI Converter (Windows - Demo)
http://www.digifreq.com/digifreq/download.asp?ID=124

Image Line Autogun VSTi Synthesizer (Windows - Free)
http://www.digifreq.com/digifreq/download.asp?ID=123

Ohm Force Frohmage Filter FX Plug-In (Mac/Windows - Free)
http://www.digifreq.com/digifreq/download.asp?ID=122

Flux Bitter Sweet II Audio Transient Processor (Mac/Windows: Free)
http://www.digifreq.com/digifreq/download.asp?ID=119

For more of the latest music technology downloads, go to:
http://www.digifreq.com/digifreq/downloads.asp

* * * * *



DFreqFINISH - Video, Video, Video (Sneek Peek)

Yes, DigiFreq is finally getting into the video craze with a brand new section of our website dedicated to providing pro audio and music technology videos. We'll be doing product unboxings, product demos, product tutorials, tips and techniques tutorials, and more. And if you have any ideas on what else you would like us to cover, feel free to give a shout out.

In the meantime, the new videos section of the website is up and running, but we've only got a few videos posted there so far. There will be many more and we're hard at work filming, editing, rendering, etc, which is why this is just a sneek peek for now. We'll "officially" announce the new videos section in a future issue. But you can view what we've done so far by going to: http://www.digifreq.com/digifreq/videos.asp

Thanks again for reading DigiFreq!

Scott
http://www.digifreq.com/digifreq/

--------------------------------------------------------------------
DISCLAIMER

DigiFreq(TM) is provided for informational purposes only. Any damage resulting from the use of the information herein is the sole responsibility of the reader.

--------------------------------------------------------------------
Copyright 2010 by Scott R. Garrigus. All Rights Reserved.

Please tell your friends about DigiFreq. If you'd like to recommend this newsletter to a friend, go to:
http://www.digifreq.com/digifreq/recommend.asp

To access back issues, go to:
http://www.digifreq.com/digifreq/issues.asp

====================================================================