This contest has been completed. Thanks for your participation!
For the current contest, DigiFreq and Gobbler are giving away two free 50GB 1-Year Gobbler accounts!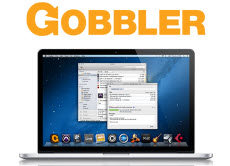 Imagine a day where all your audio projects are completely safe, fast and easy to send and receive between collaborators, and never lost or disorganized -- all without any hassle...There's no need to dream, that day is already here!
Meet Gobbler, the cloud that was purpose-built to make life better for audio folks everywhere. Now you can focus on creating your masterpiece, and Gobbler will automagically save every new version of it to the cloud in the background as you go. You can rest assured that it'll always be completely safe and accessible to you from anywhere, anytime. Want to send a project back and forth between your engineer, your producer, and your piccolo player? Gobbler can do all that, too, easily and in record time with its powerful large file transfer technology. You can even rely on Gobbler to help you manage all your projects, across all your drives, with it's one intelligent, global view interface, so that you're never disorganized and always creating.
But there's more! Gobbler is also integrated directly into the dashboard of Pro Tools and SONAR X3 so you can protect your creative genius without ever leaving your favorite DAW.
So what are you waiting for? Join Chris Lake, Dave Pensado, John Legend, Howie Weinberg, this guy, and over 100,000 others like you in 120 countries. Let Gobbler focus on your files so you can focus on your music. Click here to get Gobbler now.
Just sign-up for the FREE DigiFreq music technology newsletter, and you're automatically entered in the contest. To sign-up, fill in the following form and click Yes!

The following rules apply: One entry per person. Must be 13 years or older. No geographical restrictions.
About Your Privacy
The information that you are submitting here will be kept completely confidential. I will never give out your information to anyone. It is for my eyes only.
Sincerely yours,
Scott