Gibson G-45 Series Acoustic Guitar Collection
Posted by Scott R. Garrigus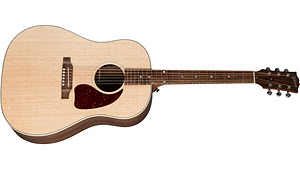 Gibson is pleased to announce that the new G-45 Series Collection is available in North America and China. The same skilled artisans who build our most cherished and iconic acoustic models have put their heart and soul into this new collection of hand-crafted G-Series acoustics.

Created in our acoustic facility in Bozeman, Montana, the new G-45 series offers a superior sounding acoustic guitar at a compelling price, designed and crafted in the U.S.A. Each G-Series represents Gibson's commitment to creating the world's most relevant, played and loved guitars, which have shaped sound for 125 years, sought-after by countless artists, with the highest quality in both tone and appearance. The G-Series offer players of all levels, the perfect mix of tone, performance, traditional Gibson style and value. The G-Series acoustic integrates traditional build techniques that continue to separate Gibson from other major guitar makers, like a hot hide glue dovetail neck-joint, domed top bracing, blended with modern features, such as a slimmer body depth, and modern neck profile. The solid walnut back and sides are married to a solid Sitka spruce top, delivering a crisp sound with plenty of wonderful overtones and Gibson's definitive mid-range, the G-45 Series is outfitted with a Fishman Sonitone pickup for easy plug and play at home, in-the-studio or on stage...

Continue reading: Gibson G-45 Series Collection, A New Generation Of Gibson Acoustic Guitars And A New Entry Point For A Gibson Acoustic in News.
Blue Cat's Late Replies 1.4 Creative Delay, Reverb Plug-In
Posted by Scott R. Garrigus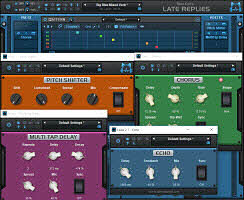 Blue Cat Audio has released a new version of Blue Cat's Late Replies, its creative delay and reverb plug-in with built-in effects, also capable of hosting third party plug-ins anywhere in the signal chain.

This new version adds hundreds of new presets and sub-presets that can now be discovered and searched with a new presets browser, among the 957 included factory patches (echoes, reverbs, vintage delays, rhythmic patterns, arpeggiators, modulation effects, shimmer effects, drones, sci-fi...). The new presets browser was also designed to make the creation of new effects easier, combining sub-presets from each module together to create more complex sounds very quickly.

Late Replies 1.4 also adds two new built-in effects, increasing Late Replies' built-in plug-ins collection up to 30. It comes with...

Continue reading: Blue Cat Audio Releases Blue Cat's Late Replies 1.4 Creative Delay, Reverb Plug-In - Get 10% off! in News. - Comments (Reply To Topic)
Propellerhead PolyStep Sequencer Plugin for Reason
Posted by Scott R. Garrigus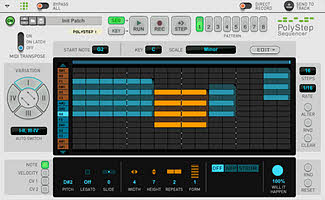 Propellerhead Software has released PolyStep Sequencer – an evolved polyphonic step sequencer plugin for your Reason Rack. With this new Rack Extension you can create and jam sequences in totally new ways by drawing in or recording notes and then apply PolyStep Sequencer's magic tricks. Explore chord progressions and structures by grabbing single notes and dragging them horizontally or vertically to create boxes, which transform into amazing chords, repeats, arpeggios or strumming.

"PolyStep Sequencer represents a brand-new way of making music to our Reason users." said Lukas Lyrestam, Product Manager at Propellerhead. "PolyStep Sequencer can be a straight-up polyphonic pattern sequencer, a jam-friendly phrase sequencer, a songwriter's harmonic exploration tool or just about whatever you want it to be."

With PolyStep Sequencer you can record in real time, with step input or graphical input. You can...

Continue reading: Propellerhead Launches PolyStep Sequencer Plugin for Reason in News. - Comments (Reply To Topic)
Accusonus ERA 4 Audio Repair Plug-Ins
Posted by Scott R. Garrigus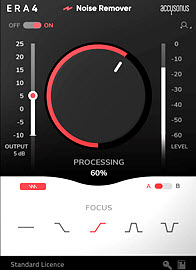 Accusonus announced it is bringing its multi-patented, single-knob audio cleaning and noise reduction technology to its newest family of plugins for video editors, audio engineers and podcasters: the ERA 4 Bundles.

The ERA 4 Bundles (Enhancement and Repair of Audio) are a collection of single knob audio cleaning plug-ins specifically designed to reduce the complexity of the sound design and audio workflow without compromising sound quality or fidelity. They are available today in two collections: The Standard Bundle and the Pro Bundle.

Accusonus' patented single knob design appeals to professional editors, filmmakers and podcasters as its advanced design greatly reduces the time-consuming audio repair workflow to a simple twist of a dial. Additionally, the ERA 4 Standard family of plug-ins enables aspiring content creators, YouTubers and film and audio students to quickly master audio workflows with minimal effort or expertise...

Continue reading: New Accusonus ERA 4 Bundles provide Single-Knob, Intelligent Control for High Quality Audio Cleaning in News. - Comments (Reply To Topic)
Native Instruments MASSIVE X Wavetable Synthesizer
Posted by Scott R. Garrigus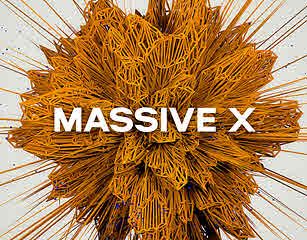 Native Instruments today releases MASSIVE X – the much-anticipated successor to one of the most popular synthesizers in the world. Designed and built from scratch, the new instrument builds on its heritage to rethink and redefine the possibilities of a virtual synth.

The original MASSIVE, having helped define the sound of modern genres such as dubstep and EDM, became synonymous with an exciting, forward-thinking approach to synthesis that unapologetically embraced its digital DNA. Famous for its intuitive interface and sonic potential – from enormous basslines and soaring leads, to evolving ambient textures – it quickly became a staple part of many production toolkits.

MASSIVE X is Native Instruments' new flagship synth, built by the same team as its predecessor. Based on a state of the art architecture, it delivers pristine sound, and huge creative flexibility for artists and sound designers alike – allowing them to...

Continue reading: Native Instruments releases MASSIVE X Flagship Wavetable Synthesizer in News. - Comments (Reply To Topic)
Voxengo OVC-128 Oversampled Clipper Plug-In
Posted by Scott R. Garrigus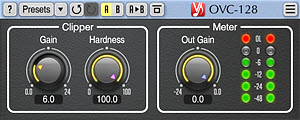 Voxengo is happy to release OVC-128, a massively-oversampled soft/hard clipping effect plug-in for professional music production applications, available in AAX, AudioUnit, VST and VST3 plug-in formats (including native 64-bit support), for macOS (v10.7 and later), and Windows computers.

OVC-128 is a massively-oversampled soft/hard clipping effect plug-in for professional music production applications. A common use for this plug-in is hard-clipping before the final peak limiter. This is an effective approach in contemporary electronic music when loudness is boosted using a clipper plug-in while minor excessive peaks are absorbed by a final peak limiter that applies no additional gain itself.

Clipping the tracks via OVC-128 is practically similar to clipping using high-quality outboard analog gear...

Continue reading: Voxengo releases OVC-128 Massively-Oversampled Clipper Plug-In in News. - Comments (Reply To Topic)
Best Service The Orchestra Complete and Strings of Winter
Posted by Scott R. Garrigus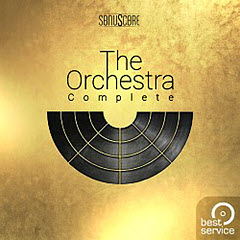 Strings of Winter - an icy blast of new sounds

Arctic plains. Shimmering glaciers. Far-reaching steppes. A one-of-a-kind instrument that perfectly captures the spirit of these rough, untamed and raw landscapes. An absolutely honest and atypical new sound that portrays scenes of fragile, cold isolation as perfectly as icy and unbridled power. Strings of Winter is here with 60 unheard and pristine articulations performed by a 41-piece European string orchestra and the wonderful and unique Mongolian State Morin Khuur Ensemble.

"TO Strings of Winter" is an independent instrument and revolutionary Kontakt Player library based on the groundbreaking Ensemble Engine developed specifically for "The Orchestra", which lets you turn your ideas into music quickly and easily...

Continue reading: Best Service releases The Orchestra Complete and Strings Of Winter Virtual Instruments in News. - Comments (Reply To Topic)
PORTAL Granular Synthesis Effect from Ouput
Posted by Scott R. Garrigus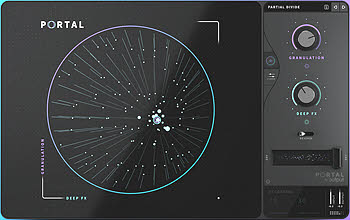 Output, Inc. is thrilled to announce the release of PORTAL, a granular synthesis FX plugin that transforms audio in a forward-thinking and musical way. Turn your VSTs, drum samples or any live input such as vocals or guitars into infinite new possibilities.

In the past, the results of granular synthesis were often chaotic and abstract. PORTAL is a step forward, re-synthesizing sounds to give you a result that's more closely related to the original input.

"With PORTAL we aim to flip the script on granular synthesis," said Output CEO, Gregg Lehrman. "This powerful engine takes a method that has previously been out of reach and impractical for many musicians, and makes it accessible and easy to integrate into the creative process. Less random bloops and bleeps and more creative music making..."

Continue reading: Output Releases Granular Synthesis Effect, PORTAL in News. - Comments (Reply To Topic)
iZotope Neutron 3 Intelligent Audio Mixing Software
Posted by Scott R. Garrigus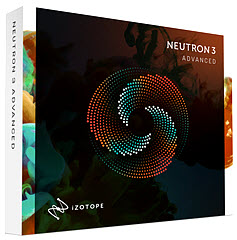 iZotope, Inc., the experts in intelligent audio technology, have launched Neutron 3, designed to bring mix workflows into the 21st century. Thanks to advances in machine learning, Neutron 3 Advanced is the first-ever plug-in that listens to the entire session, communicating with every track in the mix. Create a balanced starting point for an initial level mix built around a focus chosen by the mixer with Mix Assistant, saving time and energy for creative mix decisions.

"Neutron 3 moves us closer to a world where technology enables what all our customers love doing; being creative and making music." says iZotope Product Manager Dan Gonzalez. "Our customers are always finding innovative ways to use our Assistants to benefit their workflow and Mix Assistant is no different. With machine learning, we're helping everyone get to a great starting point for their mix, so they can stay focused on their creative input. I'm personally very excited to see where this takes music making."

Workflow is just one way Neutron 3 is bringing mixing into the 21st century...

Continue reading: iZotope is Transforming Mixing: Introducing Neutron 3 in News. - Comments (Reply To Topic)
Latch Lake Pro-Grade micKing Mic Stands
Posted by Scott R. Garrigus


True to the company's philosophy, Latch Lake Music Products are zero-compromise mic stands, made-in-the-USA workhorses that will serve professional audio engineers without fail, day in and day out, for decades. The stands adjust with grace, tighten with confidence, and balance with assurance. No stripped nuts. No slow-motion drooping. No lost takes. Latch Lake microphone stands lets the engineer put the microphone exactly where it needs to be and then keeps it right there. In recognition, for this manufacturing excellence, Latch Lake earned a Best in Show award at Summer NAMM 2018, spurring a deluge of requests that tested Latch Lake's Midwestern manufacturing facility.

ABOUT LATCH LAKE MUSIC All Latch Lake products are made in-house in their Minnesota factory that also specializes in metal fabrication. With over sixty years of design and manufacturing experience...

Continue reading: Latch Lake Pro-Grade micKing Mic Stands for Professional Audio in News. - Comments (Reply To Topic)
Native Instruments TRAKTOR DJ 2 Free Music App
Posted by Scott R. Garrigus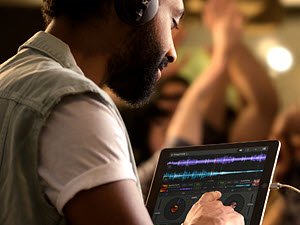 Native Instruments today releases TRAKTOR DJ 2, a new, free DJ app for desktop and iPad. The app is designed to break the barriers to DJing – with greater accessibility, an easy-to-use interface, SoundCloud Go+ integration, and simple plug-and-play integration with TRAKTOR hardware.

TRAKTOR DJ 2 is released as a free app, meaning more people than ever can now get into DJing with pro-quality software.

SoundCloud is the world's largest open audio platform, with over 200 million tracks by more than 20 million creators across the world. SoundCloud Go+ integration lets users mix tracks streamed directly from the music platform, enabling access to an ever-growing track collection, and tapping into the cutting-edge of mainstream and underground music...

Continue reading: Native Instruments releases TRAKTOR DJ 2 - Free Music Software in News. - Comments (Reply To Topic)
Soundiron UFO 61 Vintage Synthesizer for Kontakt
Posted by Scott R. Garrigus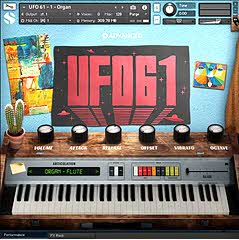 Soundiron's UFO 61 is a vintage five-octave electronic organ from Italian instrument maker Viscount. Built in the 1970s, this simple synthesizer has a smooth, quaint tone with a warm, pleasantly fuzzy texture. Like many early suitcase organs and portable synths that proliferated during the era, it has just a few core instrument voices, a single speaker, simple rhythm box and a basic selection of classic organ controls.

It comes packed with sound-shaping controls to give you tons of flexibility with Volume, Attack, Release, Transient Offset, Vibrato and Octave layering controls. The "Glide" slider allows you to play legato and portamento leads. Our adaptable LFO system offers selectable shape, modulation target parameter, speed, intensity, tempo-syncing and fade-in time. You can also apply your choice of 13 low-pass, high-pass and FX filter types, with assignable modulation options, including velocity, mod wheel, expression, after-touch, key position and step-sequencer table control. You can also use our customizable arpeggiator, with a built-in velocity sequencer table and control over arp direction, note timing, swing, randomization and duration. The GUI is...

Continue reading: Soundiron releases UFO 61 Vintage Synthesizer for Kontakt in News. - Comments (Reply To Topic)
Best Service Boutique Drums Ruby Virtual Instrument
Posted by Scott R. Garrigus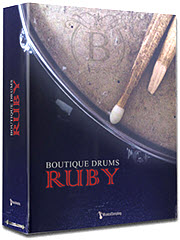 This great drum library was created with drummer Brian Scoggin (Casting Crowns) who curated a rock kit comprised of truly boutique drum pieces - recorded at Hey Hey Studios in Griffin, Georgia for it's outstanding acoustics and engineering; a remarkable space providing a tasteful balance of both room and character.

To address the calling for simplicity, Musical Sampling created a single-page interface that offers a fast and intuitive way to develop customized drum mixes. They have included eight different "baked-in" mix presets that were designed to not only work on their own, but are completely interchangeable between the different drum groups.

Musical Sampling has also developed what they consider to be a first -- crossfadeable hi-hat grooves with release triggers...

Continue reading: Best Service releases Boutique Drums Ruby by Musical Sampling in News. - Comments (Reply To Topic)
Voxengo Powershaper Multi-Stage Saturation Plug-In
Posted by Scott R. Garrigus




Voxengo is happy to release Powershaper, a saturation, distortion and overdrive effect plugin for professional music production applications, available in AAX, AudioUnit, VST and VST3 plug-in formats (including native 64-bit support), for macOS (v10.7 and later), and Windows computers.

Powershaper is a saturation, distortion and overdrive effect plug-in for professional music production applications. Powershaper's approach to saturation is quite unique as it works in multi-stage manner utilizing dozens of saturation stages in a specified variation. While Powershaper was designed to apply extreme saturation, it can be also used to boost presence of audio tracks subtly.

The flexibility of this saturation plug-in is most apparent when...

Continue reading: Voxengo releases Powershaper Multi-Stage Saturation Plug-In in News. - Comments (Reply To Topic)
PreSonus Audio Batch Converter for Studio One
Posted by Scott R. Garrigus


PreSonus® Studio One® users can now add powerful audio file conversion to their system with the company's new Audio Batch Converter Add-on. Compatible with the newly released Studio One Prime (free), Artist, and Professional version 4.5 (and higher), the Audio Batch Converter offers format conversion and plug-in processing via most Studio One Native Effects, AU, VST2, and VST3 plug-ins. Furthermore, it comes with 11 audio processes that can be applied using an intuitive drag-and-drop workflow. Join files, merge mono files, split multichannel files, declick, invert phase, remove DC offset, repair the sample rate, normalize, adjust gain, independently control fade in and out, and more. The new converter is available directly from the Studio One title bar for instant access without leaving the current Song or Project.

Audio Batch Converter's integrated browser allows the user to create and edit processing chains via the same drag-and-drop workflow Studio One users are already accustomed to. You can...

Continue reading: PreSonus Ships Powerful Audio Batch Converter Add-on for Studio One in News. - Comments (Reply To Topic)
---
---