Native Instruments KOMPLETE 14 Music Software Suite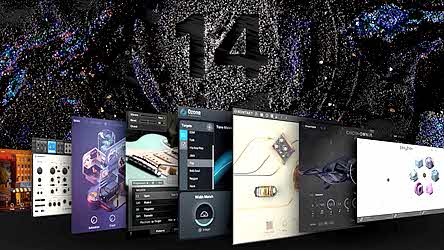 Native Instruments released a massive update to its flagship production suite, KOMPLETE 14. Now available in NI's online shop, it features KOMPLETE's most extensive range of sounds so far and seamless tools for putting the ideas they inspire into motion, creating an all-in-one package for creativity. KOMPLETE 14's expansive libraries help find, design, and transform instruments in previously unimagined ways, with premium search tools to focus on sounds fast. KOMPLETE 14 is available in four different sizes – SELECT, STANDARD, ULTIMATE, and COLLECTOR'S EDITION, the last being a comprehensive offering of 145+ instruments, 100+ Expansions, and over 135,000 sounds. With synths, sampled instruments, percussion tools, immersive effects, and more across the stylistic spectrum, KOMPLETE 14 remains the go-to choice for music-makers of all types to find their ideal creative flow.

Included in KOMPLETE 14 STANDARD and above, KONTAKT 7 offers a huge library of sounds, alongside iZotope's all-new mastering tool, Ozone 10 Standard, which...

Continue reading: Native Instruments releases KOMPLETE 14, KONTAKT 7, and CHOIR: OMNIA in News.
IK Multimedia AmpliTube TONEX Amp Modeling Solutions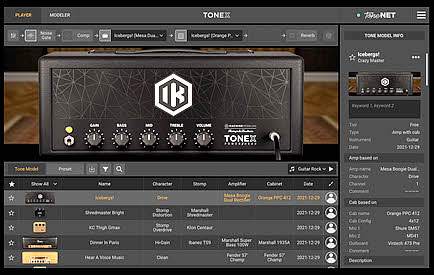 IK Multimedia is pleased to announce the release of TONEX Mac/PC, the core element of AmpliTube TONEX™, IK's complete software ecosystem which lets users model their own rig and play, practice and record with thousands of ultra-realistic Tone Models of amps and pedals.

TONEX Mac/PC is available today in 4 versions for purchase and download including a free version: TONEX CS. IK also announces that TONEX SE is now included with AXE I/O and AXE I/O Solo audio interfaces for guitar and bass players.

AmpliTube TONEX Ecosystem:

TONEX Mac/PC
A revolutionary concept in rig modeling, TONEX Mac/PC uses breakthrough AI Machine Modeling technology to let users capture the sound of any amp, cabinet, combo or pedal (like fuzz, distortion, overdrive, EQ, booster) and turn it into a Tone Model, all with ease and a sonic accuracy that's virtually indistinguishable from the real thing...

Continue reading: IK Multimedia Releases AmpliTube TONEX - New Amp Modeling Solutions in News.
Eventide Physion Mk II Multi-FX Plug-in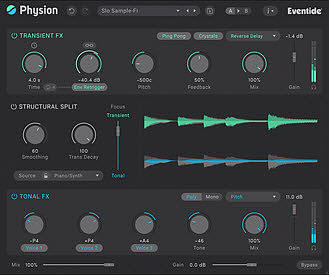 Eventide has released Physion Mk II, an advanced multi-effects plug-in which offers a modern approach to mixing and sound design. Physion Mk II utilizes Eventide's patented Structural Split™ technology, allowing the user to split a sound into its transient and tonal parts, independently manipulate the components with world-class Eventide effects, and fuse them back together. This revolutionary approach to both practical and dramatic multi-effect processing delivers smarter production solutions along with a host of new sonic options to enhance and inspire creativity.

Building on its 50-year legacy of groundbreaking audio effects, Eventide painstakingly hand-tuned each Physion Mk II effect for transient or tonal material, and included new effects like Polyphonic Pitch Shifting based on Eventide's new SIFT (Spectral Instantaneous Frequency Tracking) technology. It also features new Reverse delay with Gating, Ping- pong, and Crystals modes, as well as Side Chain Inputs for dynamics effects. The seven transient effects available are Delay, Tap Delay, Dynamics, Phaser, Reverb, Gate + EQ and Reverse Delay. Eight tonal effects can be applied to a source: Delay, Dynamics, Pitch, Chorus, Reverb, Tremolo, EQ and Reverse Delay. The transient/tonal split of a sound can be fine-tuned with four Physion Mk II Structural Split controls...

Continue reading: Eventide Releases the Physion Mk II Plug-in, Delivering a New Dimension of Multi-FX in News.
iZotope RX 10 and Ozone 10 Audio Production Software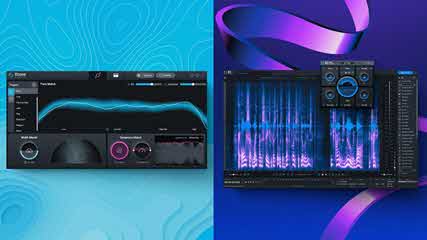 iZotope, Inc., the experts in intelligent audio technology, announce that RX 10, the industry standard in audio repair, is now available. Ozone 10, their flagship mastering suite, will follow on September 13. Both updates bring users tools with increased intelligence, making it easier and faster to get professional-quality results with confidence — while still allowing plenty of opportunity to personalize sounds to taste.

Built on decades of research, RX 10 is the complete toolkit for audio clean-up in music and audio post production. From analyzing audio capture and production issues to providing processing solutions, RX speeds up editing workflows, salvages poor audio takes that were once unfixable, and delivers reliably clear sound quality.

What's new in RX 10:...

Continue reading: iZotope introduces RX 10 Audio Restoration Software and Ozone 10 Mastering Software in News.
New Mackie Thump Loudspeaker Series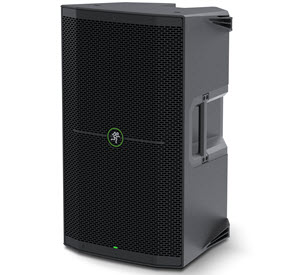 Mackie, a leading producer of high-quality professional audio products, has announced a complete refresh and expansion of its acclaimed Thump Loudspeaker Series, including updates to the standard Thump and the all-new ThumpXT Loudspeakers. Built with Mackie's legendary sound, the new models live alongside the popular Thump GO making this the biggest lineup in the history of the series, featuring all-new cabinets, more power, and greater optimization options.

"Since its debut, the Thump Series has been a staple of the gigging DJ's toolkit everywhere, but in true Mackie fashion, the team is always finding ways to take Thump to a new level of performance.", said Matt Redmon, Director of Product Marketing at Mackie. "We've re-designed Thump from the ground up, giving musicians and venues the best in both quality, experience, and affordability. For weddings, clubs, patio performances, and everything in between - This is honestly the most powerful, best-sounding, and fullest featured generation of Thump that Mackie has ever produced."

Featuring a completely new design...

Continue reading: Mackie Announces Redesign of Renowned Thump Loudspeaker Series in News.
Audio-Technica AT2020USB-X Cardioid Condenser Microphone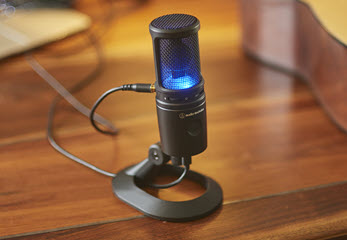 Audio-Technica announced today the release of its AT2020USB-X cardioid condenser USB microphone. A reimagining of the popular AT2020USB+, the AT2020USB-X microphone is specially designed to meet the needs of musicians, streamers, podcasters and other content creators, offering the critically acclaimed and award-winning sound of the original AT2020 upgraded to 24-bit/96 kHz sampling rate with the convenience of plug-and-play USB-C operation.

Improvements to the AT2020USB-X include a soft-touch capacitive mute button on the body to quickly and silently mute audio at the microphone, high-resolution A/D converter with 24-bit/96 kHz sampling rate for extremely clear and natural sound production, two-state LED indicator ring lights for when the microphone is powered on or muted, and an improved custom desk stand for a stable and secure base.

The AT2020USB-X also features a built-in headphone jack with volume and mix control to let you directly monitor with no delay, as well as...

Continue reading: Audio-Technica Launches AT2020USB-X Cardioid Condenser Microphone With Competitive Features and Studio Quality Sound in News.
MusicLab RealGuitar Virtual Guitars Version 6


Whether you're a beginner or a seasoned pro, MusicLab's virtual instruments deliver everything you need to lay down amazing virtual guitar tracks. They are authentic, easy to use and open up endless musical possibilities.

RealGuitar 6
RealGuitar 6 is a combo of two instruments: Classic – all of our original guitar models with loads of new features, and Steel String – the debut of new guitar sample set with five patches and three tunings for each.

RealStrat 6
RealStrat 6 is a combo of two instruments: RealStrat Standard – our original RealStrat model with loads of new playability features, fully backwards compatible to RealStrat previous version, and RealStrat Elite – the debut of our new sample set recorded from each of 3 Stratocaster pickups, having four patches and two tuning selections for each.

RealPC 6
We are proud to present the RealLPC virtual guitar instrument bringing the incomparable Les Paul Custom Guitar sound to your studio...

Continue reading: Best Service announces the release of Version 6 of MusicLab's renowned Virtual Guitars in News.
Eventide Misha Instrument and Sequencer for Eurorack
Eventide Audio has announced immediate availability of Misha, a new type of instrument and sequencer that utilizes a unique, interval-based approach to playing and creating melodies.

Inspired by twelve-tone composition, Misha's sequencer expands upon the tone row technique, allowing for new paths of spontaneous creativity. Modify your sequence using some of the classic techniques such as Prime, Retrograde, or Inverted playback, or completely rearrange your sequence in unpredictable and exciting ways.

Misha comes preloaded with a variety of scales ranging from typical Western scales, microtonal scales, scales that use just intonation, and everything in between. Additionally, two banks of User scales allow you to upload your own scales using the Scala format for further experimentation...

Continue reading: Eventide Releases Misha Instrument and Sequencer for Eurorack in News.
Fiedler Audio Spacelab Version 1.1 Spacialization Plug-In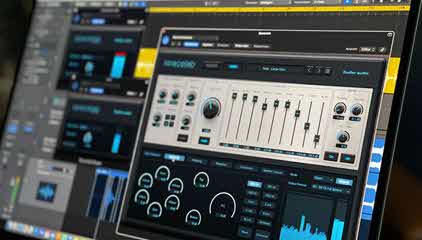 Fiedler Audio, the German reverb professionals and renowned specialists for outstanding "space-in-audio creation tools" have announced the immediate availability of Spacelab Interstellar 1.1.0 and Spacelab Ignition 1.1.1, the first and very important major update of Spacelab, available directly from www.fiedler-audio.com.

The following features have been added to both Spacelab Interstellar and Spacelab Ignition:

- Source Volume - The volume of each object source can now be controlled with a new parameter called Volume from inside Spacelab, speeding up the spatial mixing workflow.
     
- REO Spaces - The internal binauralizer of Spacelab now features three "space"-modes. The options Space - R, Space - E and Space - O offer different overall tonal characters, with Space - R being the setting compatible with previous versions of Spacelab. Depending on the content now there is a choice for getting the best possible room response for monitoring and binaural production...
     
Continue reading: Fiedler Audio released Spacelab Version 1.1 and announce a Summer Sale for Spacelab Ignition in News.
Spitfire Audio ABBEY ROAD ONE: THEMATIC HORNS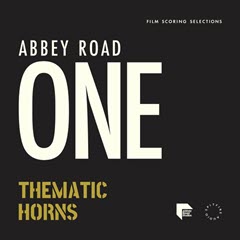 Beautifully building on ABBEY ROAD ONE: ORCHESTRAL FOUNDATIONS, a 90-piece symphonic orchestral release representing the sound-specialising British music technology company's primary partnership with world-famous Abbey Road Studios, Spitfire Audio is proud to announce availability of ABBEY ROAD ONE: THEMATIC HORNS — creatively capturing the vivid and intense sound of an eight-piece horn section so essential to successful orchestral scoring, performed and recorded with the unmistakable acoustics of its Studio One namesake by eight exceptional players and an award- winning sound engineer using priceless microphones for facilitating quick and easy film score creation (whether elevating existing symphonic orchestral toolkits or pairing with ABBEY ROAD ONE: ORCHESTRAL FOUNDATIONS) as a fully-fledged, standalone library, helpfully housed in an award-winning, easy-to-use, intuitive and inspiring (AU-, AAX-, NKS-, VST2-, and VST3-compatible) plug-in designed for composers by composers that loads directly into all major DAWs (Digital Audio Workstations) without the need for any additional software...

Continue reading: Spitfire Audio releases new library addition - ABBEY ROAD ONE: THEMATIC HORNS in News.
iZotope Neutron 4 Audio Production Plug-In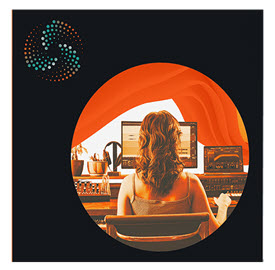 iZotope, Inc., the experts in intelligent audio technology, has released Neutron 4, the latest update to its suite of intelligent audio production plug-ins.

Designed to make crafting a professional mix easier and faster than ever before, Neutron 4 allows users to sculpt sounds seamlessly while staying in their creative flow. Eight powerful plug-ins combine forces through AI-powered assistive audio technology to create the most modern and intelligent mixing experience yet.

Neutron's Mix Assistant is now modernized into the new Assistant View. Powered by machine learning, the new version listens as soon as you play audio, producing a reference starting point and taking you to an intelligent control center where you can perfect your sound. The new Unmask Module discovers and fixes masking issues for you by making space between two competing tracks, balancing bass and kick, or allowing vocals to shine over your mix. With the new Target Library...

Continue reading: iZotope Releases Neutron 4 and Music Production Suite 5 in News.
The Mixing Engineer's Handbook 5th Edition
There's a reason why The Mixing Engineer's Handbook by Bobby Owsinski has been the go-to text in university-level recording and media courses around the world for more than two decades. Simply put, no other book on the market describes the delicate art of mixing in such discrete, easily understandable proven steps, showing musicians, songwriters, artists, audio engineers, and producers exactly how to create great mixes.

Topping out at 300 pages packed with insider tips and tricks, the completely revised and updated Mixing Engineer's Handbook 5th Edition provides the latest techniques for creating pro-level mixes in a home DAW-based studio.

Along with the rich source of information from the previous versions, the latest edition also includes new sections on...

Continue reading: Bobby Owsinski Releases Fifth Edition Of His Mixing Engineer's Handbook in News.
IK Multimedia iRig Stream Mobile Audio Interfaces
IK Multimedia releases iRig Stream Solo and iRig Stream Pro. The original iRig Stream offered groundbreaking features for today's top apps that made it a must-have for millions of creators. Now iRig Stream Solo brings comparable features and connectivity to a new level of affordability, while iRig Stream Pro takes it all to the next level with enhanced connectivity and audio quality for world-class podcasting and streaming.

iRig Stream Solo is an easy-to-use, all-analog audio interface for iPhone*, iPad and Android that lets users connect up to three separate sources and mix them for streaming. Connect DJ decks, mixers or keyboards via RCA inputs. Use headsets or iRig mics for voiceovers via the 3.5mm headphone/microphone jack. And even the audio from the host device can be looped back and mixed together into a signal that's optimized for streaming and sent to the user's choice of streaming apps.

Start connecting with the world
iRig Stream Solo is easy to use with a captive TRRS cable to connect to any iPhone*, iPad and Android device. Its 1/8" mono Thru line output lets users send audio to additional devices such as...

Continue reading: IK Multimedia iRig Stream Solo and iRig Stream Pro - New mobile audio interfaces in News.
Arturia MiniFuse Music Recording Interfaces

Artists, musicians, producers, podcasters, creators everywhere: you need great sound and a great workflow to make your creativity happen. MiniFuse interfaces are designed to take you there.

Make music, record audio, explore world-class software, and express yourself whenever inspiration strikes. MiniFuse is your perfect affordable, professional, and easy-to-use solution for recording and creating.

MiniFuse: the missing puzzle piece
"Arturia's mission has always been to help everyone find their own sound. We've created award-winning software instruments; edgy analog and hybrid synthesizers; as well as intelligent MIDI controllers for modern producers. The audio interface is key to this workflow, this creative ecosystem uniting hardware & software, computer & creativity...

Continue reading: Arturia Introduces the MiniFuse range of Music Recording MIDI and Audio Interfaces in News.
Eventide Anthology XII Bundle Effects Suite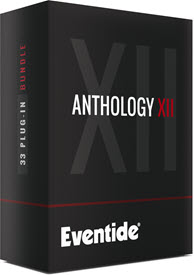 For more than 50 years, Eventide Audio has pioneered audio hardware and software, developing legendary sound processing tools while constantly innovating and pushing the boundaries of technology. With the introduction of the new Anthology XII plug-in bundle, Eventide draws on that rich legacy of award-winning and groundbreaking effects to combine 33 essential music production mainstays in one package for DAW users, inspiring creativity and providing problem-solving solutions to ubiquitous sound production problems.

A comprehensive and creative toolkit for music producers, mixers, and artists alike, the Anthology XII bundle spans five decades of Eventide innovation, from their latest, the revolutionary Structural Effects plug-ins, SplitEQ and Physion, which can modernize workflows through the application of transient/tonal splitting technology to authentic emulations of Eventide processing mainstays such as the iconic H910, H949 and H3000 Harmonizer®, Instant Phaser, Instant Flanger, Omnipressor®­­ and the legendary reverbs of the SP2016. Also included are other one-of-a-kind tools like Tony Visconti's Tverb, the powerful CrushStation® overdrive/distortion command center, and the unique Octavox eight-voice diatonic pitch shift Harmonizer and the radical sound manipulation of Blackhole® and Undulator...

Continue reading: Eventide Releases a Complete Sonic Universe with Anthology XII Bundle in News.
Free Spitfire Glass Piano Sample Library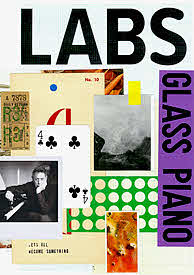 Spitfire Audio is proud to announce availability of LABS Glass Piano — putting the sound of Philip Glass' beloved baby grand piano upon which he has written all of his compositions for the past 30 years into anyone's hands by recording it in the same room it has occupied since acquisition at the celebrated composer's home in Manhattan, NYC, USA and making it available as the latest addition to the sound-specialising British music technology company's infinite series of free software instruments in its award-winning, easy-to-use plug-in presented in AAX, AU, VST2, and VST3 formats for use in any compatible DAW (Digital Audio Workstation) without needing Native Instruments' KONTAKT sample playback engine — as of January 31…

As an acclaimed American composer and pianist, Philip Glass needs no introduction, surely, since he is widely regarded as one of the most influential composers of the late 20th Century, cited as stylistically evolving minimalist musical forms with which he is associated. As such, the celebrated composer's entire breadth of work over the past 30 years — including The Piano Etudes, all of his Academy Award-nominated film scores (such as Kundun, Notes on a Scandal, and The Hours), 14 symphonies, as well as operas Galileo Galilei and In the Penal Colony, amongst hundreds of other compositions — has been written on his beloved baby grand piano...

Continue reading: Free Glass Piano Sample Library from Spitfire Audio and Philip Glass in News.
Spitfire ABBEY ROAD ONE: MYSTERIOUS REEDS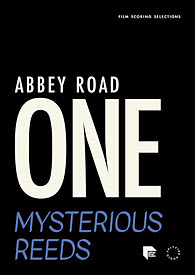 Building upon ABBEY ROAD ONE: ORCHESTRAL FOUNDATIONS, formed from working with a 90-piece symphonic orchestra as its inaugural partnership with Abbey Road Studios, Spitfire Audio is proud to announce availability of ABBEY ROAD ONE: MYSTERIOUS REEDS — recorded in the unmistakable acoustics of the world-famous Studio One with exceptional players, award-winning sound engineers, and priceless microphones as a departure from standard woodwind orchestration by capturing pairings of two oboes and two clarinets as well as two clarinets and two bassoons in octaves to deliver an intriguing alternative for a dark, more mysterious sound utilised by the crème de la crème of Abbey Road-recording film composers as a standalone library allowing anyone to quickly and easily create film scores, elevate existing symphonic orchestra toolkits or pair with ABBEY ROAD ONE: ORCHESTRAL FOUNDATIONS itself to create cinematic themes from the comfort of the British sound-specialising music technology company's award-winning AAX-, AU-, VST2-, and VST3-compatible, NKS (Native Kontrol Standard)-ready plug-in that loads into all major DAWs (Digital Audio Workstations) without the need for any additional software — as of February 3…

"As an entry in our ABBEY ROAD ONE: FILM SCORING SELECTIONS, this looks at the darker side of the woodwind, evoking the times in John Williams scores or Jerry Goldsmith scores — even that kind of Howard Shore/Lord of the Rings vibe — where you have a darker, more mysterious tone." That intriguing introduction to ABBEY ROAD ONE: MYSTERIOUS REEDS comes courtesy of Spitfire Audio co-founder Paul Thomson...

Continue reading: Spitfire Audio advances studio partnership with ABBEY ROAD ONE: MYSTERIOUS REEDS in News.
PreSonus Sphere Music Community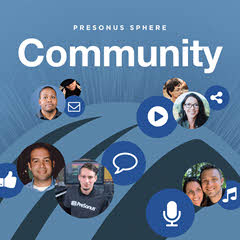 PreSonus has released a major update to its PreSonus Sphere™ membership plan, which already includes licenses for award-winning Studio One® Professional, Notion®, and more. PreSonus Sphere's new Community feature allows members to connect so they can discuss their favorite audio topics with other enthusiasts; share new mixes to get feedback, get advice on the concept art for their next digital release, and more; and even find other PreSonus Sphere members and share a Workspace with them to begin collaborating.

The Community is completely optional for PreSonus Sphere members. Any member who participates in the Community begins by creating a public profile that only PreSonus Sphere members can see. Community members can add a photo,unique cover art, and audio examples of your productions. The public profile also includes a selection of Skills you wish to highlight, such as Arranging, Audio Editing, Composition, Mastering, Mixing, instruments you play, and more...

Continue reading: Major PreSonus Sphere Update Adds Powerful Community Feature in News.
PreSonus Studio One 5.5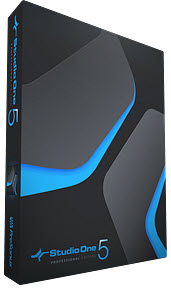 PreSonus® has released Studio One® 5.5, a major update to its award-winning recording and production software (DAW). Studio One 5.5 adds improvements for production, performance, and especially mastering. The first and still only DAW with an integrated mastering environment, Studio One 5.5's Project Page is now even more powerful.

The number one user feature request for the Project Page is now available. With Studio One 5.5, the Project Page now provides full track volume, master volume and insert-effects plug-in parameter automation. Write automation in real-time, using a mouse or hardware controller, or by using the powerful Paint Tool. Clip Gain Envelopes have also been added to the Project Page, enabling you to precisely fix gain issues while mastering, without using dynamics plug-ins. Use the new Listen Bus on the Project Page to monitor through your favorite room-correction plug-ins or headphone monitoring tools without affecting the Master output. Free up processing power for complex mastering chains without losing the ability to make adjustments later using Track Transform. It's all new in Studio One 5.5 Professional...

Continue reading: PreSonus Studio One 5.5 Update Delivers New Mastering Tools and More in News.
Spitfire Audio APPASSIONATA STRINGS Legato Sample Library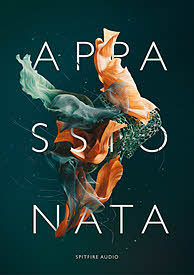 Spitfire Audio is proud to announce availability of SPITFIRE APPASSIONATA STRINGS — seriously capable of creating flowing, passionate lines full of movement and dynamism as a next-generation string legato library recorded using a new technique that the sound-specialising British music technology company calls Impulse Legato, something that has its roots in experiments conducted back in 2007 when the then-non-commercial concern created its first bespoke orchestral libraries, albeit all set to infuse music with more passion than ever before with what it collectively considers to be the most alive- and best-sounding string legato sound available today — as of January 20…

SPITFIRE APPASSIONATA STRINGS has been brought to life to create melody lines that definitively deliver passion, emotion, and intensity, thanks to beautiful long and flowing notes captured courtesy of the talent of 30 of London's finest string players performing in the hallowed (Lyndhurst) Hall at London's legendary AIR Studios, so it will work seamlessly with Spitfire Audio's AIR-recorded orchestral libraries like SPITFIRE SYMPHONIC STRINGS — summing up the foundation of the sound-specialising British music technology company's approach to sampling, recorded with no expense spared via the finest signal path, playing host to the same 60 star string players performing on the same instruments featured on so many memorable scores recorded there for films that have grossed billions between them — and SPITFIRE CHAMBER STRINGS — smaller section with more detail and focus...

Continue reading: Spitfire Audio releases APPASSIONATA STRINGS Next-Generation String Legato Sample Library in News.
Ueberschall Upright Bass 2 Elastik Sample Library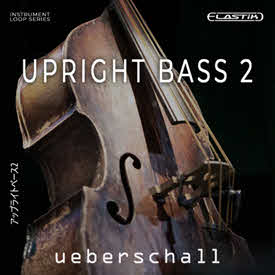 In skilled hands, the upright bass is an amazingly expressive instrument, capable of adding instant character and class to a musical arrangement. As a follow-up to the original Upright Bass release, Upright Bass 2 is a further product in the Elastik Instrument Series, each of which focuses on a single instrument. As before, it features virtuoso playing, captured in pristine audio quality. However, the performances in this release contrast with the original by delivering generally lower tempos and a deeper, warmer, tone, with plenty of sub-bass content and the perfect amount of room ambience to let the performances breathe.

Expressive Down Tempo Phrases

Upright Bass 2 provides a collection of authentic phrases, filled with musical details, that can easily be combined to create a totally realistic performance. The library contains...

Continue reading: Ueberschall releases Upright Bass 2 Elastik Sample Library in News.
Spitfire Audio ABBEY ROAD TWO: ICONIC STRINGS Sample Library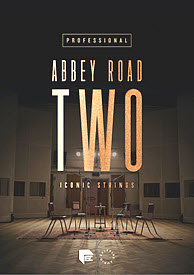 Following in the globally successful sampled footsteps of its ABBEY ROAD ONE: FILM SCORING SELECTIONS series showcasing the foundational film scoring sound of Studio One, ABBEY ROAD TWO: ICONIC STRINGS sees Spitfire Audio continuing its creative partnership with Abbey Road Studios by being welcomed into the world's most famous recording room, Studio Two, to capture a very special string sound for the first time ever — encompassing five of the world's best string players recorded by GRAMMY Award-winning engineer Sam Okell (The Beatles - Remastered) using an array of mouth- watering microphones and recording equipment from the namesake studio's unparalleled collection, creating stunningly realistic legatos and fully-configurable ensembles, available as core ABBEY ROAD TWO: ICONIC STRINGS and ABBEY ROAD TWO: ICONIC STRINGS PROFESSIONAL editions to put the most sought-after string sound in music history in the hands of computer-based composers worldwide, whether composing for pop or film — as of December 9…

Who better to begin by putting that sought-after string sound so creatively captured for Spitfire Audio's ABBEY ROAD TWO: ICONIC STRINGS sample library into its rightful place in music history than someone who is no stranger to the wonderful world of film scoring as an English composer for film, television, and video games, as well as a music technologist to boot — namely, company co-founder Paul Thomson...

Continue reading: Spitfire Audio's ABBEY ROAD TWO: ICONIC STRINGS Sample Library arrives Today in News.
Eventide SplitEQ Advanced Equalization Plug-In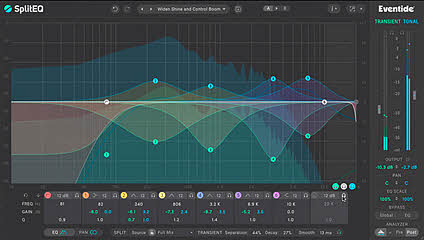 Eventide has released SplitEQ, an advanced equalization plug-in featuring our patented Structural Split technology. The culmination of a multi-year effort, SplitEQ works in a fundamentally different way from traditional EQs. It's a new approach for corrective and creative rebalancing, enhancing, repairing, and widening any musical signal or other audio source.

SplitEQ is a parametric EQ with eight bands of precise, musical filters. What's new and different is Eventide's powerful Structural Split engine which divides the incoming audio into separate Transient and Tonal streams that feed the eight bands. This approach makes common EQ problems easy to solve even in a complex mix and opens up exciting new musical possibilities.

"We're incredibly proud of what our developers have accomplished. They've built on the Structural Split technology at the heart of our earlier plug-in, Physion, to do something truly groundbreaking: SplitEQ is a fundamentally new type of musical tool." said Eventide's founder, Richard Factor...

Continue reading: Eventide Ushers in a New Era of Equalization with SplitEQ in News.
iZotope RX 9 and RX Post Production Suite 6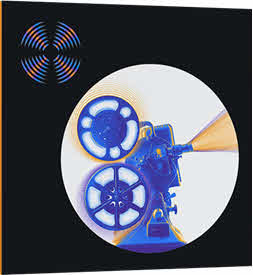 iZotope Inc., the experts in intelligent audio technology, has released RX 9, the latest update to the industry-standard tool for audio repair and enhancement, and incorporated it into version 6 of the RX Post Production Suite.

Built on decades of iZotope research, RX 9 tackles emerging audio capture and production issues to restore damaged, noisy audio to pristine condition. The update includes major improvements to some of the most popular RX modules used in audio post production.

Designed specifically for the demanding needs of post production professionals, RX 9 Advanced allows for full control over your audio with even further updates. The new version of Dialogue Isolate makes it easier than ever to extract clean dialogue from its environment, without artifacts, while the new Complex mode in Ambience Match seamlessly connects dialogue and ADR cuts with real background movement and textures—all with multichannel support up to Dolby Atmos 7.1.2...

Continue reading: iZotope Releases RX 9 and RX Post Production Suite 6 in News.
New Eventide TriceraChorus Effects Pedal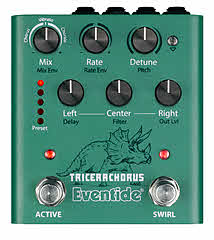 Inspired by the classic Tri-Stereo Chorus and stompbox choruses of the 1970s and early 1980s, Eventide Audio's new TriceraChorus pedal pairs stereo bucket brigade-style chorusing with their legendary MicroPitch detuning to create rich, deep, and lush modulation on guitar, bass, synths, strings and vocals. Joining Blackhole®, MicroPitch, and UltraTap as the fourth member of the dot9 pedal family, TriceraChorus features three chorus voices and three unique chorus effects which can be used to create a wide stereo spread with pulsing waves of modulation.

A three-phase LFO modulates the delay times for the dot9 TriceraChorus pedal's three chorus voices – Left, Center, and Right – producing compelling movement across the stereo field. Combined, the three modulated delays create a huge wash of chorus reminiscent of sounds popularized in the 80's. 

The Chorus effect within TriceraChorus produces a prototypical vintage Chorus sound. The Chorale effect, inspired by classic rackmount tri-chorus units, adds increased complexity and movement for a richer and larger texture, while Vibrato...

Continue reading: Eventide's New TriceraChorus Pedal Offers a Host of Vintage-Inspired Chorusing in News.
IK Multimedia The Resonator for SampleTank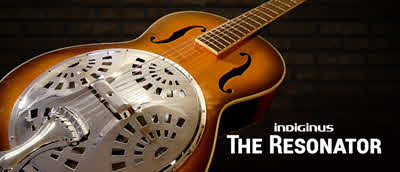 IK Multimedia releases The Resonator, a new SampleTank collection created by sample library specialist Indiginus, which captures the magic of a traditional stringed instrument. Oozing with bluesy, folksy, twangy warmth, The Resonator's multiple slide articulations offer incredible realism and are easily controllable with velocity switching and/or key switches, while an auto-harmony function creates even more convincing-sounding tracks.

From metal cones to metal slide
Invented in the 1920s, the resonator guitar quickly became a huge favorite for blues and bluegrass musicians due to its characteristically punchy, yet warm sound. Played like a traditional guitar with a bottleneck slide, or with raised strings using a metal slide like a lap steel, The Resonator for SampleTank was sampled using a metal slide for maximum effect, adding unmistakable mojo to any musical production...

Continue reading: IK Multimedia releases The Resonator collection for SampleTank in News.
IK Multimedia AmpliTube X-GEAR Effects Pedals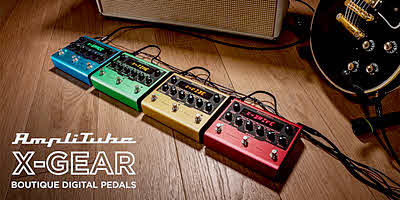 IK Multimedia announces AmpliTube X-GEAR pedals. Each high-performance pedal features 16 different effects, drawn from the most popular AmpliTube models and all-new reverb and delay algorithms, bringing IK's industry-leading effects out of the computer and onto pedalboards.

And each pedal is accompanied by an exclusive virtual X-GEAR version of the exact same effects for use in AmpliTube 5 (SE version included). This lets users record, tweak settings and save presets back to the hardware pedal. Now guitarists can switch between stage and studio seamlessly and enjoy world-class tone anywhere.

Four boutique digital effects pedals
AmpliTube X-GEAR pedals cover the four realms of guitar effects processing. There's X-DRIVE distortion and X-VIBE modulation, which offer a range of iconic, must-have analog pedal effects - all recreated with IK's finest algorithms ever...

Continue reading: IK Multimedia announces AmpliTube X-GEAR digital effects pedals in News.
Best Service Forest Kingdom 3 Virtual Instrument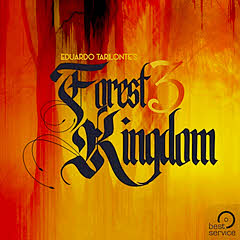 Today we are absolutely thrilled to introduce the latest product from Sampling-Master Eduardo Tarilonte to you... Forest Kingdom 3 is the fantastic sequel to the very successful and award-winning Best Service Forest-Kingdom-Series that brings the sounds of forests and jungles to your computer-based composition-studio.

Forest Kingdom 3 includes over 700 presets and 300 unique performance multi-track-grooves. The sounds range from comprising flutes, harps, percussion-instruments, mythical creatures and vocals to stunning soundscapes. With over 20.000 individual samples (17.6 GB) this library is the perfect tool for those requiring the best sounding and most detailed virtual instruments for their productions.

"Forest Kingdom 3 is a collection of exotic instruments inspired by the diversity of nature, the sounds of deep forests with colorful birds and the scents of lost jungles. Version 3 expands the extensive collection of instruments by adding, among others, 10 spiritual Native American flutes with excellent playability. I can say without any doubt that these are my best sampled flutes yet. Close your eyes and get ready to dive deep into nature and its uniqueness." -- Eduardo Tarilonte...

Continue reading: Best Service releases Forest Kingdom 3 by Eduardo Tarilonte in News.
Sample Logic ANIMATION STATION Advanced Arpeggiator Plug-In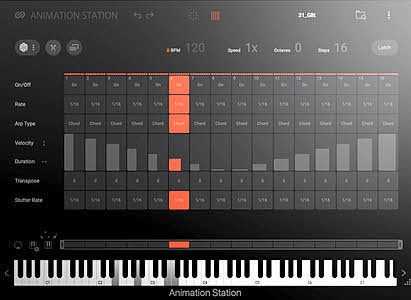 Sample Logic is proud to debut their first plugin - ANIMATION STATION - the next step in assisted music creation. With its intelligent "Step Animator" engine, creating powerful MIDI arpeggiaion patterns and step sequences has never been easier. Play single notes, or chords and let ANIMATION STATION take your virtual instruments on a creative ride. Play, edit and even export the MIDI data to use outside of the plugin. ANIMATION STATION is the world's most advanced, and most flexible arpeggiator and so much more...STEP INTO THE FUTURE.

INTELLIGENT DESIGN
Whether you need a quick and easy way to create memorable melodies, or you just want to glitch the night away, ANIMATION STATION is for you. With tight deadlines and demanding clients, dialing in a perfect pattern quickly can be a life-saver and this rapidly robust plugin makes that happen! Take your favorite virtual instrument, synth, drum machine, sample library, or even vintage hardware, then add ANIMATION STATION as a MIDI effect - you'll hear the incredible transformations instantly. This plugin is designed to generate limitless musical phrases with minimal effort. Simply play a few notes and cycle through the presets to find your perfect motion. ANIMATION STATION is an intuitive and dynamic one-stop solution for creating awesome arpeggio patterns with a little stutter and glitch on the side. The included presets offer a world with limitless possibilities, from simple standard arps to extreme experimental patterns and everything in between. For songwriting inspiration, try the melodic and chordal sequences, or drum machine style patterns for kicking your beats up a notch, or even glitchy stutters that would previously have taken forever to create using standard MIDI programming...

Continue reading: Sample Logic releases ANIMATION STATION Advanced Arpeggiator Plug-In in News.
IK Multimedia Cinekinetik Collection for SampleTank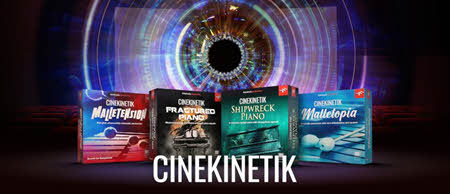 IK Multimedia releases Cinekinetik, a collection of four unique new SampleTank sound libraries, each created to conjure a sense of wonder, mystery or suspense in the listener's mind. Together these libraries offer significant savings over purchasing them separately and a deep well of inspiration to energize any composer's work with fresh, evocative textures and sounds from over 24 GB of sample content and 250 SampleTank 4 instrument presets.

The story behind the sounds
All Cinekinetik instrument libraries were recorded using experimental techniques with results not found anywhere else. In addition to offering users a collection of unique sound sources, Shipwreck Piano and Malletopia include presets where the original samples were further shaped and transformed using highly sought-after vintage hardware reverbs for even more unique textures, pads and atmospheres. The 4 libraries are as follows:...

Continue reading: IK Multimedia releases Cinekinetik collection for SampleTank in News.
---
---