Blue Cat AcouFiend Feedback Simulation Plug-In
Posted by Scott R. Garrigus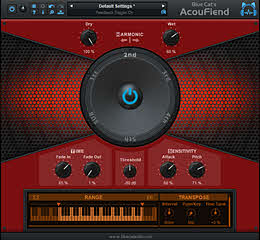 Blue Cat Audio has released Blue Cat's AcouFiend, a new acoustic feedback simulation plug-in that can make electric guitars scream, growl, or sing, even at low volume or through headphones.

AcouFiend can simulate the acoustic feedback (a.k.a. "Larsen effect") well known to guitarists playing loud and close to their speaker, but with total control over the effect: you can choose when and how to trigger the feedback, on sustained notes or chords, with advanced harmonization capabilities.

The plug-in can be controlled via MIDI or automation, and feedback can be applied to existing tracks after recording. It is of course not limited to guitars, as shown in one of the demo videos (links below)...

Continue reading: Blue Cat Audio releases AcouFiend Feedback Simulation Plug-In - Get 10% off! in News.
Voxengo VariSaturator 2.0 Saturation Plug-In
Posted by Scott R. Garrigus




Voxengo is happy to release a new major version 2 of its VariSaturator plug-in. VariSaturator is an audio effect plugin designed to apply saturation and overdrive effects to audio material. VariSaturator is available in AAX, AudioUnit, VST, and VST3 plugin formats, for macOS and Windows computers.

Version 2.0 includes the following changes:
- Added the "Band Count" switch.
- Added the preset list sorting function to the preset manager.
- Redesigned the knob image.
- Extended the "Color Editor" with color modifiers.
- Added the "Gray Blue" color scheme.

VariSaturator features two saturation modules which are applied in sequence, in two-band or broadband mode. The tube/valve saturation module applies asymmetric valve processing that closely resembles sound of a high-quality valve amplifier cascade. Another saturation module VariSaturator features is a digital "waveshaping" saturator with feedback topology. This module applies...

Continue reading: Voxengo releases VariSaturator 2.0 Saturation Plug-In in News. - Comments (Reply To Topic)
Ueberschall Trumpet Solos - Elastik Soundbank
Posted by Scott R. Garrigus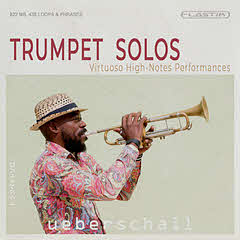 The expressive qualities of the trumpet are hard to fake. However, if your project requires the magic of a top-notch trumpet session player, recorded in an equally top-notch studio environment, then Trumpet Solos is for you. Trumpet Solos delivers the brilliant, expressive, sound of a lead trumpet in a collection of superbly played solos. All performances are provided by virtuoso player Gary Winters who played with Fred Wesley, George Clinton, Pee Wee Ellis, Bootsy Collins and Lenny Kravitz amongst many others. Trumpet Solos is perfect for funk and soul but, in the right musical context, can easily cross-over into genres such as pop, house, electronica or film scores.

Top Class Brass
Each solo is broken down into a convenient lick-based format and ready to be assembled in a perfect combination for your track. With over 400 individual loops and phrases, each between 1 and 8 bars in length, the 820MB of samples are organized into 21 tempo/key based folders for an easy workflow. Both open and mute trumpet performances are included. Original tempos span 90 to 124 BMP but, with Elastik's powerful pitch and tempo manipulation tools, it is easy to craft just the phrase or solo needed to fit your project. In addition, the high-quality and consistency of the recorded sound across all the folders make it easy to mix and match phrases between folders if required...

Continue reading: Ueberschall release Trumpet Solos - Elastik Soundbank in News.
Ueberschall Saxophone Solos - Elastik Soundbank
Posted by Scott R. Garrigus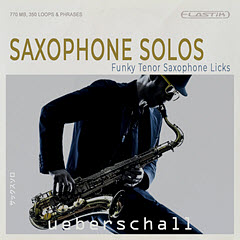 Who doesn't love a classic funk groove? And it is even better when layered with a funky tenor saxophone solo. Well, if you've got the grooves, Saxophone Solos has all the classy tenor sax licks that you are going to need. Saxophone Solos delivers the warm, expressive, sound of the tenor saxophone in a collection of superbly played solos, all broken down into a convenient lick-based format and ready to be assembled in a perfect combination for your track. It's perfect for funk and soul, but would also work just as well in other genres such as house and pop.

Expressive Solo Lines
With over 350 individual loops and phrases, each between 1 and 8 bars in length, the 770MB of samples are organized into 21 tempo/key based folders for an easy workflow. Original tempos span 90 to 124 BMP but, with Elastik's powerful pitch and tempo manipulation tools, it is easy to craft just the phrase or solo needed to fit your project. In addition, the high-quality and consistency of the recorded sound across all the folders make it easy to mix and match phrases between folders if required.

Characterful, Intimate, Sound Of The Tenor Sax
The library is ideal to build a complete, extended, solo, or...

Continue reading: Ueberschall releases Saxophone Solos - Elastik Soundbank in News. - Comments (Reply To Topic)
Native Instruments MYSTERIA Cinematic Vocal Instrument
Posted by Scott R. Garrigus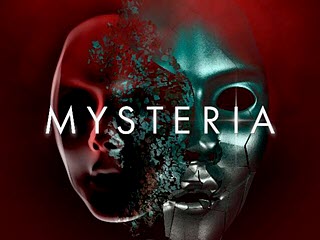 Native Instruments has released MYSTERIA, a one-of-a-kind instrument for creating atmospheres and transitions that allow producers to harness the emotional power of the human voice when scoring for film, games, sound installations, and more.

MYSTERIA unites sources from three meticulously-recorded choirs with in-depth aleatoric sound design to form the only performance instrument that places arcane textures, haunting atmospheres, and enchanting moods from the subtle to the sublime, within a single playable interface.

From aggressive to anxious, despairing to dreamlike, atmospheres and tonal clusters can be played, manipulated, and made to evolve in real-time, for straight-to-picture scoring and single-take scene soundtracks.

The 29 GB sound library encompasses more than 800 sound sources, recorded in Bratislava and Cologne with a large symphonic choir also...

Continue reading: MYSTERIA - A Unique Cinematic Vocal Instrument arrives from Native Instruments in News. - Comments (Reply To Topic)
Sample Logic Motion Keys Sample Library
Posted by Scott R. Garrigus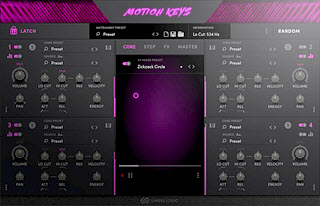 Introducing MOTION KEYS: a refreshingly new approach to the world of keyboards and pianos, utilizing extraordinary organic motion with infinite sound-shaping possibilities unlike any other keyboard instrument. Developed in the Kontakt engine, this mammoth 12 GB virtual instrument contains 480 multi-sampled instruments and presets, over 10,400 samples, all meticulously programmed to provide incredibly inspiring sonic material and musical ideas. Whether you need a pristine grand piano, or a mutating kaleidoscope of lush keyboards, you will find it within MOTION KEYS.

KEYBOARDS SAMPLED
Sample Logic has deeply sampled a wide variety of Grand Pianos,Upright Pianos, Toy Pianos, Harpsichords, Accordions, Organs, Digital Classics, Synthetic Keys, Vintage Keyboards, Wavetable Synthesizers establishing the groundwork for perpetual motion. From there, choose any combination of instruments to create organic, synthetic, and hybrid music productions that instantly come to life through amazing animations and intricate motion.

DYNAMIC & MODERN
The name MOTION KEYS is ideal for this instrument as every preset has been infused with an array of sonic movement...

Continue reading: Sample Logic releases Motion Keys Sample Library for Kontakt in News. - Comments (Reply To Topic)
New Mackie CR Series Monitor Line
Posted by Scott R. Garrigus


Mackie has expanded their immensely popular CR Series Multimedia Monitors, adding new models and a subwoofer to the highly acclaimed line of compact nearfields.

New to the CR Series is the CR3-X 3-inch, CR4-X 4-inch, and CR5-X 5-inch, as well as the Bluetooth enabled CR3-XBT 3-inch, CR4-XBT 4-inch, CR5-XBT 5-inch, and CR8-XBT 8-inch models. Adding new bottom end punch to the line is the new CR8S-XBT Bluetooth enabled Subwoofer.

The perfect upgrade for your desktop speakers, CR Series monitors deliver the performance you expect from a Mackie studio monitor. Ideal for home studios, multimedia content creation, AV post-production, gaming, broadcast and more, CR Series monitors offer studio-quality sound in a compact, well-designed package that's equally at home in a high-end project room or your bookshelf.

CR Series monitors deliver clean, articulate sound, with the CR3-X and CR4-X offering 50W of power and the CR5-X pumping 80W. The new CR8S-XBT subwoofer delivers...

Continue reading: Mackie Introduces New Additions to CR Series Monitor Line in News. - Comments (Reply To Topic)
New Mackie MP In-Ear Monitor Series
Posted by Scott R. Garrigus


Mackie® has expanded its MP Series Professional In-Ear Monitors, adding the new MP-320, MP-360, and MP-460 in-ear monitors to the current lineup of MP-120, MP-220, and MP-240. In addition, Mackie has added Bluetooth® capabilities to the entire MP Series with the introduction of the new MP-BTA Bluetooth Adapter, available bundled with the MP-120, MP-220, and MP-240 to add Bluetooth connectivity.

The three new models take in-ear monitoring to the next level. Mackie's MP-320 Professional In-Ear Monitors feature a triple dynamic driver design for a surprising level of musical separation and nuance with plenty of low-frequency response and exceptional clarity in the mid and high frequencies. Featuring a triple balanced armature design, MP-360 In-Ear Monitors provide a balanced sound with exceptional clarity and stereo imaging. The drivers have been custom designed for the MP Series for the best possible performance. MP-460 In-Ear Monitors take high-fidelity to the next level with a quad balanced-armature design that delivers truly stunning vocal clarity and detail, satisfying the most discerning listener. All three new in-ear monitors employ a precision 3-way crossover that ensures a balanced sound across the entire 20 Hz to 20 kHz frequency range...

Continue reading: Mackie Expands MP In-Ear Monitor Series and Adds Bluetooth in News. - Comments (Reply To Topic)
New Mackie EleMent Series Microphones
Posted by Scott R. Garrigus


Long a leader in live and studio sound, Mackie has now entered into the microphone sphere, introducing their new EleMent Series microphones. Like all Mackie gear, EleMent Series mics combine professional-caliber performance and Mackie's famed Built-like-a-tank™ rugged reliability and outstanding value. The series consists of three models: the EM-89D Live Vocal Dynamic, EM-91C Large-Diaphragm Condenser, and EM-USB USB Condenser microphones.

The EM-89D dynamic microphone features a cardioid polar pattern and is primarily designed for stage use but also makes a fine addition to a studio microphone collection. It's an excellent handheld vocal microphone and also excels as an instrument and amplifier microphone. The EM-89D comes with a mic clip, XLR mic cable, and zipper pouch.

Every studio needs a quality large-diaphragm condenser microphone, and the new Mackie EM-91C's audio quality and classic cardioid polar pattern makes it suitable for a wide variety of studio applications. Choose the EM-91C when...

Continue reading: Mackie Introduces EleMent Series Microphones in News. - Comments (Reply To Topic)
New Mackie MC Series Headphones
Posted by Scott R. Garrigus


Mackie has expanded its popular MC Series headphone line with the new MC-350 and MC-450 professional headphones. Both models offer full range 20 Hz to 20 kHz frequency response, boast Mackie's classic rugged design, and feature premium, real leather adjustable headbands and conforming ear pads to provide an ergonomic fit for hours of comfort.

Like Mackie's established MC-150 and MC-250, the new MC-350 headphones feature a closed-back design for superior sound isolation, making them a great choice for mixing, studio recording, focused critical listening, and personal listening when you want to avoid background noise and leakage. The MC-350's precision-tuned enclosure delivers accurate bass, enhanced high frequency detail, and a wide soundstage. Their 50 mm transducers provide plenty of low end. Impedance is rated at 32 ohms and sensitivity at 97 dB.


MC-450 headphones employ an open-back design for an even wider, deeper soundstage; reduced ear fatigue; high headroom; smooth midrange; and exceptional detail and clarity...

Continue reading: Mackie Unveils New MC Series Headphones in News. - Comments (Reply To Topic)
Voxengo CRTIV Shumovick Creative Noise Padding Plug-In
Posted by Scott R. Garrigus




Voxengo is pleased to release CRTIV Shumovick, a creative dynamic noise-floor padding effect plugin for professional music production applications, available in AAX, AudioUnit, VST and VST3 plug-in formats, for macOS and Windows computers.

CRTIV Shumovick plug-in for professional music production applications produces a creative dynamic noise-floor padding effect. This effect is most effective on beats and synth sounds used in electronic music production – EDM, hip-hop and the like. The noise-floor effect created by this plug-in is correlated to the spectral content of the sound being processed.

As a result, on beats, this creates mellow noise bursts that make bassdrum sounds a lot softer, with a bit of stereo-field enhancement effect. On synths, on the other hand, such noise-floor effect may boost the power and density of the sound. Shumovick can be also effective when used on sterile-sounding basslines where it can add a bit of "pillowy" noise background. In practice, Shumovick can be also used on acoustic drum buses adding "vintage" feel and aggression to them. Shumovick is, however, not as effective when used on full mixes, but can be also used on full mixes in some music genres...

Continue reading: Voxengo releases CRTIV Shumovick - Creative Noise Padding Plug-In in News. - Comments (Reply To Topic)
Best Service NADA Sample Library
Posted by Scott R. Garrigus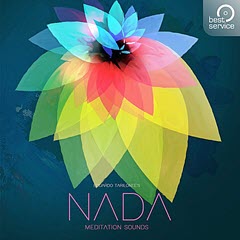 "After a whole life, having gone through many musical styles, one has always been in my heart. Because, deep inside me, it is a significant part of my soul and my essence from which I cannot let go: New Age Music - to which I owe it all; what I am and what I feel. I went from Ethnic, Folk, Antique to Soundtrack music, and every single note I composed or sampled was imbued with it in some way. Sometimes I thought it had left, never to return, but it was always there, dormant and feeding from those new styles and, at the same time, providing them with all its spirit. Now it has returned, more beautiful than ever. NADA is a spiritual voyage through the deepest sounds of my soul" - Eduardo Tarilonte.

Welcome to NADA, Meditation & New Age Sounds by Eduardo Tarilonte

NADA is a fascinating collection of sounds for Meditation, New Age, and Relaxation Music. In NADA you will find inspiring instruments such as Strings, Winds, Percussions, Pianos, Eternal Sounding Bowls, Glasses and Bells. NADA also offers mesmerizing overtone Singing Voices and an alluring and charming Female Solo Voice as well as deep, peaceful, and warm Meditations Pads...

Continue reading: Best Service releases NADA, the New Sample Library by Eduardo Tarilonte in News. - Comments (Reply To Topic)
Eventide Spring Reverb for Desktop and iOS
Posted by Scott R. Garrigus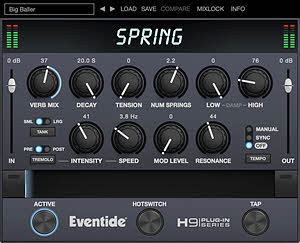 Eventide Audio has released Spring Reverb – a new plug-in for desktop and iOS. Spring models the sound and character of the popular artificial reverbs found in guitar amplifiers. It also goes a step further by allowing access to physical parameter controls not readily available in a real spring tank.

By tweaking these parameters, Spring can create faithful representations of real springs or push the physical boundaries to achieve new distinctive sounds. The Tension [TNSION] and Num Springs [NUMSPR] knobs work in concert to control the amount of "springiness" in the processed sound. Additional adjustable parameters include Resonance and Low and High damping. The beloved performance controls made popular in Eventide's Blackhole, UltraTap and MangledVerb plugins are also available – Ribbon allowing users to program two settings for any combination of the controls and seamlessly transition between them while the programmable HotSwitch an instantaneous jump to an alternate setting at the push of a button...

Continue reading: Eventide Releases Spring Reverb for Desktop and iOS in News. - Comments (Reply To Topic)
PG Music Band-in-a-Box 2020 for Windows
Posted by Scott R. Garrigus


PG Music Inc. has recently released version 2020 of its popular, award-winning Band-in-a-Box® intelligent music accompaniment software for Windows® with over 50 great new features and enhancements! Plus, 202 RealTracks, RealStyles, MIDI SuperTracks, Instrumental Studies, RealDrums transcriptions, Xtra Styles PAK 8, Loops-with-Style PAK 1, and more!

In announcing the release of Band-in-a-Box® 2020 for Windows®, program author and creator Peter Gannon said, "I'm thrilled to be offering the newest 2020 version of Band-in-a-Box, with many enhancements inspired by program users, new add-ons like the soulful Gospel Vocal RealTracks, Xtra Styles 8, Loops-with-Styles for Band-in-a-Box, and great updates to the included RealBand program and VST DAW Plugin!"

There are over 50 new features in Band-in-a-Box® 2020! There are a number of enhancements to the RealTracks (Smoother Sounding Vocal RealTracks, RealTracks Thickening, "Find-a-Sub" RealTracks, and MultiRiffs). Most RealDrums now have RealCharts (with accurate Drum Notation). There's a new RealTracks Artist Browser to find info/bios/links/lists of RealTracks on all the artists. A new Feature Browser allows...

Continue reading: PG Music releases Band-in-a-Box 2020 for Windows with over 50 New Features in News. - Comments (Reply To Topic)
Best Service ARABIC OUD Virtual Instrument
Posted by Scott R. Garrigus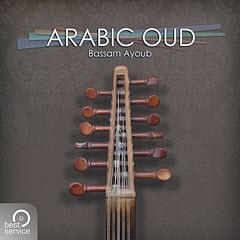 In Arabic music, the Oud is considered one of the oldest musical instruments; in fact, in the Middle East it plays an important role in musical tradition. Although the origins of this instrument are uncertain, the popularity of the Oud has spread across the Mediterranean, North and East Africa and the Middle East, where it is still very popular to this day. In the Western World, the Oud is probably best known as the forerunner of the European lute.

The Arabic Oud Library was created in close collaboration with the renowned musician and Oud virtuoso Bassam Ayoub. Bassam Ayoub performed and recorded all playing variations with the main emphasis on achieving an authentic sound, both for melodic playing and rhythmic accompaniment.

The Arabic Oud offers three different, meticulously recorded Oud instruments with breathtaking 39 articulations and brings one of the oldest string instruments to life right under your fingertips. The versatile sound spectrum of the Oud can enrich any kind of music and the integrated microtunings are very appealing to professional Maqam performers! Because of its wide range of playing styles, the Arabic Oud is ideal for both studio and live performances...

Continue reading: Best Service releases ARABIC OUD Virtual Instrument in News. - Comments (Reply To Topic)
---
---