New Eventide TriceraChorus Effects Pedal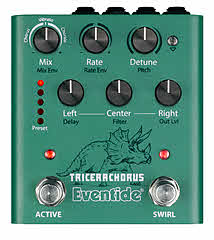 Inspired by the classic Tri-Stereo Chorus and stompbox choruses of the 1970s and early 1980s, Eventide Audio's new TriceraChorus pedal pairs stereo bucket brigade-style chorusing with their legendary MicroPitch detuning to create rich, deep, and lush modulation on guitar, bass, synths, strings and vocals. Joining Blackhole®, MicroPitch, and UltraTap as the fourth member of the dot9 pedal family, TriceraChorus features three chorus voices and three unique chorus effects which can be used to create a wide stereo spread with pulsing waves of modulation.

A three-phase LFO modulates the delay times for the dot9 TriceraChorus pedal's three chorus voices – Left, Center, and Right – producing compelling movement across the stereo field. Combined, the three modulated delays create a huge wash of chorus reminiscent of sounds popularized in the 80's. 

The Chorus effect within TriceraChorus produces a prototypical vintage Chorus sound. The Chorale effect, inspired by classic rackmount tri-chorus units, adds increased complexity and movement for a richer and larger texture, while Vibrato...

Continue reading: Eventide's New TriceraChorus Pedal Offers a Host of Vintage-Inspired Chorusing in News.
IK Multimedia The Resonator for SampleTank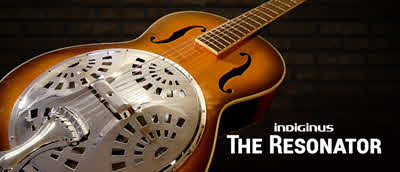 IK Multimedia releases The Resonator, a new SampleTank collection created by sample library specialist Indiginus, which captures the magic of a traditional stringed instrument. Oozing with bluesy, folksy, twangy warmth, The Resonator's multiple slide articulations offer incredible realism and are easily controllable with velocity switching and/or key switches, while an auto-harmony function creates even more convincing-sounding tracks.

From metal cones to metal slide
Invented in the 1920s, the resonator guitar quickly became a huge favorite for blues and bluegrass musicians due to its characteristically punchy, yet warm sound. Played like a traditional guitar with a bottleneck slide, or with raised strings using a metal slide like a lap steel, The Resonator for SampleTank was sampled using a metal slide for maximum effect, adding unmistakable mojo to any musical production...

Continue reading: IK Multimedia releases The Resonator collection for SampleTank in News.
IK Multimedia AmpliTube X-GEAR Effects Pedals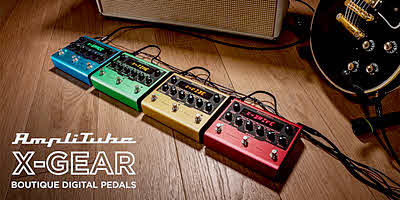 IK Multimedia announces AmpliTube X-GEAR pedals. Each high-performance pedal features 16 different effects, drawn from the most popular AmpliTube models and all-new reverb and delay algorithms, bringing IK's industry-leading effects out of the computer and onto pedalboards.

And each pedal is accompanied by an exclusive virtual X-GEAR version of the exact same effects for use in AmpliTube 5 (SE version included). This lets users record, tweak settings and save presets back to the hardware pedal. Now guitarists can switch between stage and studio seamlessly and enjoy world-class tone anywhere.

Four boutique digital effects pedals
AmpliTube X-GEAR pedals cover the four realms of guitar effects processing. There's X-DRIVE distortion and X-VIBE modulation, which offer a range of iconic, must-have analog pedal effects - all recreated with IK's finest algorithms ever...

Continue reading: IK Multimedia announces AmpliTube X-GEAR digital effects pedals in News.
Best Service Forest Kingdom 3 Virtual Instrument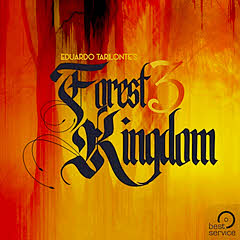 Today we are absolutely thrilled to introduce the latest product from Sampling-Master Eduardo Tarilonte to you... Forest Kingdom 3 is the fantastic sequel to the very successful and award-winning Best Service Forest-Kingdom-Series that brings the sounds of forests and jungles to your computer-based composition-studio.

Forest Kingdom 3 includes over 700 presets and 300 unique performance multi-track-grooves. The sounds range from comprising flutes, harps, percussion-instruments, mythical creatures and vocals to stunning soundscapes. With over 20.000 individual samples (17.6 GB) this library is the perfect tool for those requiring the best sounding and most detailed virtual instruments for their productions.

"Forest Kingdom 3 is a collection of exotic instruments inspired by the diversity of nature, the sounds of deep forests with colorful birds and the scents of lost jungles. Version 3 expands the extensive collection of instruments by adding, among others, 10 spiritual Native American flutes with excellent playability. I can say without any doubt that these are my best sampled flutes yet. Close your eyes and get ready to dive deep into nature and its uniqueness." -- Eduardo Tarilonte...

Continue reading: Best Service releases Forest Kingdom 3 by Eduardo Tarilonte in News.
Sample Logic ANIMATION STATION Advanced Arpeggiator Plug-In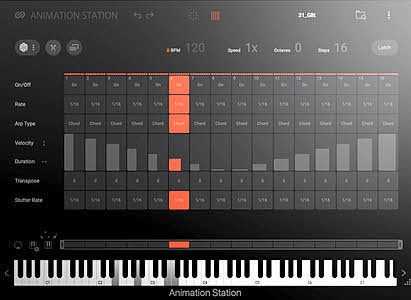 Sample Logic is proud to debut their first plugin - ANIMATION STATION - the next step in assisted music creation. With its intelligent "Step Animator" engine, creating powerful MIDI arpeggiaion patterns and step sequences has never been easier. Play single notes, or chords and let ANIMATION STATION take your virtual instruments on a creative ride. Play, edit and even export the MIDI data to use outside of the plugin. ANIMATION STATION is the world's most advanced, and most flexible arpeggiator and so much more...STEP INTO THE FUTURE.

INTELLIGENT DESIGN
Whether you need a quick and easy way to create memorable melodies, or you just want to glitch the night away, ANIMATION STATION is for you. With tight deadlines and demanding clients, dialing in a perfect pattern quickly can be a life-saver and this rapidly robust plugin makes that happen! Take your favorite virtual instrument, synth, drum machine, sample library, or even vintage hardware, then add ANIMATION STATION as a MIDI effect - you'll hear the incredible transformations instantly. This plugin is designed to generate limitless musical phrases with minimal effort. Simply play a few notes and cycle through the presets to find your perfect motion. ANIMATION STATION is an intuitive and dynamic one-stop solution for creating awesome arpeggio patterns with a little stutter and glitch on the side. The included presets offer a world with limitless possibilities, from simple standard arps to extreme experimental patterns and everything in between. For songwriting inspiration, try the melodic and chordal sequences, or drum machine style patterns for kicking your beats up a notch, or even glitchy stutters that would previously have taken forever to create using standard MIDI programming...

Continue reading: Sample Logic releases ANIMATION STATION Advanced Arpeggiator Plug-In in News.
IK Multimedia Cinekinetik Collection for SampleTank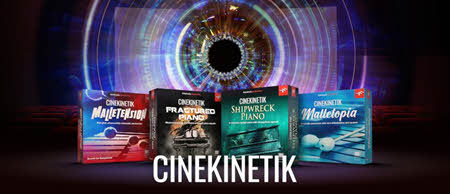 IK Multimedia releases Cinekinetik, a collection of four unique new SampleTank sound libraries, each created to conjure a sense of wonder, mystery or suspense in the listener's mind. Together these libraries offer significant savings over purchasing them separately and a deep well of inspiration to energize any composer's work with fresh, evocative textures and sounds from over 24 GB of sample content and 250 SampleTank 4 instrument presets.

The story behind the sounds
All Cinekinetik instrument libraries were recorded using experimental techniques with results not found anywhere else. In addition to offering users a collection of unique sound sources, Shipwreck Piano and Malletopia include presets where the original samples were further shaped and transformed using highly sought-after vintage hardware reverbs for even more unique textures, pads and atmospheres. The 4 libraries are as follows:...

Continue reading: IK Multimedia releases Cinekinetik collection for SampleTank in News.
Native Instruments Summer of Sound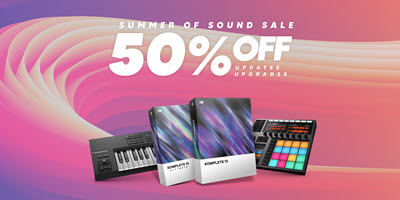 Native Instruments kicks off its annual Summer of Sound sales special, with 50% off updates and upgrades to KOMPLETE 13 collections, individual instruments and effects, TRAKTOR PRO 3, and MASCHINE software. The offer also includes hardware bundle deals, allowing new users to save up to 499.50 USD / 59400 JPY / 449.50 GBP / 499,50 EUR / 3899.50 CNY / 524 CHF / 649 CAD / 699.50 AUD by pairing Native hardware with hand-picked software collections.

For existing KOMPLETE users, Summer of Sound is the best time to step up to the latest edition or upgrade to a larger collection. KOMPLETE 13 is the biggest edition yet, with four curated bundles of instruments, effects, sounds, and Expansions catered to every production workflow. During the promotion, users save 50% on all update/upgrade paths available to them (visible by logging into the My KOMPLETE Offers page).

For those who don't yet own KOMPLETE, the special includes deals on hardware/software bundles, combining MASCHINE production systems, KOMPLETE KONTROL keyboards, and KOMPLETE AUDIO interfaces with software upgrades at discounts of up to 499.50 USD / 59400 JPY / 449.50 GBP / 499,50 EUR / 3899.50 CNY / 524 CHF / 649 CAD / 699.50 AUD...

Continue reading: Native Instruments launches Summer of Sound sales special in News.
IK Multimedia SampleTron 2 Virtual Instrument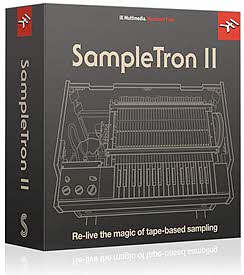 IK Multimedia releases SampleTron 2, the rebirth of analog tape-based sampling. SampleTron 2 combines the powerful sound engine of IK's award-winning SampleTank 4 with IK's industry-leading tape modeling technology to recreate the distinctive, ultra-vibey sounds of tape-based samplers from the '60s and '70s, along with quirky early digital sample players and vocoders.

This comprehensive collection features deep sampling of vintage Mellotron® and Chamberlin tapes, a collection of new acoustic "non-Tron" sounds with tape processing, and now enables users to load their own samples and create modern audiophile Tron sounds that are uniquely theirs.

SampleTron 2 comes with a vast library of over 400 "tracks" that users can load into any preset - up to 3 at once - and then individually process with IK's cutting-edge tape modeling DSP for ultimate tone-shaping flexibility.

A Tron treasure trove
While an extensive collection of new, original samples of vintage Mellotron and Chamberlin are included, SampleTron 2 also...

Continue reading: IK Multimedia launches SampleTron 2 Virtual Instrument in News.
Alesis Prestige Series Digital Pianos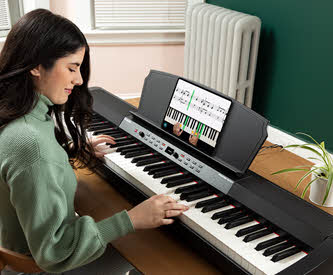 Alesis, the world's leading manufacturer of tools for today's electronic musician, today announced the release of two new 88-key digital pianos – the Prestige and Prestige Artist. The new Prestige Series combines studio-quality multi-sampled voices, a custom-voiced 50W micro-array speaker system, and a luxurious graded hammer-action keybed to provide a truly authentic piano-playing experience that fits in any home.

Unparalleled Authenticity
The Alesis Prestige Series delivers an experience unmatched by anything other than the real thing. Every built-in premium multi-sample voice has been crafted from the ground up by recording its real-world counterpart. From the rich harmonics and colors of the featured Grand Piano voices to the lush textures of the included Strings and Organ voices, and the nostalgia- inducing Electric Piano and Synth voices, the Prestige Series 88-key digital pianos feature the most advanced and versatile sound library ever created for a digital piano. Combined with best-in-class polyphony, players can feel each key authentically responding to their touch, preserving the natural tone of each instrument, and responding to subtle nuances in their playing. This pristine detail can all be heard in any setting thanks to the built-in custom-voiced 50W micro-array speaker system which sounds full and brilliant regardless of room position or surface placement...

Continue reading: Alesis Introduces Prestige Series Digital Pianos with Best-In-Class Sounds and Graded-Hammer Action Keys in News.
Akai Professional MPC One Retro Standalone Music Workstation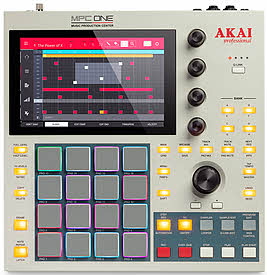 Akai Professional, a leading manufacturer of music equipment for performers and producers has announced the latest addition standardization MPC hardware lineup, MPC One Retro. The MPC One Retro retains the modern standalone MPC workflow while revisiting the legendary MPC look that defined generations of music production and beat making.

The Look, The Legacy, The MPC
Spanning through past decades, the lore of 16 gray pads is forever etched into the productions of countless music-makers who were integral to hit songs and multi-platinum albums. Akai Professional has captured that rich history and style with the new MPC One Retro. Featuring the iconic retro-colored housing and gray pads, the MPC One Retro combines all the modern standalone features ready for new musical adventures and legacies.

Definitive Standalone Workflow
MPC One Retro features all the modern MPC functionality contemporary music producers have come to rely on including...

Continue reading: Akai Professional unveils MPC One Retro Standalone Music Workstation in News.
Best Service Icarus2 Synthesizer Workstation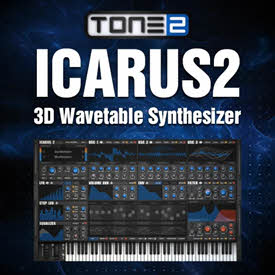 As the exclusive distributor for Tone2, Best Service is pleased to introduce Icarus2 an extremely powerful high-end Synthesizer Workstation.

Icarus2 offers 54 different synthesis methods and provides a gigantic sonic range. The audio engine is not only able to create all classic synthesizer sounds. It can produce a vast range of fresh sounds, which are impossible with other products. The innovative '3D wavetable synthesis', which is exclusive to Icarus, creates a new dimension of sounds with dynamic expression and acoustic movement. Besides that many other unique synthesis-methods are available that can be combined freely.

Icarus comes with the largest collection of filters available within a synthesizer. The audio-engine offers many powerful features like...

Continue reading: Best Service announces the release of Icarus2 Synthesizer Workstation by Tone2 in News.
Best Service Chinese Traditional Instrument Series


As the exclusive distributor for Three-Body Technology, Best Service is pleased to introduce the Chinese Traditional Series featuring five brand new instruments.

Best known for their Heavier7Strings, Three-Body Technology extends its range of instruments. Beside the unique virtual Yangqinin "Raindrop & Blade" you will as of now also find five unique Chinese Wind Instruments in the "Chinese Traditional Series".

With this latest release, the Sample Engine developed by Three-Body Technology has been completely redesigned. Not only the graphical user interface has been revamped, but also many improvements under the hood ensure a user friendly workflow.

The main features of this instrument series among others are...

Continue reading: Best Service announces the release of the Chinese Traditional Instrument Series by Three-Body-Technology in News.
AAS Multiphonics CV-1 Modular Synthesizer Plug-In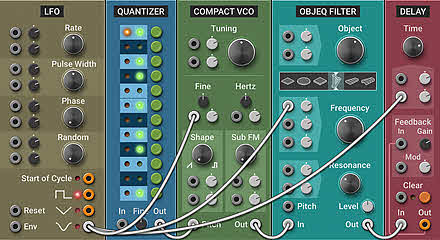 Applied Acoustics Systems announces the release of the Multiphonics CV-1 modular synthesizer for macOS and Windows—a brand new space for exploration, experimentation, creation, learning, and fun.

Dive into the mind-bending world of modular synthesis with Multiphonics CV-1, a powerful platform for assembling and playing patches. With a simple and straightforward interface, Multiphonics is a fast and efficient creation tool for musicians and sound designers. It is also a great learning environment for newcomers. Multiphonics ships with a comprehensive library of modules, from the basics to unique and sophisticated originals, and a vast and inspiring library of patches crafted by top sound designers.

"We are thrilled to be back in the world of modular synthesis, a return to our first love!" says Benoit Charland, lead product designer at Applied Acoustics Systems...

Continue reading: Applied Acoustics Systems releases the brand-new Multiphonics CV-1 modular synthesizer plug-in in News.
M-Audio Oxygen Series MKV Keyboard Controllers


M-Audio, synonymous with innovative music production technology, today announced the introduction of a new keyboard controller series, the Oxygen Series (MKV). These new keyboard controllers offer innovative advancements in hardware control enabling producers and performers the ability to create their own cutting-edge signature sounds on stage or in the studio.

Available in 25-key, 49-key, and 61-key, the new Oxygen Series (MKV) are USB powered and all feature Smart Chord and Smart Scale technology, Auto-mapping, a built-in Arpeggiator and Note Repeat, offering powerful features for modern music production. The Oxygen Series (MKV) keyboard controllers feature eight backlit velocity-sensitive pads, nine assignable faders (one assignable fader on the Oxygen 25), eight assignable knobs, and full Velocity Control of keys and pads to open worlds of precise music creation...

Continue reading: M-Audio introduces the New Oxygen Series MKV Keyboard Controllers in News.
Spitfire Symphony Orchestra Professional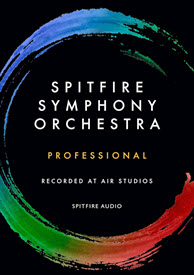 Spitfire Audio is proud to announce availability of SPITFIRE SYMPHONY ORCHESTRA PROFESSIONAL — returning to where it all began by completing its definitive anthology that provides the tools to create blockbuster symphonic works for film, games, and television with additional choice and control above and beyond the musically matured four-year-old original SPITFIRE SYMPHONY ORCHESTRA release recorded in the hallowed (Lyndhurst) Hall at London's legendary AIR Studios, supplemented with (up to) eight microphone positions capturing strings, brass, and woodwinds warm embrace with that room's reverberative lushness like no other, together with three expertly engineered mixes by the award-winning Jake Jackson to create an exhaustively-sampled single package extended in both name and execution, effectively bursting with an encyclopaedic offering of techniques that is surely set to prove popular as another standout collection of libraries loved by many professional composers, comfortably priced to readily represent a 50%-plus saving over purchasing its included libraries individually — as of April 22…

An appreciation of why AIR Studios' Lyndhurst Hall has found favour in film scoring circles will, without doubt, help foster an appreciation of what went into making SPITFIRE SYMPHONY ORCHESTRA PROFESSIONAL what it is and why it is that Spitfire Audio makes sounds for film composers...

Continue reading: Spitfire Audio completes blockbuster symphonic anthology as SPITFIRE SYMPHONY ORCHESTRA PROFESSIONAL in News.
The Music Mixing Workbook
If you're new to mixing and aren't sure what to do, or your mixes aren't anywhere near where you'd like them to be, then The Music Mixing Workbook is exactly what you need. Written by Bobby Owsinski, author of the award winning and highly acclaimed Mixing Engineer's Handbook (the standard reference book for mixing in schools around the world), The Music Mixing Workbook features hands-on exercises that teach you all the things that make a mix sound great, as well as all the things to avoid along the way.

Designed to meet the needs of anyone relatively new to or confused about the once mysterious process of mixing multiple music elements together, the book features 175 different exercises covering every operation needed to complete a modern professional-sounding mix, complete with tips and tricks that come directly from the A-list pro mixers...

Continue reading: Bobby Owsinski releases The Music Mixing Workbook in News.
New Eventide UltraTap Effects Pedal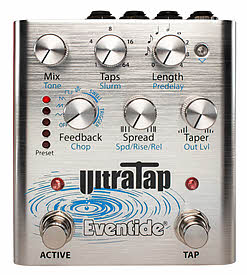 Joining Blackhole® and MicroPitch Delay as the third member of the dot9 pedal family, Eventide Audio's new UltraTap is a unique multi-tap delay pedal that delivers rhythmic delays, glitchy reverbs, huge pad-like volume swells, and expressive modulated effects in a compact form. The dot9 UltraTap is the result of forty years of development that began in 1981 with Eventide's Digiplex and Multitap Delay algorithms for its legendary SP2016 Effects Processor, evolved to become the H3000's UltraTap and culminating in the advanced UltraTap available as both a plugin and H9 algorithm. The new UltraTap pedal further builds on this legendary effect offering the ability to add as many virtual tape heads as desired along with the ability to expressively control head position and output level enabling new and unprecedented effects.

The compact top panel offers direct control of twelve parameters to create simple repeats or morph delays into chorus and reverb. The pedal's Spread function controls the effective distance between up to 64 Taps...

Continue reading: Eventide's New UltraTap Pedal Delivers a Multiverse of Tone in News.
Vienna Synchron Elite Strings Sample Library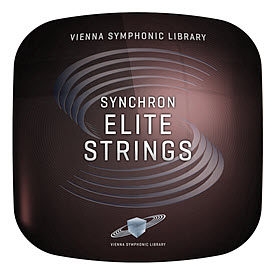 The Vienna Symphonic Library is pleased to announce the release of Synchron Elite Strings, a brand-new collection of small string ensembles recorded in the large hall of Synchron Stage Vienna. The library of six first violins, five second violins, four violas, four cellos and three basses is an extremely versatile and vivid collection whose natural playability, vitality and flexiblity lends itself well for a variety of genres. It is currently available at an introductory price of $354 (reg. $485) for the Standard Library and $588 (reg. $807) for the Full Library.

The Best of the Best
With smaller-sized string ensembles, it's crucial that every musician be a superb performer, and is also capable of contributing to a homogenous group of players. For Synchron Elite Strings, the Vienna team hand-picked the best string players and the concertmaster of the Synchron Stage Orchestra, who themselves are among the best in Vienna, a city famous for its superior string players and their fine instruments...

Continue reading: Vienna Symphonic Library releases new Synchron Elite Strings Sample Library in News.
MOTU UltraLite-mk5 USB Audio Interface

MOTU is now shipping the UltraLite-mk5, a ground-up redesign of its award-winning 18 x 22 half-rack USB audio interface for macOS, Windows and iOS.

The 5th-generation UltraLite-mk5 matches the connectivity of its popular predecessors with a total of 40 simultaneous I/O channels, including two front-panel XLR/TRS combo-style mic/line/hi-Z guitar inputs with preamps (+74 dB of gain), 6 x 10 balanced quarter-inch analog I/O, 8-channel ADAT optical (switchable to stereo TOSLink), stereo RCA S/PDIF I/O and MIDI in/out jacks, all housed in a fully redesigned steel enclosure with molded aluminum alloy end caps.

A new high-resolution, high-contrast white OLED display provides precision metering...

Continue reading: MOTU debuts redesigned 5th-generation UltraLite-mk5 USB Audio Interface in News.
IK Multimedia Total Studio 3 MAX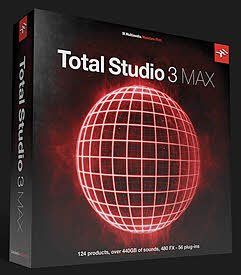 IK Multimedia releases Total Studio 3 MAX, the freshly updated version of their popular software suite for music creation. With 124 included products, Total Studio 3 MAX covers every stage of music production: composing, producing, designing, mixing, mastering and playing. With over 440GB of rich, authentic sounds and over 480 ultra-realistic FX, Total Studio 3 MAX offers users a complete solution for creating music in virtually any style.

The widest range of sounds in a single package
Total Studio 3 MAX packs a massive 14,600 instruments, including IK's newest releases SampleTank 4 MAX, Hammond B-3X, and MODO DRUM, plus Syntronik Deluxe, MODO BASS and Miroslav Philharmonik 2. That's over 440 GB of sounds, from orchestral to synthesizers to organs, as well as incredibly realistic physically modeled bass and drums. There's virtually no limit to the sounds available, making Total Studio 3 MAX ideal for every genre and style...

Continue reading: IK Multimedia releases Total Studio 3 MAX for Mac and PC in News.
Accusonus ERA 5.2 with Mouth DeClicker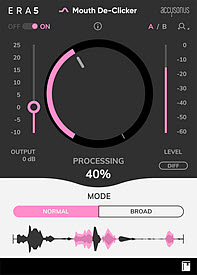 Accusonus announces ERA 5.2, the latest addition to their audio repair repertoire. By further improving the range of tools the ERA bundle has to offer, new and existing users alike can now edit, clean and polish their audio, in a way that is quicker and more efficient than ever before.

The primary addition is Mouth De-Clicker. Mouth noises, such as lip smacks, saliva crackle and mouth clicks, are the bane of audio editing - they take a long time to manually remove, often require reshoots, and can necessitate expensive hardware upgrades. With Mouth De-Clicker, these are things of the past; the plugin swiftly highlights all unwanted sounds in a track, allowing the user to remove them at ease. A once laborious task, now transformed into a speedy step on the path to better content quality.

"One mouse click, zero mouth clicks." - Stelios Bournous, Product Manager, ERA...

Continue reading: Accusonus Announces ERA 5.2, Adding MouthDe-Clicking, Big Sur Compatibility, and More in News.
Eventide MicroPitch Delay Pedal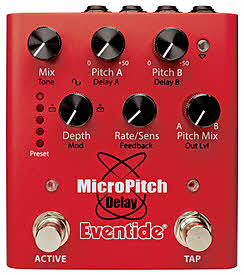 Eventide Audio announces the availability of its iconic MicroPitch Delay digital signal processing algorithm in a standalone pedal. The second pedal in Eventide's dot9 family following the 2020 release of the Blackhole pedal, the MicroPitch Delay pedal is available now from dealers worldwide.

The MicroPitch Delay effect has been a mainstay of audio production and musical performance since it was first introduced within the legendary H910 and H949 effects processors. Its subsequent appearance in the H3000 Harmonizer® further popularized the effect and cemented its place in musical history as a quintessential studio tool. Now players can harness the power of this iconic Eventide effect with the MicroPitch Delay pedal, which offers a unique combination of dual pitch-shifters with fine-resolution de-tuning, delay and modulation – including new positive envelope and negative envelope modulation sources. Its distinctive architecture yields a wide breadth of sonic applications ranging from subtle tone thickening to creating a rich stereo spread to a host of creative sound design special effects. The rugged, gig-ready red MicroPitch Delay pedal is not just for guitars – the pedal brings unparalleled dimension to any source from vocals to keyboards to drums, strings, brass and winds...

Continue reading: Eventide Makes It Big with New MicroPitch Delay Pedal: Your Secret Sauce in News.
Marantz Professional MPM-4000U Podcast Mic

Marantz Professional, a leading manufacturer of sophisticated recording and playback solutions for the broadcasting sector, today announced the introduction of the MPM-4000U Podcast Mic, a no-nonsense, studio-grade USB microphone designed to make podcasting easy. Engineered for any digital broadcasting application where hassle-free, pristine sound capture is required, the MPM-4000U also comes with recording software so aspiring podcasters are ready to create, right out of the box. Ready, Set, Podcast!

Tactile Control Where You Need It
The control functions you need for complete command of your next recording are conveniently located right on the MPM-4000U Podcast Mic. With dedicated controls for headphone monitoring, Mic Gain and Mute – plus a 1/8-inch headphone output – total control of your next stream or broadcast is exactly where you need it...

Continue reading: Marantz Professional debuts the MPM-4000U Podcast Mic in News.
M-Audio Hammer 88 Pro MIDI Keyboard Controller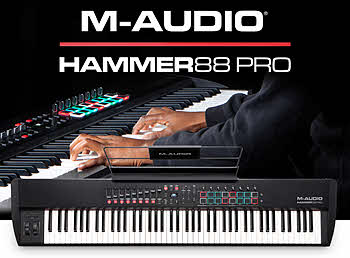 M-Audio, synonymous with innovative music production technology, today announced the introduction of a brand new full-size, weighted keyboard controller, the Hammer 88 Pro. This new M-Audio controller is created for musicians everywhere that want real piano feel, onboard software controls, and precision playing options for fast and fun music creation, right out of the box. The M-Audio Hammer 88 Pro provides everything a music producer needs that no other full-sized controller offers in this price range, solidifying the M-Audio Hammer 88 Pro as the next industry standard in 88-key keyboard controllers.

ONBOARD CONTROL
The Hammer 88 Pro gives you all the options you need to control whatever music creation software you choose...

Continue reading: M-Audio Introduces the Hammer 88 Pro MIDI Keyboard Controller in News.
Ableton Live 11 Music Production Software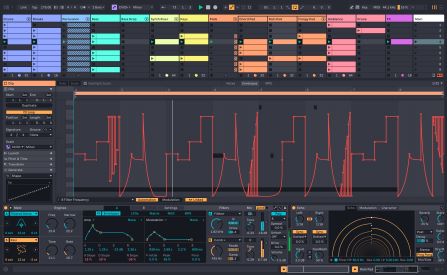 Ableton Live 11 is now available at Ableton.com and at local retailers worldwide. The latest version of Live includes comping and MPE, new devices for experimentation, features for live performance, chance tools and much more.

A partial list of what's new in Live 11 includes:

Comping

Comping – Live organizes multiple passes of an audio or MIDI performance into individual takes. The best parts of these takes can be stitched together for the final result.

Linked-track editing – Link two or more tracks to edit their content simultaneously.

MIDI Polyphonic Expression

MPE support – Add bends, slides and pressure for each individual note in a chord, add subtle expression variations, morph between chords and create evolving sonic textures more easily...

Continue reading: Ableton announces the release of Live 11 Music Production Software in News.
Eventide Clockworks Bundle Effects Plug-In Suite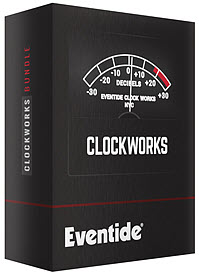 Eventide Audio celebrates its 50th anniversary with the introduction of the Eventide Clockworks Bundle, bringing DAW users a virtual rack full of the groundbreaking effects processors that propelled Eventide to success. Each of the eight processors in the Windows and Mac OS X bundle represents a creativity-unleashing milestone in audio technology.

In 1971, in a New York City basement, Eventide Clockworks revolutionized the audio industry by creating the world's first studio effects processor – the Instant Phaser – and pro audio's first digital device, the Digital Delay Line. Over the course of the following decade, Eventide continued to introduce new processing paradigms – the world's first Harmonizer®, the H910, followed by the Omnipressor®, Instant Flanger, H949, and the SP2016. Meticulously modeled to accurately produce these legacy effects – with dual versions of the H910 & H949 – the Eventide Clockworks bundle of plug-ins also includes sonic and DAW-friendly features even beyond the hardware's capabilities...

Continue reading: Eventide Rewinds Time with the Clockworks Bundle Effects Plug-In Suite in News.
Spitfire Audio Abbey Road One: Sparkling Woodwinds and Legendary Low Strings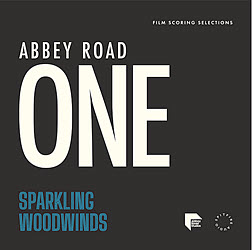 Having successfully cemented a creative partnership with world-famous Abbey Road Studios late last year as ABBEY ROAD ONE: ORCHESTRAL FOUNDATIONS inaugurated its ABBEY ROAD ONE: FILM SCORING SELECTIONS series showcasing the foundational film scoring sound of Studio One by carefully capturing a full, symphony-sized (90-plus- piece) orchestra inside the world's largest purpose-built recording studio, Spitfire Audio is proud to announce availability of its attractively-priced ABBEY ROAD ONE: SPARKLING WOODWINDS and ABBEY ROAD ONE: LEGENDARY LOW STRINGS siblings — smaller libraries captured in that same iconic studio, this time inspired by classic films and offering pre- orchestrated themes to focus on accomplishing certain performance elements as a perfect fit for seamlessly working with(in) ABBEY ROAD ONE: ORCHESTRAL FOUNDATIONS or equally well on their own, as well as working with any other orchestral library — as of February 18…

Abbey Road Studios is indisputably the most famous recording studio in the world and a global music icon. As the world's first purpose-built recording studio, opening on November 12, 1931, almost anyone who's musically anyone has walked up the eminent entrance steps to 3 Abbey Road in London's St John's Wood. While embracing classical recordings and big bands to the first British rock 'n' roll records, and defining the sound of the 'Swinging Sixties' and beyond, Abbey Road Studios has been home to the artists who have shaped music history and popular culture...

Continue reading: Spitfire Audio releases Abbey Road One: Sparkling Woodwinds and Legendary Low Strings in News.
Voxengo TEOTE 1.2 Automatic Spectral Balancer

Voxengo is happy to release TEOTE version 1.2, an automatic spectral balancer plugin for professional music production applications, available in AAX, AudioUnit, VST, and VST3 plugin formats, for macOS and Windows computers. TEOTE was designed to be a very useful tool for both mixing and mastering. It automatically performs such tasks like gentle resonances taming, de-essing, tilt equalizing, usually performed during mixing and mastering. In mixing, TEOTE sounds good on pretty much any material.

The new "Flat/Eq.Loud/EQL+Rock" switch selects an additional profile setting, which may be useful during mastering. The "Eq.Loud" setting applies a 2-2.5dB, 0.8-1 octave wide, boosts to 60, 1.57k and 9.1kHz spectrum areas. The "EQL+Rock" additionally applies a boost to 3.4kHz spectral area, which is often used in rock and metal music. When using these settings, a post-equalizer after TEOTE usually becomes unnecessary. These settings are best used for "Slope" values below -4.2dB/oct; for higher "Slope" values they may be excessive. Note that these profile settings may make the sound a bit "thin", so they are not universally-applicable. Also...

Continue reading: Voxengo TEOTE 1.2 Automatic Spectral Balancer Plug-In Released in News.
AAS Chromaphone 3 Virtual Instrument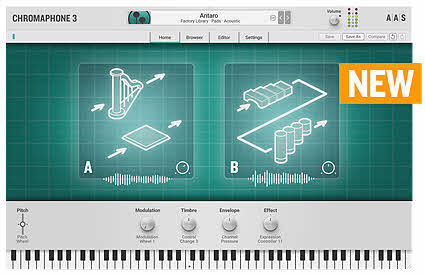 Applied Acoustics Systems announces the official release of Chromaphone 3—an all-new version of its acoustic object synthesizer for macOS and Windows.

Chromaphone 3 is a two-voice eight-physically-modeled-acoustic-resonator synthesizer with advanced editing capabilities that produce a delightful mixture of real-life presence and distinctive timbres that can't be found anywhere else. Chromaphone 3 ships with 1000+ presets taking full advantage of its state-of-the-art acoustic object synthesis.

Here are some of Chromaphone 3's new features:

- Home view—the Home view presents a distraction free and laid-back browsing and tweaking experience...

Continue reading: Applied Acoustics Systems releases the Chromaphone 3 Virtual Instrument in News.
M-Audio Oxygen Pro Series Keyboard Controllers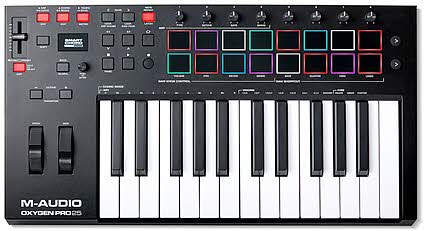 M-Audio (m-audio.com), synonymous with innovative music production technology, today announced the introduction of a brand-new series of keyboard controllers, the Oxygen Pro series! These new keyboard controllers have been made for music producers everywhere that want professional grade features, maximum control of their virtual instruments, and precision playing options on a fun and easy to use controller. The M-Audio Oxygen Pro controllers are the ultimate studio and live performance tools, allowing you to keep your focus on creating music – not programming your software.

Available in 25, 49, 61, and Mini key versions, the entire Oxygen Pro Series are USB powered and all feature an OLED screen, smart chord and smart scale technology, auto-mapping, a built-in arpeggiator and note repeat, which are all essential to modern music production. The Oxygen Pro 25, 49, and 61 all have 16 RGB backlit velocity-sensitive pads, nine assignable faders (excluding the Pro 25), eight assignable knobs, 5-pin MIDI output, and an incredibly smooth-feeling keyboard bed that provides maximum control of your software. The Oxygen Pro Mini packs eight performance pads, four knobs, and four faders into a more compact design...

Continue reading: M-Audio introduces New Oxygen Pro Series Keyboard Controllers in News.