Scott R. Garrigus' DigiFreq(TM) - Tranzport and Active Users


ISSN: 1531-6505; Issue 30
Music technology downloads, news, articles, reviews, tips and tutorials for home recording and professional musicians. Over 20,000 readers can't be wrong!


SPONSORED BY: Sonar 5 Power! - The Comprehensive Guide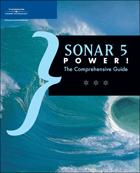 Get the most out of SONAR 5 with the definitive guidebook! SONAR 5 Power! picks up where the manual leaves off, teaching you how to dig deep into the program with step-by-step examples and exercises. From initially customizing SONAR 5 to creating and producing a surround sound mix, you'll learn everything you need to know to make your composing and recording sessions run more smoothly. Learn about MIDI and audio effects and how to use them in offline and real-time situations. Explore mixing music via software and discover how much control you can have when you're using an on-screen software mixer. Take a look at the advanced features of SONAR 5, including StudioWare, Sysx, and CAL. Wrap things up as you learn how to prepare your completed SONAR project and burn it to a CD.
*** Includes FREE bonus SONAR 5 CSi LE Video Tutorial CD!

For more info, free book excerpts, downloads, and a discount, go to:
http://www.garrigus.com/powerbooks.asp

* * * * *

Scott's Notes - Tranzport and Active Users


Eight steps toward improving your composing skills; Charateristics of a good mix; Basic audio mixing procedures; Studio isolation techniques... it's all here in this issue, plus much more. Oh, and I wanted to tell you about this cool, new gadget I've been playing with...

FRONTIER DESIGN TRANZPORT
Imagine your sitting in your personal studio space all alone and you're trying to get some really clean vocal tracks recorded. You can't record in the same room as your equipment because your PC (among other things) puts out too much noise. So you either have an isolation booth that you built for this purpose or you simply set up your mic in another room or even a closet (someplace you can close the door to block out most noises). To record this way, you would need to run back and forth from your studio to the other space in order to start/stop and otherwise control your sequencing software. Not if you have a Tranzport!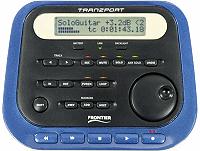 This device has been a godsend to many home and personal studio owners. It lets you wirelessly control your sequencing software from up to 30 feet away. Personally, I couldn't imagine recording without it now. I recently entered a voice-over contest (which I'll talk more about in a future issue) and did the recording using the Tranzport. I didn't have to touch the PC once while recording. I also use it all the time when recording keyboard performances because my keyboard isn't set up in front of my PC. So I simply place the Tranzport on top of the keyboard and record to my heart's content. I even use the Tranzport when I'm in front of the PC because it provides a nice jog/shuttle wheel.

As you can see, I love this thing and I should have a full review for you in the next issue of DigiFreq. In the meantime, we've got a nice surprise for you... we're giving one of these bad boys away for this issue! You can find more details below in this issue.

FIND YOUR DIGIFREQ FRIENDS ONLINE
I also wanted to let you know that we've added a new Active Users features to the DigiFreq forums. Just go to the main forums page:
http://www.digifreq.com/digifreq/discuss/

At the bottom of that page you'll find the Active Users section. This section will tell you who is online browsing the forum. So now you can find out when you fellow DigiFreq members are online. But wait, there's more!

At the top of the Active Users section, you can click on the Active Users title. This is actually a link to the Active Users page:
http://www.digifreq.com/digifreq/discuss/active_users.asp

This page will show you who is online and what part of the forum they are browsing. So now you can find your friends and join them in the same topic. Isn't that cool?

If you haven't registered for your own, free DigiFreq forums account, you're missing out on a lot of fun and great info, so sign up now:
http://www.digifreq.com/digifreq/discuss/policy.asp

And visit the main Forums page everyday to see what's new and stay in touch with your DigiFreq friends:
http://www.digifreq.com/digifreq/discuss/

HAPPY BIRTHDAY!
We've also started a new tradition here at DigiFreq. When you sign up for the Forums, you are also given your very own profile page. After you sign up for a free account, you can set up your profile by clicking on the Profile link (at the top of every page), which takes you to:
http://www.digifreq.com/digifreq/discuss/pop_profile.asp?mode=Edit

There you can enter whatever information about yourself that you would like. Nothing is required though, so don't worry if you'd rather stay anonymous. But those that enter their birth date will get a special greeting from me on their birthday. We've already had quite a few birthdays and you can read all about there in our special Happy Birthday topic:
http://www.digifreq.com/digifreq/discuss/topic.asp?TOPIC_ID=300

Thanks for being a part of DigiFreq! Enjoy the issue...

Scott
http://www.digifreq.com/digifreq/

* * * * *



DFreqDEALS - 10% off all Smart Loops and Groove Monkee Products!

Get 10% off all Smart Loops products
http://digifreq.com/?MusicDeals#SmartLoops

Get 10% off all Groove Monkee products
http://digifreq.com/?MusicDeals#GrooveMonkee

Find more great deals at:
http://www.digifreq.com/digifreq/deals.asp

* * * * *



DFreqNEWS - EZDrummer, Cakewalk, Reason Pianos, Shure Earphones...

Some of the latest music technology news:

Groove Monkee Releases Rock Library for EZDrummer - Get 10% off!
http://www.digifreq.com/digifreq/newsinfo.asp?NewsID=2964

Cakewalk Releases Free Expansion Packs for Rapture and Dimension Pro
http://www.digifreq.com/digifreq/newsinfo.asp?NewsID=2977

Propellerhead Software Announces Reason Pianos ReFill
http://www.digifreq.com/digifreq/newsinfo.asp?NewsID=2999

Shrapnel Games Wants To Make Your Band Famous!
http://www.digifreq.com/digifreq/newsinfo.asp?NewsID=2998

Shure Ships New E500PTH Sound Isolating Earphones
http://www.digifreq.com/digifreq/newsinfo.asp?NewsID=2992

Ableton Announces Live 6
http://www.digifreq.com/digifreq/newsinfo.asp?NewsID=2985

Ueberschall release Liquid Instruments Vol. 6 - Horn Section
http://www.digifreq.com/digifreq/newsinfo.asp?NewsID=2984

Stanton Introduces C.314 CD/MP3 Player
http://www.digifreq.com/digifreq/newsinfo.asp?NewsID=2980

For more of the latest music technology news, go to:
http://www.digifreq.com/digifreq/news.asp

Also, be sure to check out the latest consumer technology news at:
http://www.newtechreview.com/newtechreview/

* * * * *



DFreqREVIEWS - Past Music Technology Reviews

There are no new reviews for this issue, but there are plenty of past reviews to browse in the DigiFreq Reviews web site area:

http://www.digifreq.com/digifreq/reviews.asp

Also, for some of the latest consumer technology reviews, go to:
http://www.newtechreview.com/newtechreview/reviews.asp

* * * * *



DFreqDISCUSS - Vegas, Guitar Rig, Interfaces, Solid Bass Sound...

Some of the latest music technology discussions:

How much do you rely on music technology?
http://www.digifreq.com/digifreq/discuss/topic.asp?TOPIC_ID=336

Vegas Movie Studio + DVD usage?
http://www.digifreq.com/digifreq/discuss/topic.asp?TOPIC_ID=343

Using two different sound cards?
http://www.digifreq.com/digifreq/discuss/topic.asp?TOPIC_ID=376

Native Instruments Guitar Rig?
http://www.digifreq.com/digifreq/discuss/topic.asp?TOPIC_ID=223

What input devices are best for the buck?
http://www.digifreq.com/digifreq/discuss/topic.asp?TOPIC_ID=366

Firewire, USB or PCI Audio Interface?
http://www.digifreq.com/digifreq/discuss/topic.asp?TOPIC_ID=301

Looking for a solid bass sound...
http://www.digifreq.com/digifreq/discuss/topic.asp?TOPIC_ID=341

One Six Six
http://www.digifreq.com/digifreq/discuss/topic.asp?TOPIC_ID=98

To read up on other interesting topics, or to post and get answers to your own questions, go to:
http://www.digifreq.com/digifreq/discuss/

* * * * *



DFreqARTICLES - Composing Skills, Music Mixing, Studio Building...

Some of the latest music technology articles:

Eight Steps Toward Improving Your Music Composing Skills
http://www.digifreq.com/digifreq/article.asp?ID=67

Characteristics of a Good Music Mix
http://www.digifreq.com/digifreq/article.asp?ID=66

Basic Audio Mixing Procedures - The Mixing Process
http://www.digifreq.com/digifreq/article.asp?ID=65

Studio Isolation Techniques - Airtight Construction
http://www.digifreq.com/digifreq/article.asp?ID=64

Acoustic Guitar Recording Microphone Techniques
http://www.digifreq.com/digifreq/article.asp?ID=63

Vocal Recording Microphone Techniques
http://www.digifreq.com/digifreq/article.asp?ID=62

For more of the latest music technology articles, go to:
http://www.digifreq.com/digifreq/articles.asp

* * * * *



DFreqTIPS - Past Music Technology Tips

There are no new tips for this issue, but there are plenty of past tips to browse in the DigiFreq Tips web site area:

http://www.digifreq.com/digifreq/tips.asp

* * * * *



DFreqDOWNLOADS - TubeBaby, mda Piano, VintageMeter, CamelCrusher...

Some of the latest music technology downloads:

TubeBaby Guitar Amplifier Simulator VST Plug-In (Windows - Free)
http://www.digifreq.com/digifreq/download.asp?ID=73

mda Piano Virtual Instrument VSTi Plug-In (Windows - Free)
http://www.digifreq.com/digifreq/download.asp?ID=72

mda DX-10 FM Synthesizer VSTi Plug-In (Windows - Free)
http://www.digifreq.com/digifreq/download.asp?ID=71

PSP VintageMeter Audio Metering Plug-In (Mac/Windows - Free)
http://www.digifreq.com/digifreq/download.asp?ID=70

PSP PianoVerb Reverberation FX Plug-In (Mac/Windows - Free)
http://www.digifreq.com/digifreq/download.asp?ID=69

CamelCrusher Compressor/Distortion FX Plug-In (Mac/Windows - Free)
http://www.digifreq.com/digifreq/download.asp?ID=67

For more of the latest music technology downloads, go to:
http://www.digifreq.com/digifreq/downloads.asp

* * * * *



DFreqCONTEST - Frontier Design Tranzport Wireless Control Surface

Congratulations to Adrian N, Robert W, and Larry A for winning the iZotope Spectron, Trash, Phatmatik PRO contest! (Winners are notified by e-mail).

For the current contest, DigiFreq has teamed up with Frontier Design Group to give away a free Tranzport Wireless DAW Control Surface. One lucky winner will walk away with this great prize! Details can be found on the DigiFreq Contest page.

Remember, you have to be a subscriber to be eligible for contests, and as long as you remain a subscriber, you are automatically entered into each contest. For more information go to:
http://www.digifreq.com/digifreq/contest.asp

* * * * *



DFreqFINISH - Your DigiFreq To Do List

These are a few things you should do to make your experience with visiting DigiFreq a productive, informative, and fun time!

1) Visit the Home page every day to stay up-to-date on all the latest DigiFreq updates and music technology news:
http://www.digifreq.com/digifreq/

2) Visit the Forums every day to see what your fellow DigiFreq members are up to and participate in some of the cool music discussions:
http://www.digifreq.com/digifreq/discuss/

3) If you haven't already, sign up for your free DigiFreq Forums account. We'll be having special contests just for Forum members in the near future and we'll even post a special announcement on your birthday, if you'd like:
http://www.digifreq.com/digifreq/discuss/policy.asp

4) Listen to some great independent music:
http://www.digifreq.com/digifreq/music.asp

5) Submit your own music to be listed on DigiFreq:
http://www.digifreq.com/digifreq/musicsubmit.asp

And finally, please keep spreading the word about DigiFreq!
http://www.digifreq.com/digifreq/recommend.asp

Thanks!
Scott
http://www.digifreq.com/digifreq/

--------------------------------------------------------------------
DISCLAIMER

DigiFreq(TM) is provided for informational purposes only. Any damage resulting from the use of the information herein is the sole responsibility of the reader.

--------------------------------------------------------------------
Copyright 2006 by Scott R. Garrigus. All Rights Reserved.

Please tell your friends about DigiFreq. If you'd like to recommend this newsletter to a friend, go to:
http://www.digifreq.com/digifreq/recommend.asp

To access back issues, go to:
http://www.digifreq.com/digifreq/issues.asp

====================================================================