EarMaster Music Training Software
Available now via Plugivery Distribution and all reputable pro audio resellers worldwide, Plugivery proudly welcome EarMaster to their continuing list of distributed brands.

An ideal tool for your ear training, sight-singing practice and rhythm training at any skill level!

EarMaster is the #1 music theory trainer for all musicians who want to get better skills, from beginner level to very advanced.

Included Training Modes:
- Beginner's Course (219 lessons)
- General Workshops (14 workshops)
- Jazz workshops (14 workshops)
- Customized Exercises (12 activities)

Features :...

Continue reading: Plugivery announces distribution of EarMaster Music Training Software in News.
Cherry Audio Voltage Modular 2.0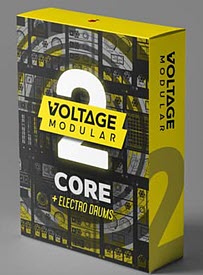 Cherry Audio is thrilled to announce the highly anticipated release of Voltage Modular 2.0! This truly massive new release is completely FREE for all Voltage Modular users, and brings innovative new features, workflow improvements, and new sonic possibilities to the realm of software modular synthesis. Voltage Modular 2.0 is the most feature-rich, sonically flexible software modular platform in the world.

A Universe Without Limits
Voltage Modular 2.0 blows away all patching limitations, and introduces groundbreaking new ways to build complex patches with fewer cables.

Previously, every jack in Voltage Modular was really six jacks, multed together. Version 2.0 allows an unlimited number of cables to be plugged into every jack, for endless modulation possibilities...

Continue reading: Cherry Audio announces the release of Voltage Modular 2.0 in News.
Ueberschall Blues Guitar Elastik Soundbank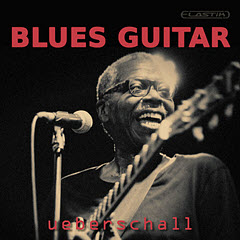 If you are looking for some classic blues progressions, whether to jam over, learn some new chord changes from, or as a foundation for your next blues project, Blues Guitar is packed with inspiration. With a collection of 100 guitar-based sequences played on a combination of acoustic, resonator and electric guitar, Blues Guitar is overflowing with cool blues jams for you to enjoy and explore.

100 Inspiring Blues Chord Sequences
The library features over 5GB of sample content and 1000 individual loops. Each progression is contained within its own folder for easy browsing. The 100 progressions are organized into categories based upon two tempos (120bpm and 60bpm), 5 different tunings (drop D, open D, open C, open G and standard), and include both 4/4 and 6/8 time signatures, so there is plenty of variety. Each progression is played on an acoustic guitar, with a second guitar part provided by either a resonator or electric guitar. You can loop the main progression, but outro parts are also provided for both guitars so you can finish with a flourish...

Continue reading: Ueberschall releases Blues Guitar Elastik Soundbank in News.
Eventide Crystals Effect Plug-In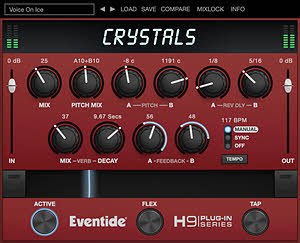 Eventide announces the release of its Crystals plug-in, combining twin reverse pitch shifters with reverse delays and reverb. This iconic H3000 Harmonizer® effect can be used to create out-of-this-world climbing and cascading pitched delays or unique sounding reverbs. It features two reverse granular delays that can be manipulated by length and pitch. Crystals excels at adding life to synths, guitar, and vocals, making them sound huge and majestic. From sound design to otherworldly solos, Crystals will spark inspiration. The plug-in is available for Mac, PC and iOS.

Crystals is a not a one-trick pony. The plug-in is also capable of huge sounding reverbs. Tweak the pitches a full octave down for a quick "drunk vocal" sound. Fit snares in the mix by pitch-shifting down an octave. Set really long delay times (up to 4 seconds per voice) with high feedback to use it as an ambient looper! The effect can be made musical by micro-pitching each voice around the 4th (500 cents), 5th (700 cents), or octave (1200 cents)...

Continue reading: Eventide's Iconic Crystals Effect Now a Plug-In in News.
Arturia OB-Xa V Virtual Synthesizer Instrument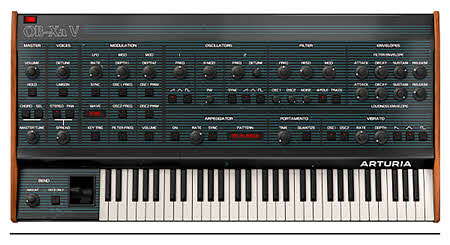 French specialists in music gear Arturia launch OB-Xa V, a software instrument based on the iconic synth OB-Xa, enhanced with groundbreaking features for an elevated sonic experience.

Applying their expert sound engineering to recreating and updating an iconic synth, Arturia now offer an authentic software with soundscapes previously unexplored. Ideal for innovative musicians, synth programmers, and keyboardists who appreciate a fat, aggressive sound. Its versatility creates gratifying results in many distinct styles of music production, making it a valuable asset for producers and creators across multiple genres.

OB-Xa made music history on albums released by Prince, Billy Idol, Chaka Khan, and Bon Jovi, and is most recognizable for appearing on Van Halen's biggest hit, 'Jump'. Contemporary musicians by the likes of Flume, Chrome Sparks, Calvin Harris, and Venetian Snares have also incorporated its energetic potential to enter a new musical dimension. OB-Xa V is...

Continue reading: Arturia announces the release of the OB-Xa V Virtual Synthesizer Instrument in News.
Celemony Melodyne 5 Pitch Correction Software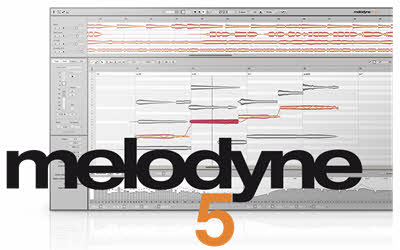 Celemony is pleased to announce the immediate availability of the new Melodyne Version 5. The Grammy-Award-winning software Melodyne is used all over the world every day for the correction, perfection, reshaping and transformation of vocal tracks, samples and audio recordings of all kinds. A studio standard, in fact. But even the best things can be improved.

The most important new features of Version 5 relate to Melodyne's core competence: the correction of poor intonation on vocal tracks. The algorithm now detects – along with a host of other phenomena – the presence and extent of the unpitched (noise-like) components of the vocal sound as well as breaths, which it then processes separately from the pitched components. This leads to better results, less time spent editing, and a more natural sound...

Continue reading: Celemony presents the new Melodyne 5 - Better, Faster, more Musical in News.
Eventide Rotary Mod Plug-In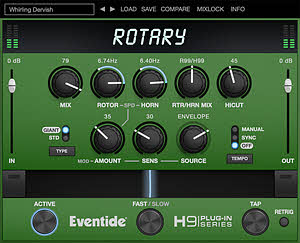 Eventide announces the release of Rotary Mod, a digitalization of the iconic Leslie electro-mechanical rotating horn and baffle speaker cabinets that became integral to the sound of Hammond organs. The plug-in, available for Mac, PC and iOS, produces a pulse-like vibrato effect varying with the modeled speed of rotation. Rotary offers precise control to dial in the exact amount of movement you need. This classic swirly effect has been used on countless hit records to drastically transform guitars, bass, synths and even vocals. Notably used by The Beatles, Beach Boys, The Band, Cream and Pink Floyd, this iconic emulation brings that classic '60s whirling modulation bliss into the 21st century on a laptop or the palm of a hand.

Rotary Mod offers the full range of control and sounds expected from a physical Leslie cabinet, then extends the possibilities beyond the hardware capabilities...

Continue reading: Eventide releases Rotary Mod - a Leslie Cab Modulation Plug-In in News.
Best Service Alpine Volksmusik 2 Virtual Instrument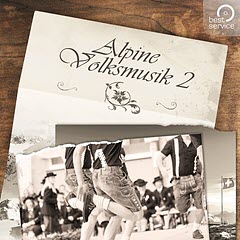 Alpine Volksmusik 2 is the sequel to the popular Alpine Volksmusik Library offering 42 unique patches for folk and brass music. The library covers all the instruments you need for the authentic production of Swiss Folk Music, Austrian Stubenmusik and German Marching Music.

All instruments were carefully recorded and offer different articulations that can be keyswitched to deliver authentic sounds. The interface of the library provides an easy way to customize the sound of the instruments. In addition to the standard controls volume, pan, and reverb, each instrument / patch has its own parameters.

Alpine Volksmusik 2 can be used in many ways. Are you a singer or instrumental soloist and would like to arrange your own pieces? Do you need half-playbacks for your performances? Do you want to supplement live studio recordings with additional sounds? Do you need a pre-production for a guest musician? With Alpine Volksmusik 2 you can do all this and more with ease...

Continue reading: Best Service releases Alpine Volksmusik 2 Virtual Instrument in News.
Strezov Sampling Jade Ethnic Orchestra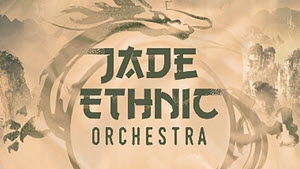 We learned so much about ethnic instruments when we sampled Balkan Ethnic Orchestra in 2017. After spending three years refining our sampling process Strezov Sampling finally brings to you the next product in our Ethnic series. Being inspired by the special sound of Chinese instruments and Mongolian singers we decided it's hightime to create an inspiring instrument in that area filling a huge gap in today's virtual instrument landscape.

Comprised of over 50 instruments spread across more than 100 instrument patches, Jade Ethnic Orchestra gives you the option to choose between multiple categories, such as Bowed Strings Ensembles, Bowed Strings Solo, Plucked Strings, Voices, Woodwinds, Percussion (based on our X3M engine) and stemmed out sound-designed pads created especially for the library by Lyubomir Goshev. The library was co-produced by composer and multiinstrumentalist Seth Tsui, who conducted and recorded the sessions in Beijing, China...

Continue reading: Strezov Sampling releases Jade Ethnic Orchestra Virtual Instrument in News.
Ueberschall Latin Brasil Beats - Elastik Library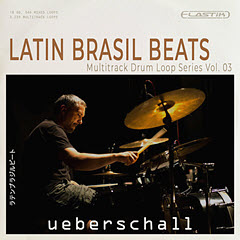 Latin Brasil Beats is part of the Multitrack Drum Loop Series and provides the authentic vibrance and groove of Latin rhythms. Styles span Samba, Batucada, Calypso, Latin, Maracatu, Bossa Nova, Baile Funk and more. Layered with a suitable 4-on-the-floor kick, they would also easily crossover into pop and dance styles. The drum recordings are pristine and the performances full of character, detail and variation. Latin Brasil Beats can provide the perfect rhythmic heart to your next music project.

Irresistible Latin Grooves
The library is built from a massive 10 GB of sample data and contains more than 3800 individual loops divided into sixteen performance-based folders. Each folder features multiple parts and plenty of performance variations. You can, therefore, build a complete drum performance with ease. The performances were recorded at tempos ranging between 60 and 140bpm. With Elastik's high-quality tempo-manipulation algorithms, you have plenty of additional flexibility to find the perfect tempo for your project.

Choice Of Pre-Mixed Or Multitrack Loops
The loops are provided into six separate Elastik soundbanks. The first contains loops of full drum mixes, while the other...

Continue reading: Ueberschall releases Latin Brasil Beats - Elastik Library in News.
Wave Arts PowerSuite 6 Effects Plug-In Bundle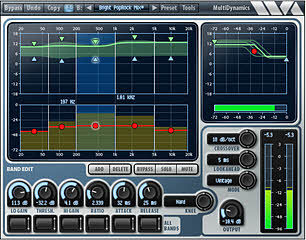 PowerSuite 6 is a significant update to the PowerSuite line, featuring compatibility with MacOS Catalina and support for VST3 format. The signal processing algorithms and user-interface functions are largely unchanged from PowerSuite 5. However, under the hood, the plug-ins have been completely rewritten to use the latest development tools and SDKs. This was necessary to maintain compatibility with MacOS and the latest MacOS DAWs, such as Cubase 10, WaveLab 10, Premiere 2020, and Audition 2020. On these DAWs, the PowerSuite 5 plug-ins do not function – the GUI shows a black window.

PowerSuite 6 includes:

- TrackPlug 6: The ultimate channel strip plug-in, TrackPlug is an all-in-one processor with EQ, spectrum analysis, multi-mode compressors and gate, peak limiter, and more.
- FinalPlug 6 : FinalPlug provides peak limiting and volume maximizing as well as comprehensive dithering options to make this plug-in specially suited for mastering a final mix...

Continue reading: Wave Arts releases PowerSuite 6 Effects Plug-In Bundle in News.
Eventide MicroPitch Dual-Voice Pitch Shifter Plug-in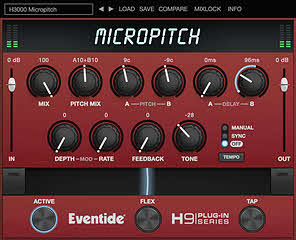 Eventide has released its MicroPitch dual-voice pitch shifter plug-in for Mac and PC. MicroPitch is the latest incarnation of an iconic effect originated by Eventide in the 1970s. With each generation, Eventide has added to, refined, enhanced and built on its legendary predecessors. MicroPitch is a fine-resolution pitch shifter providing effects that range from subtle tone fattening to dramatic slap-back effects via longer delays. MicroPitch goes above and beyond the run-of-mill stereo spread effects of simple micropitch plug-ins by allowing users to mix in detuned and delayed versions of a source, creating depth and dimensions not possible before. Its expanded controls make possible deep pitch dives, haunting echoes, and pristine chorusing effects.

Like all H9 series plug-ins, MicroPitch is designed to "play." The dynamic and fluid Ribbon control can add a bit of "life" while mixing by sweeping MicroPitch's effect between two completely different settings of any combination of controls, such as turning sweetening shifts into a delay-throw and back, or changing delays from dark to bright for transitional effects. Desktop users can plug in a MIDI keyboard and gain control of the Ribbon via the mod wheel...

Continue reading: Eventide Releases MicroPitch Dual-Voice Pitch Shifter Plug-in for Mac and PC in News.
Soniccouture All Saints Choir Virtual Instrument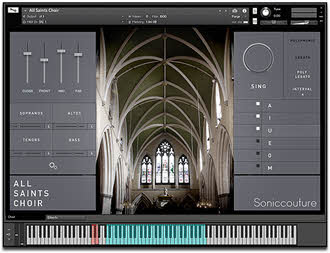 All Saints Church, Tooting - a rich, clear acoustic that has graced recordings by Decca, Sony, and Deutsche Grammophon.

In collaboration with The New London Chamber Choir, Soniccouture presents their most ambitious sampling project yet.

Featuring traditional SATB choir sections recorded seperately, and true Polyphonic Legato, All Saints Choir perfectly recreates the initimate yet expansive sound of a full chamber choir.

The Choir Panel
The main control panel. Choose choir and assign legato by section - control dymanics and vowel shape with real-time controllers. Four mic arrays allow to you mix your sound with precision...

Continue reading: Soniccouture announces the release of All Saints Choir Virtual Chamber Choir Instrument in News.
Eventide CrushStation Overdrive and Distortion Plugin
Today Eventide announced CrushStation, a new overdrive/distortion plug-in for Mac, PC, iPhone and iPad. CrushStation is a versatile stereo distortion platform with controls that can enhance a track with creamy saturation or create a brutal sonic assault.
But distortion is just the starting point. CrushStation brings multi-effects to the mix by adding a three-band EQ, Compression, Octave Mix and the Sag control – Eventide's unique take on failing hardware. Use the MIX Control to blend your dry signal with CrushStation to create parallel compression, distortion and other effects.

CrushStation's combination of ingredients creates a plugin that excels at the three broad ways distortion effects can be deployed. FX expert and author Alex Case refers to them as the "3 Fs": FIT, FIX and FEATURE.

- "FIX" a weak snare track by adding just a bit of grit & compression.
- "FIT" finesse the lead into your mix by adding a bit of warmth and bottom.
- "FEATURE" the lead by crushing it 'til it hurts...

Continue reading: Eventide Announces CrushStation - The 3F Overdrive and Distortion Plugin for Desktop and iOS in News.
Accusonus Sale on Audio Repair Solutions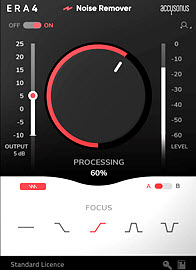 Accusonus announce a sale on their audio repair and enhancement plugin bundles, ERA 4 Bundle Standard & ERA 4 Bundle PRO, to help creators make the most out of this spring, even though most of us are stuck at home! Exclusive personal offers are also available for existing users. Sale ends on the ​28th April 2020​.

In addition to their discounted bundles and plug-ins, Accusonus also offer ​for free 300 unique sound effects and over 2-hours of royalty-free, high quality recordings (weather SFX, transition SFX, and more).

About the ERA 4 Bundles:
Using technology that simply wasn't there before, the ERA 4 Bundles offer both fast workflows and high-quality processing and they are ​the go-to toolkit for both entry-level and professional users who need agile audio repair. They are compatible with all major DAWs and NLEs...

Continue reading: Accusonus announces April 2020 Sale on Audio Repair Plug-Ins in News.
Ueberschall The Resource - Lost Tapes Elastik Soundbank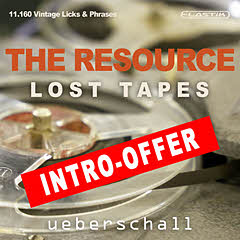 Whether you want to construct a complete solo, build some groovy chord or bass parts, or simply want that short, stand-out, instrumental hook to take your production to another level, The Resource – Lost Tapes is a musical treasure chest, waiting to be mined. The library is ideal for producers of House, Hip Hop, Pop, Jazz, Soul, Funk, or for a dash of something real to add to your latest electronic production. It is also a brilliant complement to the original The Resource release.

Massive Collection Of Phrases And Licks
This release has some serious history. When we released the original The Resource library, it combined four legendary Ueberschall products that were previously never available as digital downloads. One of those products was Vintage Licks & Phrases. For this title, we had recorded a massive collection of inspirational musical phrases. These were played on a wide selection of instruments by some top-class studio musicians. After weeks and weeks of editing, Vintage Licks & Phrases was released in 2002...

Continue reading: Ueberschall releases The Resource - Lost Tapes Elastik Soundbank in News.
Sample Logic GUITAR FURY Multi-Sampled Guitar Virtual Instrument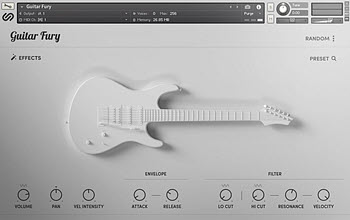 GUITAR FURY is an extensive 43 GB collection of nearly 600 multi-sampled guitars and guitar-inspired instrument presets. This is cinematic diversity at its finest, featuring multi-sampled performances captured by guitar impresario Steve Ouimette and programmed to perfection by the Sample Logic team. Think you know guitar libraries? Think again! GUITAR FURY is no traditional multi-sampled guitar library. It goes far beyond with every preset meticulously produced and dressed in glorious creative effects, resulting in a cinematic sound that blurs the line between music and sound design. From this massive virtual instrument arises a straight to the point user driven musical tool designed with a fresh and modern easy-to-use interface.

AN EVOLUTION IN VIRTUAL GUITARS
Evolving out of Sample Logic's comprehensive family of cinematic guitars content rises an instant powerhouse virtual instrument based on recordings by composer, multi-instrumentalist, and producer Steve Ouimette. Forging deep into the depths of his extensive and rare collection of guitars, Steve applied his unparalleled knowledge and adventurous playing styles to capture an incredible range of guitars and other strung exotics. These range in scope from acoustic and electric guitars, bass guitars, baritones, ukuleles, a Puerto Rican cuatro, Marx-O-Chime, Dobrotron, Purgatory Hill Harp, to one-off string instruments such as the Ouija Board and Cigar Box Guitar, and many more...

Continue reading: Sample Logic releases GUITAR FURY Multi-Sampled Guitar Virtual Instrument in News.
Arturia AudioFuse Studio Desktop Interface
Arturia's highly anticipated AudioFuse Studio interface is now available at stores worldwide. After a thorough period of testing and refinements, the versatile desktop interface is ready to meet the world.

Combining cutting edge technology with the highest quality components, futuristic features with workflow-enhancing design, AudioFuse Studio is a desktop interface that will surpass all your expectations.

Key Features
- 4 premium DiscretePRO© preamps with independent Mic/Line circuits, and dedicated effects inserts
- 4 additional line inputs, with inputs 5-6 commutable to Phono
- Highest quality Bluetooth audio receiver supporting aptX© and AAC©
- 2 pairs of balanced TRS outputs for speakers, with integrated A/B switching
- 2 independent stereo headphones outputs, with 6.35 and 3.5mm sockets
- 2 independent analog line outputs with reamp capability...

Continue reading: Arturia AudioFuse Studio desktop interface Now Shipping in News.
Soundiron Alpha Organ Sample Library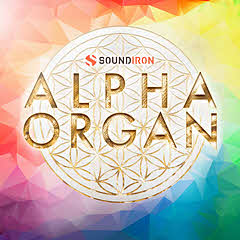 Alpha Organ is a beautifully deep sampled pipe organ recorded at St. Paul's Church in San Francisco, CA. The library was recorded in the same location as our acclaimed Requiem Light Symphonic Choir and Symphony Series Brass. The design of St. Paul's Church mixed with the exquisite sound of the organ is the perfect blend, creating a tonal combination that can't be recreated. This library is Powered By the Native Instruments Kontakt 6 Player engine (VST, AU & AAX Plugin formats) and supports all Komplete Kontrol software and hardware.

St Paul's Church has a unique history that called to us and guided our approach to this instrument. It's original construction was interrupted by the 1906 San Francisco earthquake and stone rubble from the destroyed downtown was used to complete the final structure. The space has extraordinary acoustic properties bordering on the mystical, it's long reverberant tail carrying an airy ghostly quality. Each time we've recorded there, we've experienced waves of strange synchronicities. The entire hall sings as one massive living instrument. To honor the high strangeness that the space seems to evoke, we've enriched the library with a wider selection of our signature sound designed ambiences that delve deeply into psychoacoustic and metaphysical aesthetics.

This library includes all of the stops categorized by mood and feel including...

Continue reading: Soundiron releases Alpha Organ Sample Library in News.
Blue Cat AcouFiend Feedback Simulation Plug-In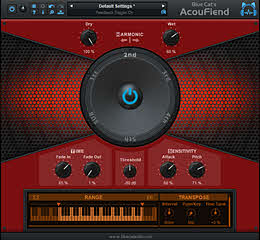 Blue Cat Audio has released Blue Cat's AcouFiend, a new acoustic feedback simulation plug-in that can make electric guitars scream, growl, or sing, even at low volume or through headphones.

AcouFiend can simulate the acoustic feedback (a.k.a. "Larsen effect") well known to guitarists playing loud and close to their speaker, but with total control over the effect: you can choose when and how to trigger the feedback, on sustained notes or chords, with advanced harmonization capabilities.

The plug-in can be controlled via MIDI or automation, and feedback can be applied to existing tracks after recording. It is of course not limited to guitars, as shown in one of the demo videos (links below)...

Continue reading: Blue Cat Audio releases AcouFiend Feedback Simulation Plug-In - Get 10% off! in News.
Voxengo VariSaturator 2.0 Saturation Plug-In


Voxengo is happy to release a new major version 2 of its VariSaturator plug-in. VariSaturator is an audio effect plugin designed to apply saturation and overdrive effects to audio material. VariSaturator is available in AAX, AudioUnit, VST, and VST3 plugin formats, for macOS and Windows computers.

Version 2.0 includes the following changes:
- Added the "Band Count" switch.
- Added the preset list sorting function to the preset manager.
- Redesigned the knob image.
- Extended the "Color Editor" with color modifiers.
- Added the "Gray Blue" color scheme.

VariSaturator features two saturation modules which are applied in sequence, in two-band or broadband mode. The tube/valve saturation module applies asymmetric valve processing that closely resembles sound of a high-quality valve amplifier cascade. Another saturation module VariSaturator features is a digital "waveshaping" saturator with feedback topology. This module applies...

Continue reading: Voxengo releases VariSaturator 2.0 Saturation Plug-In in News. - Comments (Reply To Topic)
Ueberschall Trumpet Solos - Elastik Soundbank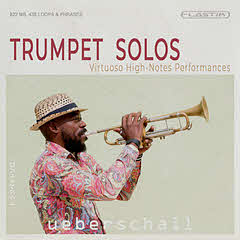 The expressive qualities of the trumpet are hard to fake. However, if your project requires the magic of a top-notch trumpet session player, recorded in an equally top-notch studio environment, then Trumpet Solos is for you. Trumpet Solos delivers the brilliant, expressive, sound of a lead trumpet in a collection of superbly played solos. All performances are provided by virtuoso player Gary Winters who played with Fred Wesley, George Clinton, Pee Wee Ellis, Bootsy Collins and Lenny Kravitz amongst many others. Trumpet Solos is perfect for funk and soul but, in the right musical context, can easily cross-over into genres such as pop, house, electronica or film scores.

Top Class Brass
Each solo is broken down into a convenient lick-based format and ready to be assembled in a perfect combination for your track. With over 400 individual loops and phrases, each between 1 and 8 bars in length, the 820MB of samples are organized into 21 tempo/key based folders for an easy workflow. Both open and mute trumpet performances are included. Original tempos span 90 to 124 BMP but, with Elastik's powerful pitch and tempo manipulation tools, it is easy to craft just the phrase or solo needed to fit your project. In addition, the high-quality and consistency of the recorded sound across all the folders make it easy to mix and match phrases between folders if required...

Continue reading: Ueberschall release Trumpet Solos - Elastik Soundbank in News.
Ueberschall Saxophone Solos - Elastik Soundbank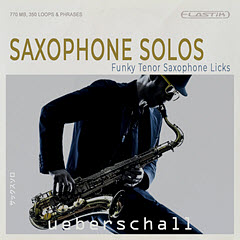 Who doesn't love a classic funk groove? And it is even better when layered with a funky tenor saxophone solo. Well, if you've got the grooves, Saxophone Solos has all the classy tenor sax licks that you are going to need. Saxophone Solos delivers the warm, expressive, sound of the tenor saxophone in a collection of superbly played solos, all broken down into a convenient lick-based format and ready to be assembled in a perfect combination for your track. It's perfect for funk and soul, but would also work just as well in other genres such as house and pop.

Expressive Solo Lines
With over 350 individual loops and phrases, each between 1 and 8 bars in length, the 770MB of samples are organized into 21 tempo/key based folders for an easy workflow. Original tempos span 90 to 124 BMP but, with Elastik's powerful pitch and tempo manipulation tools, it is easy to craft just the phrase or solo needed to fit your project. In addition, the high-quality and consistency of the recorded sound across all the folders make it easy to mix and match phrases between folders if required.

Characterful, Intimate, Sound Of The Tenor Sax
The library is ideal to build a complete, extended, solo, or...

Continue reading: Ueberschall releases Saxophone Solos - Elastik Soundbank in News. - Comments (Reply To Topic)
Native Instruments MYSTERIA Cinematic Vocal Instrument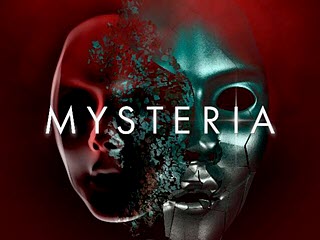 Native Instruments has released MYSTERIA, a one-of-a-kind instrument for creating atmospheres and transitions that allow producers to harness the emotional power of the human voice when scoring for film, games, sound installations, and more.

MYSTERIA unites sources from three meticulously-recorded choirs with in-depth aleatoric sound design to form the only performance instrument that places arcane textures, haunting atmospheres, and enchanting moods from the subtle to the sublime, within a single playable interface.

From aggressive to anxious, despairing to dreamlike, atmospheres and tonal clusters can be played, manipulated, and made to evolve in real-time, for straight-to-picture scoring and single-take scene soundtracks.

The 29 GB sound library encompasses more than 800 sound sources, recorded in Bratislava and Cologne with a large symphonic choir also...

Continue reading: MYSTERIA - A Unique Cinematic Vocal Instrument arrives from Native Instruments in News. - Comments (Reply To Topic)
Sample Logic Motion Keys Sample Library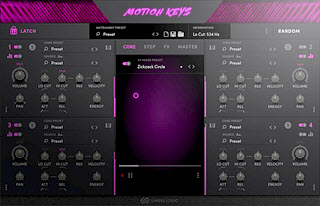 Introducing MOTION KEYS: a refreshingly new approach to the world of keyboards and pianos, utilizing extraordinary organic motion with infinite sound-shaping possibilities unlike any other keyboard instrument. Developed in the Kontakt engine, this mammoth 12 GB virtual instrument contains 480 multi-sampled instruments and presets, over 10,400 samples, all meticulously programmed to provide incredibly inspiring sonic material and musical ideas. Whether you need a pristine grand piano, or a mutating kaleidoscope of lush keyboards, you will find it within MOTION KEYS.

KEYBOARDS SAMPLED
Sample Logic has deeply sampled a wide variety of Grand Pianos,Upright Pianos, Toy Pianos, Harpsichords, Accordions, Organs, Digital Classics, Synthetic Keys, Vintage Keyboards, Wavetable Synthesizers establishing the groundwork for perpetual motion. From there, choose any combination of instruments to create organic, synthetic, and hybrid music productions that instantly come to life through amazing animations and intricate motion.

DYNAMIC & MODERN
The name MOTION KEYS is ideal for this instrument as every preset has been infused with an array of sonic movement...

Continue reading: Sample Logic releases Motion Keys Sample Library for Kontakt in News. - Comments (Reply To Topic)
New Mackie CR Series Monitor Line
Mackie has expanded their immensely popular CR Series Multimedia Monitors, adding new models and a subwoofer to the highly acclaimed line of compact nearfields.

New to the CR Series is the CR3-X 3-inch, CR4-X 4-inch, and CR5-X 5-inch, as well as the Bluetooth enabled CR3-XBT 3-inch, CR4-XBT 4-inch, CR5-XBT 5-inch, and CR8-XBT 8-inch models. Adding new bottom end punch to the line is the new CR8S-XBT Bluetooth enabled Subwoofer.

The perfect upgrade for your desktop speakers, CR Series monitors deliver the performance you expect from a Mackie studio monitor. Ideal for home studios, multimedia content creation, AV post-production, gaming, broadcast and more, CR Series monitors offer studio-quality sound in a compact, well-designed package that's equally at home in a high-end project room or your bookshelf.

CR Series monitors deliver clean, articulate sound, with the CR3-X and CR4-X offering 50W of power and the CR5-X pumping 80W. The new CR8S-XBT subwoofer delivers...

Continue reading: Mackie Introduces New Additions to CR Series Monitor Line in News. - Comments (Reply To Topic)
New Mackie MP In-Ear Monitor Series
Mackie® has expanded its MP Series Professional In-Ear Monitors, adding the new MP-320, MP-360, and MP-460 in-ear monitors to the current lineup of MP-120, MP-220, and MP-240. In addition, Mackie has added Bluetooth® capabilities to the entire MP Series with the introduction of the new MP-BTA Bluetooth Adapter, available bundled with the MP-120, MP-220, and MP-240 to add Bluetooth connectivity.

The three new models take in-ear monitoring to the next level. Mackie's MP-320 Professional In-Ear Monitors feature a triple dynamic driver design for a surprising level of musical separation and nuance with plenty of low-frequency response and exceptional clarity in the mid and high frequencies. Featuring a triple balanced armature design, MP-360 In-Ear Monitors provide a balanced sound with exceptional clarity and stereo imaging. The drivers have been custom designed for the MP Series for the best possible performance. MP-460 In-Ear Monitors take high-fidelity to the next level with a quad balanced-armature design that delivers truly stunning vocal clarity and detail, satisfying the most discerning listener. All three new in-ear monitors employ a precision 3-way crossover that ensures a balanced sound across the entire 20 Hz to 20 kHz frequency range...

Continue reading: Mackie Expands MP In-Ear Monitor Series and Adds Bluetooth in News. - Comments (Reply To Topic)
New Mackie EleMent Series Microphones
Long a leader in live and studio sound, Mackie has now entered into the microphone sphere, introducing their new EleMent Series microphones. Like all Mackie gear, EleMent Series mics combine professional-caliber performance and Mackie's famed Built-like-a-tank™ rugged reliability and outstanding value. The series consists of three models: the EM-89D Live Vocal Dynamic, EM-91C Large-Diaphragm Condenser, and EM-USB USB Condenser microphones.

The EM-89D dynamic microphone features a cardioid polar pattern and is primarily designed for stage use but also makes a fine addition to a studio microphone collection. It's an excellent handheld vocal microphone and also excels as an instrument and amplifier microphone. The EM-89D comes with a mic clip, XLR mic cable, and zipper pouch.

Every studio needs a quality large-diaphragm condenser microphone, and the new Mackie EM-91C's audio quality and classic cardioid polar pattern makes it suitable for a wide variety of studio applications. Choose the EM-91C when...

Continue reading: Mackie Introduces EleMent Series Microphones in News. - Comments (Reply To Topic)
New Mackie MC Series Headphones
Mackie has expanded its popular MC Series headphone line with the new MC-350 and MC-450 professional headphones. Both models offer full range 20 Hz to 20 kHz frequency response, boast Mackie's classic rugged design, and feature premium, real leather adjustable headbands and conforming ear pads to provide an ergonomic fit for hours of comfort.

Like Mackie's established MC-150 and MC-250, the new MC-350 headphones feature a closed-back design for superior sound isolation, making them a great choice for mixing, studio recording, focused critical listening, and personal listening when you want to avoid background noise and leakage. The MC-350's precision-tuned enclosure delivers accurate bass, enhanced high frequency detail, and a wide soundstage. Their 50 mm transducers provide plenty of low end. Impedance is rated at 32 ohms and sensitivity at 97 dB.


MC-450 headphones employ an open-back design for an even wider, deeper soundstage; reduced ear fatigue; high headroom; smooth midrange; and exceptional detail and clarity...

Continue reading: Mackie Unveils New MC Series Headphones in News. - Comments (Reply To Topic)
Voxengo CRTIV Shumovick Creative Noise Padding Plug-In


Voxengo is pleased to release CRTIV Shumovick, a creative dynamic noise-floor padding effect plugin for professional music production applications, available in AAX, AudioUnit, VST and VST3 plug-in formats, for macOS and Windows computers.

CRTIV Shumovick plug-in for professional music production applications produces a creative dynamic noise-floor padding effect. This effect is most effective on beats and synth sounds used in electronic music production – EDM, hip-hop and the like. The noise-floor effect created by this plug-in is correlated to the spectral content of the sound being processed.

As a result, on beats, this creates mellow noise bursts that make bassdrum sounds a lot softer, with a bit of stereo-field enhancement effect. On synths, on the other hand, such noise-floor effect may boost the power and density of the sound. Shumovick can be also effective when used on sterile-sounding basslines where it can add a bit of "pillowy" noise background. In practice, Shumovick can be also used on acoustic drum buses adding "vintage" feel and aggression to them. Shumovick is, however, not as effective when used on full mixes, but can be also used on full mixes in some music genres...

Continue reading: Voxengo releases CRTIV Shumovick - Creative Noise Padding Plug-In in News. - Comments (Reply To Topic)