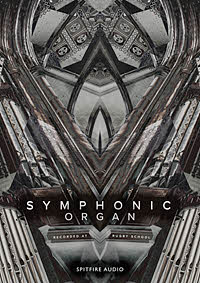 "Achieve that awe-inspiring cinematic sound made famous in blockbuster scores such as Interstellar, 2001: A Space Odyssey and Tron. Presenting the Rugby School Chapel organ — a monstrous, 3,721-pipe, cathedral-sized organ housed in an intimate chapel — creating an epic but immediate sound like no other. To capture its unique depth, power and beauty, we teamed up with composer, producer and organ expert Andy Richards, who has curated stop combinations for instant playability, enabling you to get the best out of this beautifully-voiced instrument." That is the official description for Symphonic Organ, now available from Spitfire Audio, which has provided DigiFreq with a NFR copy for review.

The Symphonic Organ Sample Library
Symphonic Organ is a Kontakt Player-based sample library consisting of approximately 17,760 samples for a NKX compressed size of 23.8 GB with 24 GB of disk space required during installation. While Spitfire lists the Kontakt version requirement as 5.6.8, we were unable to test that exact version. We did, however, test the library in both 5.8.1 and 6.1.1 without any difficulties.

Two main instruments are provided, with the first being the Organ itself (Symphonic Organ.nki). This instrument, at a total sample size of 55.22 GB with 1.90 GB loaded in memory, includes 16 curated articulations numbered in order of intensity, as follows:

1. Ethereal Swell - a very subtle, diapason-based articulation consisting of two manual stops and one pedal stop with its intensity being adjustable via the Swell parameter, which is mapped to the Modulation Wheel by default.
2. Stopped Diapason - another diapason sound represented by only one manual stop without Swell control.
3. Mixtures - a more intense, harmonically-rich sound consisting of three manual stops.
4. Great Diapasons - a three manual stop articulation that provides a fuller diapason sound than 1 or 2, as well as more volume.
5. Horror Strings - a Swell-controlled sound that can provide harmonically-mild and harmonically-rich variations.
6. Super Wooly Flutes - consisting of seven manual stops and two pedal stops, this articulation is mainly based upon the Chimney Flute and Harmonic Flute stops providing a mellow but full sound.
7. British Diapason - with eight manual stops, this articulation begins to present the true depth and power provided by Symphonic Organ.
8. Swell - another Swell-controlled sound, but this one being represented by six Swell-based manual stops, providing a wide range of intensity.
9. Non Interstellar Flutes - a mellow flute stop sound with its volume being controlled by the Swell parameter.
10. Wooly Hell - a harmonically mellow sound but with substantial amplitude, providing a very full overall sound.
11. Festive Trumpet - represented by the single Festive Trumpet manual stop, this is a brass-like sound with plenty of power.
12. Raw Brass - another brass-like sound that is more harmonically rich than the Festive Trumpet articulation and represented by three manual stops and four pedal stops.

Finally, articulations 13 (Full Organ), 14 (Full Congregation), 15 (All The Reeds) and 16 (All Stops Out) represent the full power and sound of Symphonic Organ. Each one includes different harmonic content with 13 and 14 providing Swell control. For more details on the exact stops used in each articulation, check out the Symphonic Organ Stop Registrations graphic provided by Spitfire.

Playing The Symphonic Organ



When using the main Symphonic Organ instrument, you can choose an articulation by clicking its number. Additionally, while Symphonic Organ doesn't provide access to individual stops, different stop combinations can be used by Shift-clicking multiple articulations. For example, combining articulations 1, 3 and 5 gives you the sound from 10 different manual stops. Plus, since articulations 1 and 5 can be controlled via the Swell parameter, you can adjust the harmonic content of the combined sound dynamically.




You also have access to three other controllers: Release, Tightness, and Expression. The Release parameter adjusts how long a note continues to sound after its key is released. This can be changed to provide almost immediate silence or approximately three seconds of release sound. The Tightness parameter controls the sound of the beginning of each note (similar to an envelope attack parameter, although this actually adjusts the sample start time). This can be changed to provide a very tight or loose attack. The Expression parameter allows you to dynamically control the volume of the entire instrument. Of course, you can also do this with the Master Volume control for the instrument that Kontakt provides by default.

Additional Symphonic Organ Instruments
Aside from the main Symphonic Organ instrument, you also have access to a number of other instruments that provide individual articulations and articulation groups. These can be found in the Advanced folder. The Manuals and Pedals instruments give you access to all of the individual manual and pedal articulations. The Ensembles and Building Blocks instruments give you access to articulation subsets of the main Symphonic Organ instrument. You can also find instruments for each of the individual articulations in the Individual Articulations folder. So as I mentioned before, while you don't have access to each stop on the Organ, you can mix and match articulations for various stop combinations.

There is also a FX instrument that includes three articulations not found elsewhere. 5ths FX provides a one-finger full organ sound spanning a little over one octave letting you achieve a huge sound while playing one key. Boomer FX is something extra Spitfire included, which is a recording of the Rugby School Chapel bell. And with Stop Noise you can add the noise of the organ stops being changed to add a touch of realism to your compositions.

Symphonic Organ Mixing
As with the majority of Spitfire Audio products, Symphonic Organ gives you access to multiple microphone positions allowing you to customize your mixes to a very detailed degree. A total of six positions are included here. Inside Mics (In) are located inside the organ itself giving you a very intimate sound with only a hint of the chapel on release. Close Valve (Cv) and Close Ribbon (Cr) provide an upfront sound with the characteristics of two different mic types. LCR (LR) is a stereo bounce of left, center, right omnidirectional mic recordings. Stereo (St) is as its name implies, a standard stereo pair. Finally, Ambient (A) is a set of mics located at the back of the chapel providing the most distant sound as well as the full sound of the chapel itself. All of these mic positions can be assigned to different Kontakt outputs, allowing a multitude of mix possibilities including surround sound.

The Symphonic Organ Synthesizer



Along with the actual sound of the Rugby School Chapel organ itself, Symphonic Organ includes another unique aspect you won't find elsewhere... a synthesizer instrument based on the organ sample recordings. The Warps (Symphonic Organ) instrument is presented in Spitfire's eDNA synthesizer engine giving you access to a large collection of organ samples (232 to be exact) that can be loaded into two different Sound Bays and then mixed and processed with a wide variety of synth parameters and effects. To get you started, Warps includes fifty different presets that demonstrate the huge array of sonic possibilities you can achieve here. Detailed information about the eDNA interface can be found in the Symphonic Organ manual, which can be downloaded from the Spitfire Audio website.

A Beautifully Powerful Cinematic Organ Sound
While there are many other organ sample libraries on the market, Symphonic Organ provides a number of unique aspects. First it gives you access to the sound of the Rugby School Chapel organ itself, which has been used in a wide variety of well-known recordings, including the soundtracks of a number of movies, such as Tim Burton's Sweeney Todd. It also provides the sound of that cathedral-sized organ inside of a small school chapel, resulting in a more powerful and detailed sound that you won't find with other organs housed in larger, more reverberant venues. Add to that the multitude of mix possibilities via microphone positions as well as the included Warps instrument, and you have a library that can be used in both your traditional and modern compositions.

For more information, visit: https://www.spitfireaudio.com/shop/a-z/symphonic-organ/