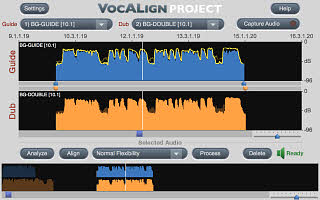 Synchro Arts' legendary automatic time-alignment software, VocALign Project, now integrates with Cakewalk SONAR via the ARA (Audio Random Access) protocol. Compared to non-ARA DAWs, ARA provides instant access to the host's audio data—simply drag and drop Guide and Dub audio events into VocALign Project 3, and it edits the Dub audio instantly to match the Guide's timing.

Since 1995, VocALign has been acclaimed as the unique, 'must have' time alignment tool for audio professionals. It provides vast time-saving and quality benefits when tightening double-tracked vocals and backing harmonies, aligning instrument tracks or sound effects, and syncing ADR or foreign language dubbing. The Synchro Arts/Cakewalk collaboration has culminated in a simpler, streamlined workflow that can save users hours in the studio.

VocALign Project with the new SONAR integration is also now more affordable, and supports computer-based as well as USB iLok authorization.

The ARA version of VocALign Project 3 is available as a free update for existing VocALign Project 3 license owners.

Cakewalk is currently running a special direct promotion for 20% off VocALign Project 3 until May 31, 2017 in its online store at shop.cakewalk.com.

About Synchro Arts
Synchro Arts Limited, based near London, UK, develops and sells audio processing software via a global dealer network and directly via www.synchroarts.com. VocALign, the legendary software for automatic audio alignment of vocals or lipsync dialogue, was introduced in 1995. VocALign is a registered trademark of Synchro Arts Limited.