garrigus
Moderator






USA
14977 Posts

Posted - 04/19/2012 : 10:38:04 AM



[Reply to Topic] | [Reply w/ Quote]
---
VIDEO: Cakewalk SONAR: DreamStation Synth Demo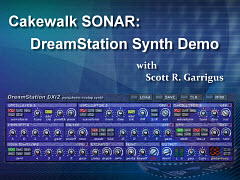 Scott Garrigus demonstrates how to use the DreamStation software synthesizer that comes included with Cakewalk SONAR. Topics include working with presets, building a basic DreamStation project, and creating your own DreamStation sounds. In addition, a secret sound creation feature hidden in the DreamStation interface is revealed.

The DreamStation soft synth simulates an analog modular synth. It provides three oscillator modules, an amplifier module, a filter module, an LFO (low frequency oscillator) module, an envelope module, vibrato and portamento features, and controls pertaining to synth output, such as volume and panning...

Watch the VIDEO: Cakewalk SONAR: DreamStation Synth Demo in Videos.

This post is from the DigiFreq music technology website... click here for more and win products!



Report to Moderator