garrigus
Moderator






USA
15972 Posts

Posted - 09/28/2019 : 7:23:34 PM



[Reply to Topic] | [Reply w/ Quote]
---
AAS Ultra Analog VA-3 Synthesizer Plug-In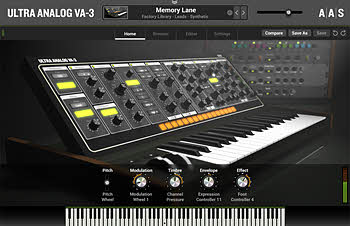 Applied Acoustics Systems announces the official release of Ultra Analog VA-3—an all-new version of its analog synthesizer for Mac OS X and Windows.

Ultra Analog VA-3 is a two-voice two-oscillator-bi-filter-plus-effects analog synthesizer with advanced editing options that achieve a sweet balance between familiarity and flexibility. Ultra Analog VA-3 ships with 1000+ presets taking full advantage of its state-of-the-art analog components.

Here are some of Ultra Analog VA-3's new features:
- Home view—the Home view presents a distraction free and laid-back browsing and tweaking experience.
- Two-Voice Multitimbral—Two independent timbres—stacked or split—create performance-friendly, texture-full, and spacious sounds.
- Macros—Four performance macros per layer that respond to user-defined MIDI controls. Each and every sound features modulation, timbre, envelope, and effect morphing assignments that can be played in real time for enhanced expressivity and sonic dimension...

Continue reading: Applied Acoustics Systems releases the Ultra Analog VA-3 analog synthesizer plug-in in News.

This post is from the DigiFreq music technology website... click here for more and win products!



Report to Moderator