garrigus
Moderator






USA
15972 Posts

Posted - 09/26/2019 : 8:31:31 PM



[Reply to Topic] | [Reply w/ Quote]
---
IK Multimedia Hammond B-3X Virtual Instrument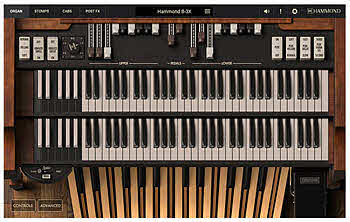 IK Multimedia announces the Hammond B-3X tonewheel organ virtual instrument. Created in close collaboration with Hammond USA and Suzuki Music Corp. of Japan, along with top Hammond artists, it meticulously recreates the sound, controls and entire effects signal path of the legendary Hammond B-3. This comprehensive approach offers a level of realism and detail that will satisfy most the discriminating B-3 fans while also offering an affordable introduction to the unique world of tonewheel organs that can be enjoyed by all levels of players.

IK's industry-leading modeling techniques were employed to deliver fine details and nuances that passed the discerning ears of the Hammond Organ Company in Chicago. In addition to its authentic organ sound, this new instrument offers a full-rig chain including stomp effects, an extended version of IK's LeslieŽ Collection with a rotary cabinet with mix-and-match amp and cabinet models plus four microphones, a parallel guitar amp with 4x12 cabinet, a mixer and three studio post effects.

Available for Mac/PC as a stand-alone application and as a virtual instrument plug-in, the Hammond B-3X offers...

Continue reading: IK Multimedia Debuts Hammond B-3X virtual instrument in partnership with Hammond USA and Suzuki Music Corp. of Japan in News.

This post is from the DigiFreq music technology website... click here for more and win products!



Report to Moderator