garrigus
Moderator






USA
15972 Posts

Posted - 09/15/2019 : 3:06:26 PM



[Reply to Topic] | [Reply w/ Quote]
---
Blue Cat's Plug'n Script 3.2 Audio and MIDI Scripting Plug-In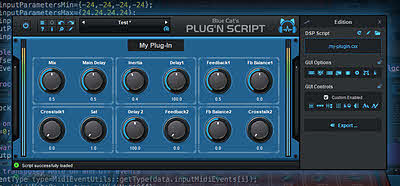 Blue Cat Audio has released a free update for Blue Cat's Plug'n Script, their scripting software that can be programmed to create custom audio and MIDI effects or virtual instruments inside most Digital Audio Workstations (DAW).

With its ability to export independent plug-ins in AAX format for Pro Tools and Media Composer (in addition to already supported VST, VST3 or Audio Unit plug-ins formats), the new source code encryption options for exported plug-ins, the new KUIML 2.6 user interface programming language and the new data sharing features between the dsp and the user interface, this new version is full-featured development environment to create state of the art audio plug-ins for all Digital Audio Workstations.

Plug'n Script 3.2 also brings full MIDI I/O support for VST3, a new preset browser (also available in exported plug-ins) and many other improvements (full list below)...

Continue reading: Blue Cat Audio Releases Blue Cat's Plug'n Script 3.2 Audio and MIDI Scripting Plug-In - Get 10% off! in News.

This post is from the DigiFreq music technology website... click here for more and win products!



Report to Moderator