garrigus
Moderator






USA
15428 Posts

Posted - 03/12/2019 : 8:17:04 PM



[Reply to Topic] | [Reply w/ Quote]
---
Sterling Audio SL230MP Mic Pair for Stereo Recording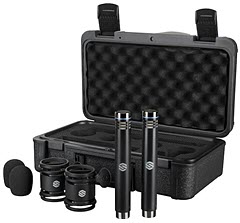 Sterling Audio, makers of high-quality studio recording equipment, announces the SL230MP medium-diaphragm condenser microphones. Offered as a matched pair, the SL230MP mics are an excellent choice for capturing ultra-realistic stereo recordings of acoustic guitar, piano, percussion, choirs, string sections, entire bands or orchestras, and more. As expected from Sterling, the sound and build quality is comparable to that of microphones many times more expensive.

Each SL230 mic employs a real gold-sputtered condenser capsule with a six-micron membrane, allowing for very high sensitivity to even the subtlest dynamic nuances in the source material. The mics' cardioid pickup pattern provides excellent rejection of off-axis sounds, and a Class-A FET (field effect transistor) circuit design fosters smooth, wide frequency response and clean, consistent performance. As with most condenser mics, Sterling Audio SL230s operate on standard 48 volt phantom power...

Continue reading: Sterling Audio SL230MP Mic Pair Offers Stunning Value for Stereo Recording in News.

This post is from the DigiFreq music technology website... click here for more and win products!



Report to Moderator