garrigus
Moderator






USA
15112 Posts

Posted - 09/08/2018 : 10:55:36 AM



[Reply to Topic] | [Reply w/ Quote]
---
Spitfire Audio STUDIO STRINGS Orchestral Library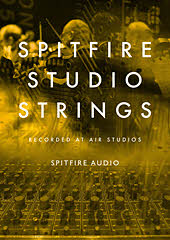 Spitfire Audio is proud to announce availability of SPITFIRE STUDIO STRINGS — opening a new chapter in the British music technology company's creative story by bookmarking the first release in an all-new orchestral library range recorded in a new space as an incredibly versatile pro-end dry stage sample library, available as SPITFIRE STUDIO STRINGS and also as an extended edition in SPITFIRE STUDIO STRINGS PROFESSIONAL — as of August 31…

By choosing the crisp and vibrant setting of AIR Studios' Studio 1, smaller and more controllable — capable of accommodating up to 45 musicians across its 140m2 floating floor (with a specially designed sliding door system that allows it to be divided into acoustically separated areas) — compared to the opulence of AIR Studios' Lyndurst Hall — helpfully accommodating a full symphony orchestra with choir as one of the largest recording rooms in the world — where Spitfire Audio has hitherto recorded an abundance of award-winning orchestral libraries in its ongoing mission to inspire a generation of music makers, this time the British music technology company is offering its fellow composers a string library with depth, detail, and focus all at once. One that will work on anything — from passionate period dramas to modern Scandi noir. Needless to say, it is as at home with quirky indie and crisp pop as it is tackling epic film and game scores...

Continue reading: Spitfire Audio announces all-new orchestral library range with opening SPITFIRE STUDIO STRINGS salvos in News.

This post is from the DigiFreq music technology website... click here for more and win products!



Report to Moderator