garrigus
Moderator






USA
15112 Posts

Posted - 09/02/2018 : 11:40:30 AM



[Reply to Topic] | [Reply w/ Quote]
---
Soundiron Rhythmic Odyssey Loop-Based Percussion Instrument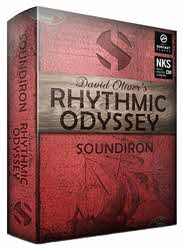 Rhythmic Odyssey is a flexible and highly-customizable loop-based virtual percussion instrument for Kontakt Player and a huge open-format modular loop library for use with any software or hardware you wish. This deep and stylistically expansive collection focuses on dynamic live tuned and untuned percussion performances by British instrumentalist and media composer David Oliver.

David has unleashed his massive collection of drums, percussion and rare world instruments, with powerful, authentic and spirited performances that are carefully and perfectly hand-crafted for easy direct use in films, games and all other forms of multimedia. He captured an incredible variety of percussion instruments and objects, exploring more than 130 distinct instruments from drum kits to raw pine tree logs.

This library spans a huge range of styles and genres, with 100 percussion track sets ranging from traditional ethnic arrangements and combos, to raw, hard-driving percussion beds and huge rock grooves...

Continue reading: Soundiron releases Rhythmic Odyssey - A Loop-Based Percussion Instrument for Kontakt in News.

This post is from the DigiFreq music technology website... click here for more and win products!



Report to Moderator