garrigus
Moderator






USA
15045 Posts

Posted - 07/16/2018 : 1:36:22 PM



[Reply to Topic] | [Reply w/ Quote]
---
Eventide Audio Elevate Mastering Bundle 1.5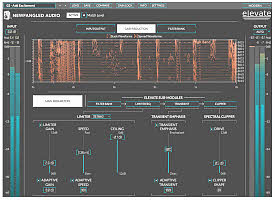 Recording technology trailblazer Eventide and advanced audio tools creator Newfangled Audio are proud to announce availability of Elevate Bundle 1.5 — adding value to an already valuable bundle with the addition of two new plug-ins, Saturate and Punctuate, as well as feature improvements to EQuivocate and Elevate itself — as of July 5.

Saturate is a spectral clipper plug-in, useful for mixing or mastering. As such, it adds up to 24dB of drive with a variable CLIPPER SHAPE parameter that moves from a pleasant soft curve to full hard clipping. Unique spectral processing maintains the tonal balance of the distorted signal, no matter how hard it is pushed. Saturate automatically compensates output level based on the DRIVE control or, alternatively, allows this to be controlled manually.

Meanwhile, as a transient emphasis plug-in, Punctuate is also useful for mixing or mastering...

Continue reading: Eventide and Newfangled Audio raise mastering bar with two new plug-ins for Elevate Bundle 1.5 in News.

This post is from the DigiFreq music technology website... click here for more and win products!



Report to Moderator