garrigus
Moderator






USA
15112 Posts

Posted - 07/07/2018 : 11:36:14 AM



[Reply to Topic] | [Reply w/ Quote]
---
Nektar PACER: DAW and MIDI Footswitch Controller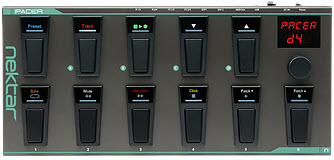 PACER steps up hands-free DAW and MIDI control with plenty of switching power for soft- and hardware solutions. PACER comes preconfigured for most popular DAWs, MIDI guitar products such as Line 6, Kemperís Profiler and even provides standard amp switching. With programmable color selection for switches there is plenty of scope for user-configurable setups for VST plugins or any MIDI controllable hardware.

The sturdy metal case features 10 programmable footswitch controls with RGB LEDs and an additional Preset footswitch for recalling presets and navigation. Additionally, PACER allows the connection of 2 expression pedals and up to 4 external foot switches. Even non-MIDI amps can be integrated into setups by using the 4 relays to switch channels or effects. Due to dedicated presets and icons for transport and track control as well as eg. MIDI LED feedback for MIDI CC messages, the pedalís handling is fast and transparent...

Continue reading: Nektar Technology launches PACER: DAW and MIDI Footswitch Controller in News.

This post is from the DigiFreq music technology website... click here for more and win products!



Report to Moderator