garrigus
Moderator






USA
15112 Posts

Posted - 07/07/2018 : 11:07:31 AM



[Reply to Topic] | [Reply w/ Quote]
---
Soundiron Hyperion Strings Micro Virtual Instrument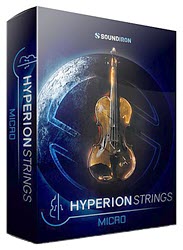 Hyperion Strings Micro is our introductory orchestral string library for Native Instruments' free Kontakt Player, Komplete Kontrol and S-Series Keyboards. This library is the perfect starter pack for songwriters and musicians just getting into orchestral writing, as well as seasoned composers wanting new colors in their orchestral palette. No matter what your creative needs are, you'll discover the powerful tool-set and outstanding audio quality that you're looking for in this convenient and extraordinarily flexible virtual instrument library.

Hyperion Strings Micro includes a combined full ensemble preset, as well as 4 main section presets for our 8 Violins, 6 Violas, 5 Cellos and 4 Double Basses. For this Micro Edition, we've included the most essential core articulations for each section: multi-dynamic sustains both with and without natural vibrato, staccatos, spiccatos and pizzicatos, as well as two basic dynamic expressions: long crescendos and decrescendos...

Continue reading: Soundiron releases Hyperion Strings Micro - Orchestral String Library for Kontakt in News.

This post is from the DigiFreq music technology website... click here for more and win products!



Report to Moderator