garrigus
Moderator






USA
15112 Posts

Posted - 07/06/2018 : 6:33:33 PM



[Reply to Topic] | [Reply w/ Quote]
---
Accusonus #8203;ERA-BUNDLE Audio Repair Plug-In Collection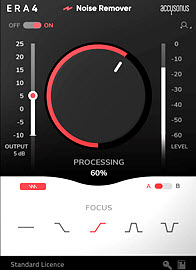 Accusonus Inc, developers of music software tools based on artificial intelligence technology, makers of critically-acclaimed software and plug-ins such as drumatom, Regroover and Beatformer announce the immediate release of the ERA-Bundle.

The Enhancement and Repair of Audio (ERA) Bundle is a collection of multi-patented audio repair plugins that offer both fast and high-quality processing. With this release, accusonus update their critically-acclaimed ERA Noise Remover (former ERA-N) and Reverb Remover (former ERA-R) plugins. The updated ERA Product Line introduces various user experience improvements, including an auto-gain function for ERA Reverb Remover and a vector-based and Retina-ready UI with 3 zoom levels. In addition...

Continue reading: Accusonus releases the ERA-BUNDLE Audio Repair Plug-In Collection in News.

This post is from the DigiFreq music technology website... click here for more and win products!



Report to Moderator