garrigus
Moderator






USA
15124 Posts

Posted - 06/13/2018 : 6:56:07 PM



[Reply to Topic] | [Reply w/ Quote]
---
Output ARCADE Loop Synthesizer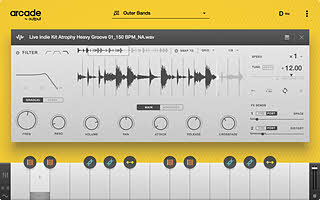 After years in the making, Output Inc. is ecstatic to announce ARCADE, a playable loop synthesizer with new content every day. Like a Netflix or Hulu for music makers, only Arcade also packs powerful tools to transform loops until they sound like you.

Output has revolutionized a musicianís workflow by eradicating countless folders and websites from the search process. Tempo and pitch-locked loops are organized into sonic worlds and available directly within the Arcade plug-in. Playable kits contain curated loops dialed in with 11 effects, customizable sliders, advanced modulation and Outputís proprietary black key modifiers, making it easy to tweak on the fly.

With respect to every artistís unique voice, users can also drag and drop their own loops and samples to manipulate them with the same creative tools. Founder and CEO, Gregg Lehrman says ďAll you have to do is watch someone use Arcade for 5 minutes and you grasp the impact this will have on music production...

Continue reading: Output releases ARCADE - A game-changing loop synthesizer in News.

This post is from the DigiFreq music technology website... click here for more and win products!



Report to Moderator