garrigus
Moderator






USA
15045 Posts

Posted - 06/10/2018 : 3:24:29 PM



[Reply to Topic] | [Reply w/ Quote]
---
Acon Digital DeVerberate 2 Reverb Reduction Tool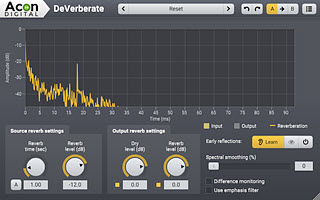 Acon Digital has released version 2 of their acclaimed DeVerberate plug-in for reverb reduction. While earlier versions of DeVerberate successfully focused on the suppression of late reverberation, typically the diffuse reverb tail arriving 20 to 30 milliseconds after the direct sound, the first reflections to arrive after the direct sound were left untouched. These early reflections change the tonal character of the recording and can cause the hollow and disturbing sound frequently experienced when recording in small reverberant rooms.

DeVerberate 2 introduces a new and unique Early Reflections Filter that works in conjunction with the late reverb suppression found in version 1. The Early Reflections Filter uses sophisticated statistical methods to estimate the so called impulse response of the early reflections. The impulse response is then utilized to calculate an inverse filter that cancels out the effect of the early reflections.

Further improvements have been made in the automatic reverb time estimation which now works more reliably than in earlier versions...

Continue reading: Acon Digital releases DeVerberate 2 - Reverb Reduction Tool with new Early Reflections Filter in News.

This post is from the DigiFreq music technology website... click here for more and win products!



Report to Moderator