garrigus
Moderator






USA
15049 Posts

Posted - 05/23/2018 : 9:18:40 PM



[Reply to Topic] | [Reply w/ Quote]
---
iZotope Creative Suite and VocalSynth 2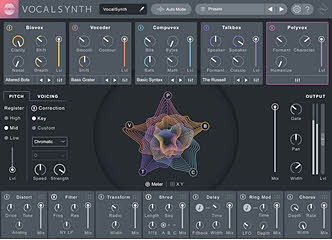 iZotope, Inc., the experts in intelligent audio technology, released VocalSynth 2 and the iZotope Creative Suite. VocalSynth 2 offers an immersive vocal experience that adapts and evolves with a userís unique style. iZotope Creative suite is a collection of exciting, inspiring products including Iris 2, Trash 2 Expanded, BreakTweaker Expanded, Stutter Edit, DDLY, Mobius Filter, and VocalSynth 2. With this release iZotope brings music production into the next evolution of vocal processing and a new suite of creative tools.†††

VocalSynth continues to offer music producers tools to take a mix through past, present, and future vocal sounds with five vocal processors including Vocoder, Compuvox, Polyvox, Talkbox, and now Biovox: a brand new effect based on the sonic qualities of the human vocal tract. iZotope has re-engineered VocalSynth to sound better, perform better, and provide a better result faster. New and updated effects can be found in the stompbox section including: Chorus, a commonly used vocal effect in vocal production and Ring Mod, a new ring modulator with a hint of tremolo. The Shred effect also offers extensive improvements that make it more powerful for chopping, slicing, and achieving beat repeating effects...

Continue reading: iZotope Creative Suite and VocalSynth 2 Now Available in News.

This post is from the DigiFreq music technology website... click here for more and win products!



Report to Moderator