garrigus
Moderator






USA
15049 Posts

Posted - 04/07/2018 : 6:50:55 PM



[Reply to Topic] | [Reply w/ Quote]
---
Soundiron MICRORGAN 49-Key Analog Synth for KONTAKT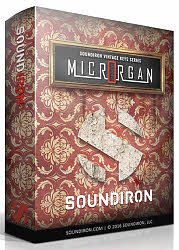 Soundiron's Microrgan is a vintage 49-key analog synth from the 1950's. Rare and highly sought-after, little is known about the origins of this instrument, though the instrument's classic wooden exterior echoes the popular aesthetics of the 1970s and early 1980s, during which the instrument is thought to be produced. We've captured its old-school fat, creamy tone in 9 classic waveform shapes, with infinite sustains and tight staccatos. But to take this far beyond an ordinary analog synth sample library, we've also created 20 awesome sound-designed custom synth and effects presets and 40 unique sound-designed ambiences that can be played chromatically as atmospheric synths, dronescapes and pads or used directly in your DAW for underscoring and texture.

It comes packed with sound-shaping controls to give you tons of flexibility with Volume, Attack, Release, Transient Offset, Vibrato and Octave layering controls...

Continue reading: Soundiron releases MICRORGAN 49-Key Analog Synth for KONTAKT in News.

This post is from the DigiFreq music technology website... click here for more and win products!



Report to Moderator