garrigus
Moderator






USA
15049 Posts

Posted - 04/07/2018 : 4:08:59 PM



[Reply to Topic] | [Reply w/ Quote]
---
IK Multimedia Total Studio 2 MAX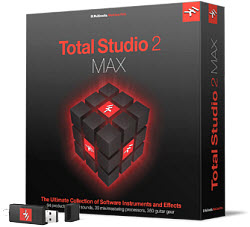 IK Multimedia is pleased to announce the immediate availability of the brand-new and unique Total Studio 2 MAX bundle, the world's most complete studio collection of software instruments and FX. It brings together an amazing 94 products in one single suite for Mac/PC and equips composers as well as engineers, creative sound designers, producers, performers, multimedia artists, broadcast professionals, and others with everything they need to be inspired and to take their music making and audio processing to a new level. From full orchestral arrangements for TV, cinema and video games to complete, polished mixes and masters, ready for distribution, as well as full-blown tracks in any style and genre, everything is within easy reach. Total Studio 2 MAX and its entry-level version, Total Studio 2 DELUXE, are now available for purchase today.

World's widest and most balanced collection
Total Studio 2 MAX comprises 94 award-winning products, 16,800 sounds, 39 high-end mixing and mastering processors and over 350 of the most sought-after gear models for guitar and bass...

Continue reading: IK Multimedia announces Total Studio 2 MAX - the Ulimate Music Software Collection in News.

This post is from the DigiFreq music technology website... click here for more and win products!



Report to Moderator
mcintalker
Platinum Member






USA
6985 Posts

Posted - 04/07/2018 : 7:37:13 PM



---
I bought the Total Studio Bundle 3 several years ago and have added a few things since. I can't justify the "repeats", but would love to add the Leslie. I'm thinking the AmpliTube 4 version is more useful since it has amps with the Leslie vs the T-Racks version.

Michael
Report to Moderator