garrigus
Moderator






USA
15049 Posts

Posted - 04/04/2018 : 8:37:28 PM



[Reply to Topic] | [Reply w/ Quote]
---
Sample Logic TRAILER XPRESSIONS II - THE BOOM EXPERIENCE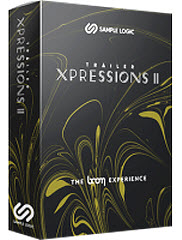 Welcome to TRAILER XPRESSIONS II: The BOOM Experience, pushing scoring and sound design to powerful new places. Sample Logic is proud to present the follow up to their wildly successful TRAILER XPRESSIONS library with this collection that takes things in a whole new direction and new and exciting global and independent features! Sample Logic has teamed up with the world leading SFX designer "BOOM Library" to fuel TXII. T his award - winning sound design development team has created samples for thousands of hard - hitting trailers, bone - crunching blockbusters and scintillating scores over many years and now they are lending their talents and remarkable collection of sounds to t he Sample Logic team for an exclusive collaboration.

OVER 1, 700 BREATHTAKING SOUNDS
Recorded and deliver ed at the superior fidelity of 96khz, 24 - bit quality, TRAILER XPRESSIONS II contains over 1, 775 sampled sounds that have been intuitively programmed into 47 instruments and organized into ready - made construction kits. That means it takes just seconds, not hours, to find the perfect sound for any trailer or hybrid track...

Continue reading: Sample Logic releases new library - TRAILER XPRESSIONS II - THE BOOM EXPERIENCE in News.

This post is from the DigiFreq music technology website... click here for more and win products!



Report to Moderator