garrigus
Moderator






USA
14977 Posts

Posted - 03/27/2018 : 3:26:26 PM



[Reply to Topic] | [Reply w/ Quote]
---
Kirk Hunter Studios Front Row Violins Virtual Instrument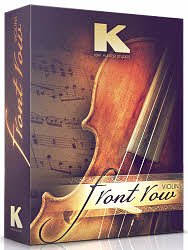 Kirk Hunter Studios announces the release of Front Row Violins - World's Best Virtual Violin KONTAKT sample library. FRONT ROW VIOLINS reinvents everything you know about virtual violin instruments. Designed for Native Instrument's Kontakt Retail, the core of Front Row is focused on simplicity and unbelievable sonic results. FRONT ROW packs an amazingly playable solo violin along with easy scalability to go from solo through to any section size of violinists you choose ranging from the single soloist to 16 players. Each player has been maticulousy recorded separately, so you get a real and unique ensemble for every size.

Be The Violinist - Be The Maestro:
When we say "Be The Violinist" we mean it! In FRONT ROW, we introduce our proprietary live vibrato that allows you to perform vibrato with your left hand with the same theatrics that a real Violinist plays. This is indeed something to experience as it gives you the sense of performing the vibrato as a violinist does. Moreover, FRONT ROW VIOLINS does not stop there. Additional features are designed to provide you with full vibrato control with the amount, speed and fade-in control so that you can have your soloist perform all kinds of styles...

Continue reading: Kirk Hunter Studios releases Front Row Violins - World's Best Virtual Violin KONTAKT Library in News.

This post is from the DigiFreq music technology website... click here for more and win products!



Report to Moderator