garrigus
Moderator






USA
14977 Posts

Posted - 11/28/2017 : 10:30:24 AM



[Reply to Topic] | [Reply w/ Quote]
---
Eventide MangledVerb Reverb Plug-In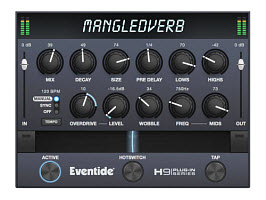 MangledVerb combines reverb and distortion, providing power to create unique spaces full of beauty or drenched in mayhem, with complete control over all the elements. Eventide has repurposed MangledVerb for anyone working 'in the box' by following in the footsteps of the first H9 Signature Series plug-in, UltraTap, drawing from some of the most popular and powerful algorithms from its award-winning H9 Harmonizer® Effects Processor stompbox. Similarly, MangledVerb makes a signature effect first popularized in its rack mount Eclipse Harmonizer® Effects Processor available as a namesake new plug-in.

Designed for real-time manipulation, MangledVerb features The Ribbon, an innovative control that allows anyone to program two settings for any combination of the controls to transition between them...

Continue reading: Eventide releases MangledVerb reverb plug-in as part of its H9 Signature Series in News.

This post is from the DigiFreq music technology website... click here for more and win products!



Report to Moderator