garrigus
Moderator






USA
14977 Posts

Posted - 11/24/2017 : 6:07:54 PM



[Reply to Topic] | [Reply w/ Quote]
---
Soundiron Antidrum Machine Exploratory Percussion Toolbox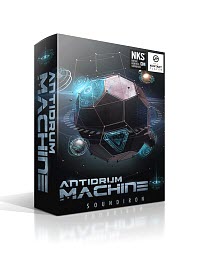 Soundironís Antidrum Machine is the ultimate compendium of alternative, experimental percussion. It contains a vast catalogue of found sounds, field recordings, prepared objects, unique surfaces, and noisy contraptions. It's an exhaustive compilation of things-that-aren't-but-could-be percussion, a vibrant palette of musical paint containing everything from booming bass to tight clicks, clacks, zips, zings, ticks, and tocks. Antidrum Machine includes all of the content from our Antidrum series of libraries (Antidrum 1, 2, and 3) all well as Cathedral of Junk, Luftballoon, Luminabells, PVC Beatbox Ensemble, and Snow Drums. We also recorded another Antidrum volume's worth of brand new content.

Included in this library are different preset types that allow users to interact with the content in different ways. The Dual Layer preset type allows...

Continue reading: Soundiron releases Antidrum Machine Exploratory Percussion Toolbox Virtual Instrument in News.

This post is from the DigiFreq music technology website... click here for more and win products!



Report to Moderator