garrigus
Moderator






USA
14977 Posts

Posted - 11/03/2017 : 11:38:14 AM



[Reply to Topic] | [Reply w/ Quote]
---
Groove Monkee Variety Pack MIDI Loops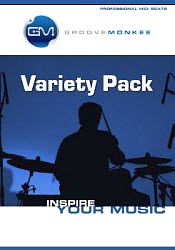 Groove Monkee is proud to announce Variety Pack MIDI Loops, a huge collection of MIDI drum grooves. Our new Variety Pack has over 700 MIDI files of varying styles, tempos and feels... a perfect collection for songwriters, producers and musicians needing an extensive set of MIDI drum loops. You get grooves and fills covering 11 genres, most with hat and ride variations.

Variety Pack Highlights
- 700 Royalty Free MIDI Drum Loops covering 11 genres
- Blues, Country, Electronic, Funk, Hip Hop, Jazz, Metal, Pop, R&B, Rock & World
- 4/4, 6/8 and 12/8 in straight or shuffle feels
- Ballad - Halftime - Midtempo - Uptempo
- African, Waltz, Bossa, Samba, Swing, Shuffles, Train and much more!
- Tempo range: 68 BPM to 200 BPM
- Works with all MIDI-compatible software...

Continue reading: Groove Monkee releases Variety Pack MIDI Loops - Get 25% off! in News.

This post is from the DigiFreq music technology website... click here for more and win products!



Report to Moderator