garrigus
Moderator






USA
14977 Posts

Posted - 10/11/2017 : 7:55:58 PM



[Reply to Topic] | [Reply w/ Quote]
---
Blue Cat's Late Replies Creative Delay Plug-In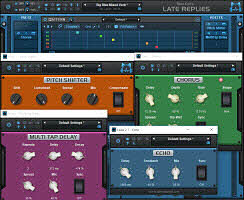 Blue Cat Audio has released Blue Cat's Late Replies, a new creative delay and multi effects plug-in also capable of hosting third party plug-ins anywhere in its signal path.

Designed as an hybrid multi-tap and feedback delay plug-in, combined with a multi effect and a VST, VST3 and Audio Units host, this plug-in can be used to create a wide variety of audio effects: classic echoes, rhythmic or melodic patterns, vintage tape or digital delays, modulation effects, reverbs, shimmer effects and more... It includes more than 400 presets to get started.

Blue Cat's Late Replies can be extended indefinitely, applying built-in or third party effects to individual taps, or inside the two nested feedback loops...

Continue reading: Blue Cat Audio Releases Blue Cat's Late Replies Creative Delay Plug-In - Get 10% off! in News.

This post is from the DigiFreq music technology website... click here for more and win products!



Report to Moderator