garrigus
Moderator






USA
15124 Posts

Posted - 10/11/2017 : 7:28:55 PM



[Reply to Topic] | [Reply w/ Quote]
---
Kenton Pro CV to MIDI Converter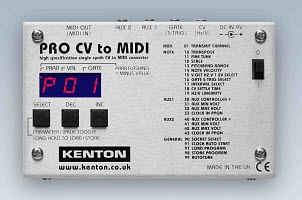 Kenton Electronics has announced the immediate availability of Pro CV to MIDI, a unit that takes any analogue control voltage (CV) signal – pitch, pitchbend, modulation, etc – and converts it to MIDI. Pro CV to MIDI will appeal particularly to modular synth fans, but it's compatible with any CV-equipped instrument, from your classic synth or analogue sequencer to your Theremin. Use it to trigger a digital synth with an analogue keyboard, for example, or control a MIDI module with that Theremin.

PRO CV to MIDI is a high-specification, fully configurable control voltage-to-MIDI converter that tracks pitch control voltages with incredible accuracy. It supports the industry standard Volt/Octave system, the 1.2V/Octave system used by EML and Buchla, and the Hz/Volt system used by Korg and Yamaha. The unit also features pitchbend, modulation and non-quantised continuous tracking, and two user-assignable auxiliary CV inputs...

Continue reading: Kenton announces Pro CV to MIDI converter in News.

This post is from the DigiFreq music technology website... click here for more and win products!



Report to Moderator