garrigus
Moderator






USA
14977 Posts

Posted - 10/09/2017 : 6:53:16 PM



[Reply to Topic] | [Reply w/ Quote]
---
Pianoteq 6 - Professional Piano Virtual Instrument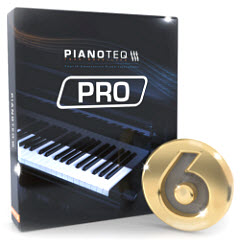 After three years of research, Modartt takes a step forward with Pianoteq 6, distinguished by its mature technology, breathtaking realism, increased compatibility, and new features.

Pianoteq 6: a mature technology
Since its introduction in 2006, Pianoteq has gradually become a mature and natural companion for a wide range of musicians for use in everything from private homes and piano classrooms to recording studios and concert halls. Pianoteq 6 brings numerous refinements in its engine and physical model, now implemented in all of the 49 physically modelled instruments...

Continue reading: Modartt releases Pianoteq 6 - Professional Piano Virtual Instrument in News.

This post is from the DigiFreq music technology website... click here for more and win products!



Report to Moderator