garrigus
Moderator






USA
15124 Posts

Posted - 09/25/2017 : 3:46:04 PM



[Reply to Topic] | [Reply w/ Quote]
---
Propellerhead Reason 10 Music Production Software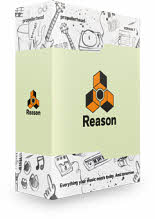 Propellerhead Software is thrilled to announce Reason 10, the biggest content update ever for Reason owners. Built on an award-winning legacy to make musical dreams a reality, Reason 10 features two massive brand-new synthesizers, three new live-sounding organic instrument devices, a top-notch acoustic piano, creative modulation device, and 3GB of cutting-edge drum loops and samples.

"Great-sounding instruments and effects inspire musicians to create more and better music. With Reason 10, not only have we delivered some of the best-sounding instruments we've ever created, the result is the biggest upgrade we've ever done," said Mattias Häggström Gerdt, Propellerhead Product Manager. "I'm particularly fond of the new synths, Europa and Grain, that set a new standard for what's available in the box. With the two new synths, a plethora of sampled instruments, drums, loops and much more — we can't wait to hear what music makers are going to create with Reason 10..."

Continue reading: Propellerhead Announces Reason 10 - New Version of Music Production Software in News.

This post is from the DigiFreq music technology website... click here for more and win products!



Report to Moderator