garrigus
Moderator






USA
14977 Posts

Posted - 09/06/2017 : 3:53:35 PM



[Reply to Topic] | [Reply w/ Quote]
---
IK Multimedia Ampeg SVX 2 for AmpliTube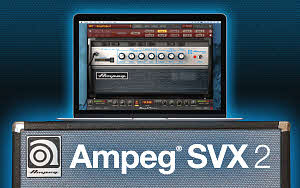 IK Multimedia is pleased to announce the immediate release of Ampeg® SVX 2 for AmpliTube, a new collection that brings some of the most sought-after and iconic bass amplifiers and cabinets from the Ampeg Heritage and Classic series to AmpliTube for Mac® and PC.

Ampeg SVX 2 for AmpliTube brings more power to bass players and music producers, giving them the opportunity to expand their collection with 2 amplifiers and 2 cabinets from the Ampeg Classic series: the SVT-VR and V-4B amplifiers along with the SVT-810AV and SVT-212AV cabinets. Also included from the Ampeg Heritage series is the highly sought-after B-15N amp and its matching cabinet, the B-15N 115. Ampeg SVX 2 provides the genuine tone, dynamics and feel of these iconic amps thanks to IK's industry-leading modeling technologies. Dynamic Interaction Modeling™ not only recreates every individual physical component in the amplifier's design, but also the nonlinear behavior between each component and its interaction with other components in the circuit. This provides an unprecedented level of realism, touch and feel for each amp...

Continue reading: IK Multimedia and Ampeg release Ampeg SVX 2 for AmpliTube - Mac and PC in News.

This post is from the DigiFreq music technology website... click here for more and win products!



Report to Moderator