garrigus
Moderator






USA
14844 Posts

Posted - 08/29/2017 : 8:41:17 PM



[Reply to Topic] | [Reply w/ Quote]
---
Soundiron Granada 49 Vintage Italian Analog Suitcase Synth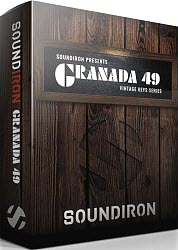 GRANADA 49 faithfully captures a rare 1970's-era portable analog synthesizer by now defunct Italian synth-maker Fesma. The instrument's classic wood-accented body echoes the popular aesthetics of the 1970s and its fat, warm analog sound cuts through the mix. We've captured its old-school creamy tone in 9 classic waveform shapes, with sustains and staccatos. We've also created 20 unique sound-designed custom presets, as well as 40 ambient leads and pads that can be played chromatically as atmospheric synth patches or used directly in your DAW for underscoring and texture.

It comes packed with sound-shaping controls to give you tons off flexibility with Volume, Attack, Release, Transient Offset, Vibrato and Octave layering controls. The "Glide" slider allows you to play legato and portamento leads...

Continue reading: Soundiron releases the Granada 49 Vintage Italian Analog Suitcase Synth for Kontakt in News.

This post is from the DigiFreq music technology website... click here for more and win products!



Report to Moderator