garrigus
Moderator






USA
14867 Posts

Posted - 07/17/2017 : 9:19:27 PM



[Reply to Topic] | [Reply w/ Quote]
---
Prosocoustic WaveRoom Kits Acoustic Treatment Packs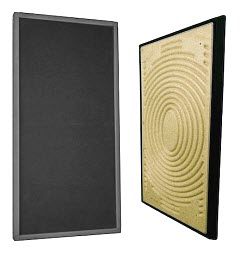 Prosocoustic, manufacturers of revolutionary acoustic sound treatment products, have introduced their new WaveRoom kits, an easy way to bring whole-room acoustic treatment to any environment.

A complete ready-to-install solution, WaveRoom kits are perfect for studios, offices, restaurants, churches; anywhere better audio clarity is needed. Each WaveRoom kit is designed for effective coverage of up to 100 square feet, and includes two 2'x4'x1" and four 2'x2'x1" Wave hybrid panels with all the mounting hardware necessary to hang them on your walls. Additional Booster Kits with 2'x4' or 2'x2' panels can be added for larger spaces. Corner Bass Trap Kits help tame lower frequencies...

Continue reading: Prosocoustic Announces New WaveRoom Kits - Revolutionary Acoustic Treatment Packs in News.

This post is from the DigiFreq music technology website... click here for more and win products!



Report to Moderator