garrigus
Moderator






USA
14921 Posts

Posted - 04/09/2017 : 1:32:15 PM



[Reply to Topic] | [Reply w/ Quote]
---
Eventide H3000 LIVE in Yamaha RIVAGE PM10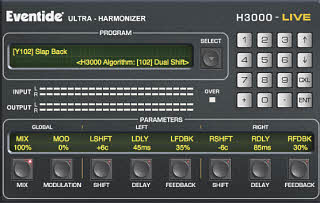 Available with the V1.5 upgrade to Yamaha's flagship RIVAGE PM10 live sound console is the new Eventide H3000 LIVE plug-in. Eventide's developers worked hand in hand with Yamaha's team to incorporate the most sought-after classic sounds from the H3000 Harmonizer® effects processor. With H3000 LIVE integrated into the state-of-the-art RIVAGE PM10 console, Front of House engineers have the most requested presets from the venerable H3000 at their fingertips. Factory presets included are:

101 Layered Shift
518 Micro + Reverb
102 Slap Back
520 Micro-Reverb
116 Multi Shift
521 Micro Pitch-Slap
508 Dual H910 Micro
528 Real Chorus
514 Just Stereo...

Continue reading: Eventide H3000 LIVE plug-in comes to Yamaha RIVAGE PM10 - Classic Micropitch and Delay Effects in News.

This post is from the DigiFreq music technology website... click here for more and win products!



Report to Moderator