garrigus
Moderator






USA
14927 Posts

Posted - 04/07/2017 : 3:49:18 PM



[Reply to Topic] | [Reply w/ Quote]
---
Radikal Technologies RT-311 SWARM OSCILLATOR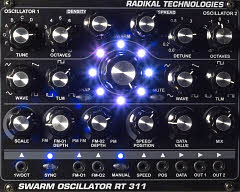 Having turned heads, opened ears, and blown musical minds with a successful showcase at The 2017 NAMM Show, January 19-22 in Anaheim, California, high-quality synthesizer developer Radikal Technologies is proud to announce availability of its RT-311 SWARM OSCILLATOR — an advanced DSP-driven Eurorack-compatible oscillator module that, as implied by name, goes far beyond the realms of standard oscillator fare, firstly thanks to two oscillators that can both build swarms of (up to eight) oscillator 'clones' capable of being pitched in musical intervals, chords, clusters, or fat detunes, dutifully backed by having all parameter settings saveable as interpolatable snapshots, enabling even more radical results — as of March 28.

A dictionary definition of swarm typically reads: a large number of things... or oscillators, in the case of Radikal Technologies' radical RT-311 SWARM OSCILLATOR, which, when switched to its highest SWARM setting, sees a maximum of 16 oscillator 'clones' running simultaneously...

Continue reading: Radikal Technologies releases RT-311 SWARM OSCILLATOR Eurorack-compatible Oscillator Module in News.

This post is from the DigiFreq music technology website... click here for more and win products!



Report to Moderator