garrigus
Moderator






USA
14921 Posts

Posted - 03/18/2017 : 8:20:57 PM



[Reply to Topic] | [Reply w/ Quote]
---
Output Analog Strings Virtual Instrument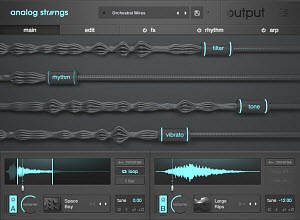 Output is excited to announce Analog Strings, a virtual instrument for the modern music maker.

Analog Strings is all about crafting and performing strings sounds that are insanely unique and cutting-edge. Tones are created by blending two deeply sampled orchestras, vintage synths and unconventional sound design. Add in advanced modulation routing, dual tape loopers, dual arpeggiators, flux and macro control and Analog Strings gives music creators an entirely new world of sound.

"Analog Strings is a modern take on string production," says Gregg Lehrman, Founder and CEO...

Continue reading: Output Announces Analog Strings - Modern Strings Engine in News.

This post is from the DigiFreq music technology website... click here for more and win products!



Report to Moderator