garrigus
Moderator






USA
14927 Posts

Posted - 03/11/2017 : 3:53:24 PM



[Reply to Topic] | [Reply w/ Quote]
---
KV331 Audio SynthMaster One Software Synthesizer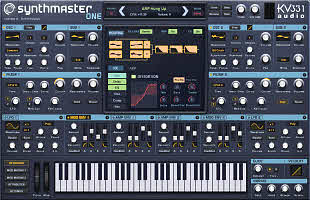 High-quality virtual instrument provider KV331 Audio is proud to announce availability of SynthMaster One — an easy-to-use wavetable soft synth with an intuitive workflow available in AU and VST formats for Mac OS X and Windows — as of February 27.

SynthMaster One shares the same sound engine as its award-winning big brother, SynthMaster, but boosts it with wavetable synthesis features. Fortunately for fans of wavetable synthesis, SynthMaster One's simple layout, rich wavetable content, and inspiring factory presets from a world-class crack team of sound designers — including Arksun, Bu#776;lent Biyikoglu, Gerc#807;ek Dorman, Ufuk Kevser, Rob Lee, Vorpal Sound, Xenos Soundworks, and Aiyn Zahev — makes designing distinctive sounds simplicity itself.

In implementing true wavetable synthesis, SynthMaster One opens up new possibilities for sound design...

Continue reading: KV331 Audio waves in intuitive wavetable synthesis era with SynthMaster One soft synth in News.

This post is from the DigiFreq music technology website... click here for more and win products!



Report to Moderator