garrigus
Moderator






USA
14927 Posts

Posted - 02/25/2017 : 2:34:04 PM



[Reply to Topic] | [Reply w/ Quote]
---
New TASCAM TM-series Microphones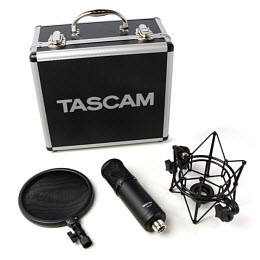 TASCAM is expanding their TM-series of microphones with a number new models including the TM-180 and TM-280 large-diaphragm cardioid condenser mics, the TM-60 small-diaphragm condenser, and TM-Drums drum microphone set. These versatile, affordable microphones are an excellent starter kit or a great way to expand a growing mic collection.

TASCAM's TM-180 and TM-280 condenser microphones feature a 1.33-inch (34 mm) diaphragm and provide a switchable 80 Hz highpass filter to eliminate unwanted low frequencies. A 10 dB pad enables use a high sound-pressure levels-great for use on guitar cabinets, horns, and so on.

Both mics are excellent choices for voice and instruments, although premium components and an integrated pop filter make the TM-280 especially well suited for vocals. In addition...

Continue reading: TASCAM Delivers Versatile TM-series Microphones in News.

This post is from the DigiFreq music technology website... click here for more and win products!



Report to Moderator