garrigus
Moderator






USA
14921 Posts

Posted - 02/03/2017 : 8:32:41 PM



[Reply to Topic] | [Reply w/ Quote]
---
elysia Beech Boys Xpressor and Filter Modules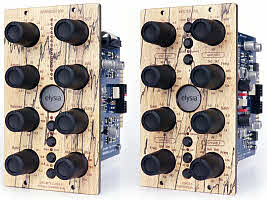 High-end studio processor manufacturer elysia is delighted to announce availability of the 'beech boys' — introducing a unique new look for its xpressor and xfilter 500 series modules, manufactured as a brand-new limited-edition with handmade wooden front panels — as of January 30...

"The origin for this special run was a lucky find," says elysia co-founder Dominik Klassen. "We got hold of two stunning, rare batches of premium spalted beech wood, showing striking individual waveform patterns and amazing discolorations — a result of natural processes within the wood over a long period of time."

Handcrafted by the elysia team, the stunning front panels created from those pieces of wood are rock solid, and a truly sophisticated four-layer construction:...

Continue reading: elysia Applies Beech Boys Makeover to Limited-Edition Xpressor and Filter Modules in News.

This post is from the DigiFreq music technology website... click here for more and win products!



Report to Moderator