garrigus
Moderator






USA
8748 Posts

Posted - 07/03/2012 : 12:25:46 PM



[Reply to Topic] | [Reply w/ Quote]
---
Ueberschall Rock Ballads Elastik Sample Library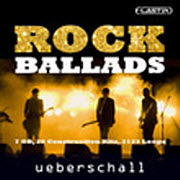 Grab your guitar and let your feelings flow. Many ballads in rock music have turned into modern classics. From now on and thanks to Rock Ballads, every musician can produce emotional songs with powerful rock sound in his studio.

We proudly preset Rock Ballads, the intense result of a production lasting a few months. This library offers timeless song starters, being extensively produced on the highest possible level. Rock Ballads consists of 20 construction kits, recorded by versed studio musicians. A broad bandwidth of sensitive and emotional songs to lay the foundation for your ambitious compositions...

Continue reading: Ueberschall Releases Rock Ballads Elastik Sample Library in News.

This post is from the DigiFreq music technology website... click here for more and win products!



Report to Moderator