garrigus
Moderator






USA
8718 Posts

Posted - 04/27/2012 : 3:20:55 PM



[Reply to Topic] | [Reply w/ Quote]
---
Native Instruments SKANNER XT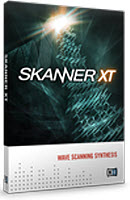 Native Instruments introduced SKANNER XT, a unique and highly distinctive KOMPLETE instrument, designed by the expert team behind REAKTOR. With a strong focus on unconventional tone and genuine musical expression, SKANNER XT is both an exceptional library addition for REAKTOR 5 users as well as an excellent sound resource for the free REAKTOR 5 PLAYER.

Part sampler, part synth, SKANNER XT utilizes a unique synthesizer architecture to create a wide variety of intense and cutting-edge sounds for contemporary electronic music production and sound design. Two oscillators 'scan' a sample, which at low frequencies deliver a scratch sound. At higher frequencies the oscillators, shaped by the sample waveform, become the dominant force. In this way, SKANNER XT provides a broad range of highly distinctive sounds - from heavy and dirty bass tones to morphing soundscapes and organic pads...

Continue reading: Native Instruments Introduces SKANNER XT for REAKTOR 5 and free REAKTOR 5 Player in News.

This post is from the DigiFreq music technology website... click here for more and win products!



Report to Moderator