garrigus
Moderator






USA
8746 Posts

Posted - 03/27/2012 : 2:37:18 PM



[Reply to Topic] | [Reply w/ Quote]
---
EdgeSounds DrumMashines Sound Sample Library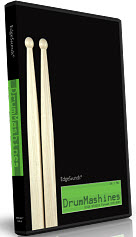 EdgeSounds has just introduced the Drummashines, a 3-DVD-ROM sound sample library for NI KONTAKT and GIGA Studio.

The Drummashines sound sample library provides authentic sounds of more than 170 classical drum modules and synthesizers that were popular in the 70s, 80s and 90s. Recognizing the substantial importance of synthesizer drums in contemporary music production, EdgeSounds have been collecting and recording drum sounds for more than 12 years. This comprehensive collection features samples of synthesized, as well as PCM based modules of many well known and rather rare models and is applicable for a wide variety of styles. Drummashies sound sample library features sounds of 173 different instruments recorded in 24 Bit 96 KHz quality linear samples totaling...

Continue reading: EdgeSounds DrumMashines Sound Sample Library Released - Get 10% off! in News.

This post is from the DigiFreq music technology website... click here for more and win products!



Report to Moderator