garrigus
Moderator






USA
15993 Posts

Posted - 10/30/2019 : 3:17:12 PM



[Reply to Topic] | [Reply w/ Quote]
---
Beverly Hills Cop 3-Movie Collection on Blu-ray and 4K Digital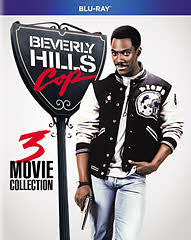 The heat is on in the action-packed comedies BEVERLY HILLS COP, BEVERLY HILLS COP II, and BEVERLY HILLS COP III, newly remastered and arriving on Digital in 4K Ultra HD with High Dynamic Range December 17, 2019 and in a 3-Movie Blu-ray Collection January 14, 2020.

Starring the incomparable Eddie Murphy, the three wildly entertaining BEVERLY HILLS COP films earned a combined $735M+ worldwide, as well as two Academy Award nominations* and a Grammy Award for the first film's Original Score.

Celebrating its 35th anniversary, the action-comedy classic BEVERLY HILLS COP follows the one-and-only Axel Foley, a street-smart cop from Detroit. Tracking down his best friend's killer in Beverly Hills, Axel smashes through the local barriers in a hilarious, high-speed pursuit of justice.

The BEVERLY HILLS COP Blu-ray boasts new special features, including:...

Continue reading: Newly remastered BEVERLY HILLS COP 3-Movie Collection arrives on 4K Digital 12/17 and on Blu-ray 1/14 from Paramount in NewTechReview News.

This post is from the NewTechReview consumer technology website... click here for more and win products!



Report to Moderator