garrigus
Moderator






USA
15972 Posts

Posted - 10/09/2019 : 2:11:03 PM



[Reply to Topic] | [Reply w/ Quote]
---
Inspirational Drama BENNETT'S WAR on DVD and Digital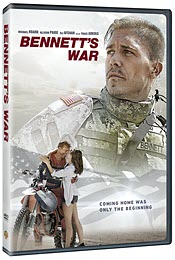 "Bennett's War," starring country music superstar Trace Adkins and directed by Alex Ranarivelo, will be released by Warner Bros. Home Entertainment. The film stars Trace Adkins as Cal, the father of ex-soldier Marshall Bennett, played by Michael Roark ("Magic Mike," "Beauty and the Beast"), Allison Paige ("The Flash," TV's "The Lizzie Bennet Diaries") as Sophie, Bennett's wife, and Ali Afshar, ("American Wrestler: The Wizard," "Born to Race") as Cyrus, Marshall's friend and mentor.   

This inspirational family and sports drama also features professional motocross riders with authentic racing from the Lucas Oil Pro Motocross Championship.

"Bennett's War" is a Forrest Films and ESX Entertainment co-production with Forrest Lucas serving as executive producer. The film is produced by Afshar and Christina Moore, and   directed and written by Ranarivelo ("The Ride," "Dirt," "American Wrestler: The Wizard")...

Continue reading: Inspirational Drama BENNETT'S WAR arrives on Digital Nov. 12 and on DVD Dec. 3 from Warner Bros. in NewTechReview News.

This post is from the NewTechReview consumer technology website... click here for more and win products!



Report to Moderator