garrigus
Moderator






USA
14977 Posts

Posted - 11/23/2017 : 3:15:04 PM



[Reply to Topic] | [Reply w/ Quote]
---
Soundiron Magnus Chord Organ Virtual Instrument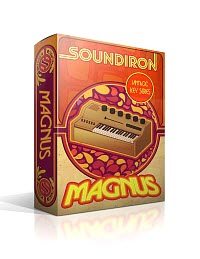 The Soundiron Magnus Chord Organ captures the nostalgic sound of a rare 37-key analog Magnus Electric Chord Organ from the 1960s, with supercharged GUI features and loads of custom FX presets.

This free-standing, three-octave chord organ was originally manufactured by the Magnus Harmonica Corporation. It has six major and six minor chord buttons. MHC was founded by Danish immigrant Finn Magnus, who supplied American troops with harmonicas in WWII, and later went on to sell millions of affordable electric chord organs and song books until the late '70s under Magnus Organ Corporation, before being acquired by World Book Encyclopedia who would ultimately cease production...

Continue reading: Soundiron releases Magnus Chord Organ Virtual Instrument in News.

This post is from the DigiFreq music technology website... click here for more and win products!



Report to Moderator