garrigus
Moderator






USA
14867 Posts

Posted - 08/10/2017 : 9:38:17 PM



[Reply to Topic] | [Reply w/ Quote]
---
IK Multimedia iRig Mic HD 2 Mobile Microphone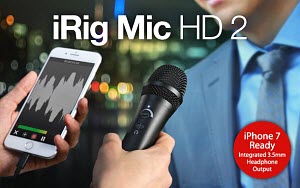 IK Multimedia is proud to announce that iRig Mic HD 2, the successor to the highly acclaimed iRig Mic HD, is now available for pre-order. iRig Mic HD 2 is designed to put all the power of high-resolution digital audio into the hands of singers, musicians, interviewers, broadcasters, presenters, podcasters, and vloggers who are looking to capture pristine mobile recordings anywhere with remarkable ease.

iRig Mic HD 2 is the only handheld microphone of its kind featuring high-quality 24-bit converters with sample rates up to 96kHz, a low noise preamp, a high-quality gold-sputtered electret condenser capsule for exceptional frequency and transient response and an onboard dedicated headphone output with volume control for direct signal monitoring...

Continue reading: IK Multimedia announces iRig Mic HD 2 for iPhone, iPad, Mac and PC in News.

This post is from the DigiFreq music technology website... click here for more and win products!



Report to Moderator