garrigus
Moderator






USA
14867 Posts

Posted - 08/02/2017 : 7:37:39 PM



[Reply to Topic] | [Reply w/ Quote]
---
Eventide UltraTap Multi-Tap Effects Plug-In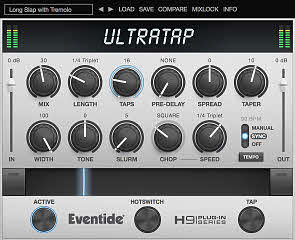 Recording technology trailblazer Eventide is proud to announce availability of UltraTap — inaugurating its H9 Plug-in Series as a unique multi-tap effects plug-in capable of rhythmic delays, glitchy reverbs, huge pad-like volume swells, and extraordinary modulation derived from its TEC Award-winning H9 Harmonizer® Effects Processor — as of August 2.

UltraTap is the perfect tool for creating drum fills, vocal choruses, swelling guitar chords, and other evolving effects — everything from reversed reverbs to a massed church choir singing Gregorian chants in Notre-Dame Cathedral! Creatively, it is also optimized for live use; UltraTap's unique HotSwitch and The Ribbon features facilitate programming any combination of the controls and seamlessly morphing from sound to sound.

Says Eventide Director of Marketing Communications Nalia Sanchez: "We're finding that, increasingly, audio engineers have an H9 stompbox sitting on the console to take advantage of the nearly 50 algorithms that we've crammed into that box. In response to requests for plug-in versions...

Continue reading: Eventide taps TEC Award-winning H9 Harmonizer Effects Processor, producing unique UltraTap plug-in in News.

This post is from the DigiFreq music technology website... click here for more and win products!



Report to Moderator